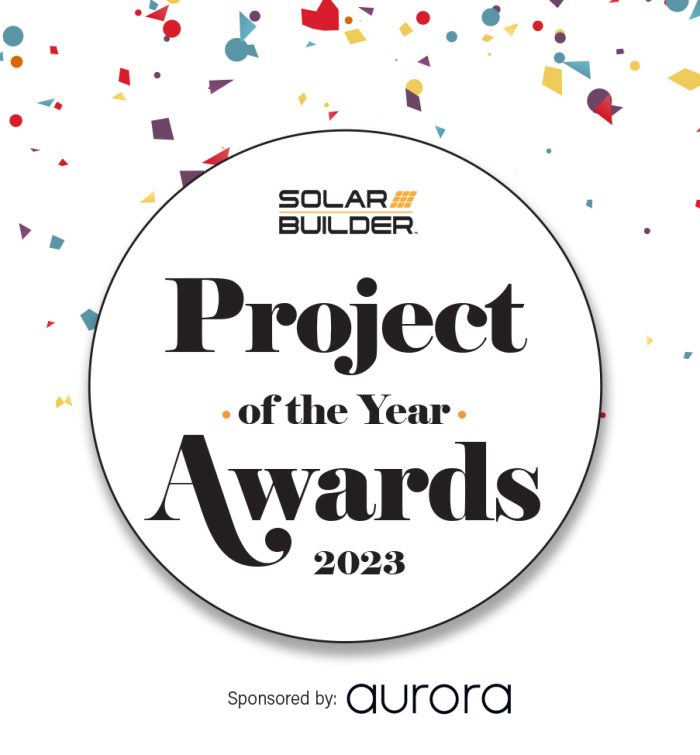 Here are the Ground-Mount Commercial & Industrial (C&I) segment nominees for the 2023 Solar Builder Project of the Year Awards.
The form is at the bottom of the page. You are allowed to vote once per day from now until Saturday, Oct. 7 at midnight (EDT). (FYI: Our voting widget will let you vote more than once a day, but we filter these out in the back-end. Sorry, ballot stuffers). Winners will be announced and prominently featured in the Q4 issue of Solar Builder magazine and online in December.
This year's Project of the Year Awards are sponsored by Aurora Solar. You asked and Aurora listened. They've reimagined Sales Mode so your teams can deliver a faster, easier, and more customizable sales experience to close deals with confidence. See how these updates will empower your team to sell with credibility faster than ever before. Learn more here.
Be sure to vote in every category!
Vote: Residential Solar Project of the Year
Vote: Community Solar Project of the Year
Vote: Solar Microgrid Project of the Year
Vote: Utility-Scale Solar Project of the Year
Note: due to number of C&I submissions, we split C&I into rooftop and ground-mount projects. For projects that feature both, we default to which involved the most kWs for the project / required the most work.
---
C&I Ground-Mount
---
Rivian Solar Charging Yard
Normal, Illinois | 783 kW
EV provider Rivian has signed the Climate Pledge to reach net-zero carbon emissions by 2040, 10 years ahead of the Paris Agreement. As part of that pledge, Rivian selected ForeFront Power to develop a 783 kWdc solar parking canopy at a state-of-the-art EV manufacturing facility in Normal, Illinois. The solar canopy is equipped with Rivian EV chargers to make up the Rivian manufacturing plant's outbound Solar Charging Yard. The project is expected to generate 1.04 million kWh of clean, renewable electricity annually. Rivian's Solar Charging Yard came online in September 2022. Together, with a forthcoming wind turbine on the east side of the manufacturing plant, the Solar Charging Yard will help power new R1 vehicles completely with clean energy for their first charge, before they are delivered to its customers. Rivian's Solar Charging Yard project is a testament to the company's climate and sustainability leadership, showing U.S. customers what a clean energy future looks like within the auto industry.
Developer: ForeFront Power | EPC/Installer: Holt Renewables | Modules: LONGi | Inverters: CHINT CPS | Storage: N/A | Mounting/Racking: Solar Canopy / Custom
---
Target Solar Carport
Vista, California | 720 kW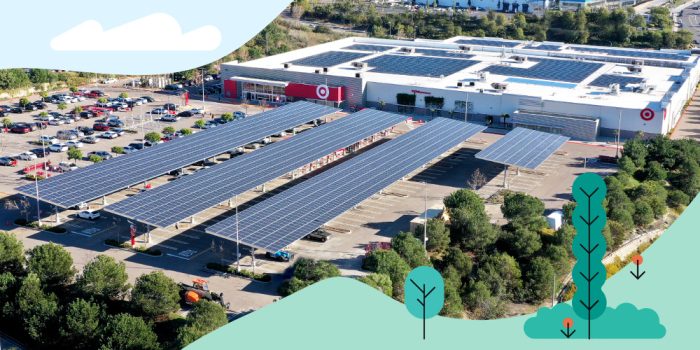 This Vista, California Target is celebrated as the corporation's first net zero energy store. M Bar C Construction provided carport installation for the 720 kW solar carport system to provide renewable energy for the Target store. The Target solar carport installation comprises four solar carport arrays holding approximately 1,800 solar panels. The renewable energy from the solar carports, combined with a 1600-panel rooftop system, is estimated to provide up to 10% more renewable energy annually than needed to support the stores' operations. This installation serves as a test for how the internationally recognized retail chain will continue to develop and integrate renewable energy throughout its locations. This history-making solar installation is a significant example of the retail chain's commitment to achieve net zero greenhouse gas emissions by 2040.
Developer: Engie | EPC: Engie | Installer: M Bar C Construction | Modules: LONGi | Inverters: U/K | Storage: N/A | Mounting/Racking: M Bar C Construction
---
Massanutten Resort
McGaheysville, Virginia | 1.12 MW

Massanutten Resort is home to an award-winning indoor and outdoor water park located on 6,000 acres of mountainous woodland. As the project EPC, Got Electric selected Terrasmart to design, engineer and install a full racking and foundation solution for the four-acre solar farm behind Massanutten Resort's indoor water park, with a goal of providing up to 25% of the water park's power through the 1.12-MW solar site. The solar site at the Massanutten Resort is owned and operated by Secure Solar Futures. There were some unexpected challenges that required out-of-the-box thinking. The initial pull test and geotechnical report showed no traces of underground rock. However, during the installation, Terrasmart's team found a vein of shale approximately 2-3 ft down on certain segments. The team was able to drill through the shale rock without incurring any delays to the project's schedule. The site owner wanted a higher ground coverage ratio (GCR) to maximize the full potential of the land and heighten solar energy production for the site. The smart design, paired with installation expertise, allowed all partners involved to complete the project two weeks ahead of schedule.
Developer: Secure Solar Futures | EPC: Got Electric | Installer: Terrasmart | Modules: Heliene | Inverters: Solectria | Storage: N/A | Mounting/Racking: Terrasmart
---
Port Newark Container Terminal
Newark, New Jersey | 7.2 MW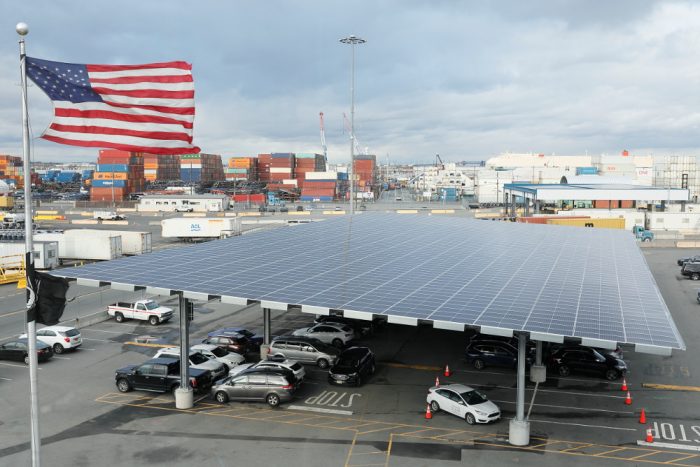 This 7.2 MW system for Port Newark Container Terminal (PNCT) in New Jersey is an ambitious sustainability leap for America's second largest port city. It serves as a prime example for other cities seeking energy savings and reduced greenhouse gas emissions. The project is a joint venture involving Ports America, Terminal Investment Limited (TIL) and Standard Solar, consisting of two rooftop and five carport solar arrays, including a large-scale 3.8 MW canopy spanning multiple truck lanes at the 320-acre facility. Designed to produce 8,476 MWh annually, the system will cover approximately 50% of PNCT's annual electrical demand. Standard Solar calls this "one of our most challenging endeavors to date." The project's complexity arose from the need to seamlessly integrate with the constant flow of hundreds of vehicles and the daily operations of the port. Additionally, the soft soils and high water table required a complicated carport foundation solution, as well as large elevated platforms to support all electrical equipment 6' above grade to limit exposure to flood waters. The project is set to be fully completed by the end of 2023.
Developer: Standard Solar | EPC/Installer: Standard Solar | Modules: Talesun Solar | Inverters: CPS | Storage: N/A | Mounting/Racking: ParaSol (carport)
---
Stanley Black and Decker
Hopkinsville, Kentucky | 4.3 MWdc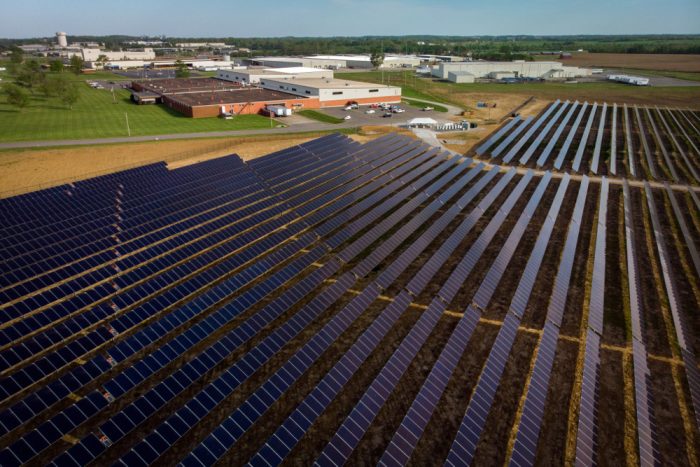 Everyone knows Stanley Black & Decker for their hand and power tools, but Stanley is also a top supplier of fasteners designed for solar PV mounting systems. Stanley has engineered a specific fastener and power tool that uses tension vs. torqueing of lockbolts in solar PV racking installations, which is five times stronger than a standard nut-and-bolt fastener. In support of their ESG goals and in partnership with RPG Energy Group, Stanley Black & Decker has recently just completed a 4.3 MW solar PV system on their property connected behind the meter at their Hopkinsville manufacturing plant. This is the exact plant that manufactures these innovative fasteners. So, Stanley is not only making products that support the innovation of solar PV installation and maintenance, but they are powering their facility with the very technology they are supporting, solar PV. This plant offsets 100% of their net energy needs, and it is currently the largest privately owned on site solar system in the state of Kentucky.
Developer: RPG Energy Group | EPC: RPG Energy Group | Installers: J&B Solar (mechanical) & Casey Electric (electrical) | Modules: First Solar | Inverters: Sungrow | Storage: N/A | Mounting/Racking: Solar FlexRack
---
MSD of Wayne Township
Indianapolis, Indiana | 845 kW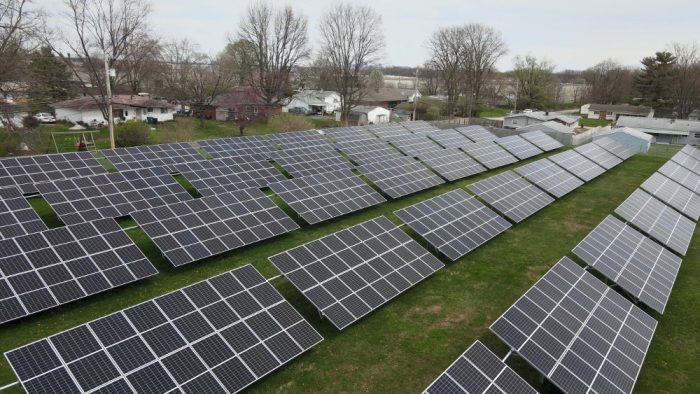 Being one of Central Indiana's largest school districts, MSD Wayne spends a lot of funding on utility costs annually. With this project, Veregy net-zeroed three of the district's buildings, on top of saving the school over $58 million in energy costs over the next 25 years. Veregy incorporated roof-mounted solar, ground-mounted solar, and solar car canopies to help achieve MSD Wayne's sustainability goals. This project is poised to be one of the largest k-12 Guaranteed Energy Savings Contracts in the state of Indiana. MSD Wayne has been able to eliminate a referendum with the project savings already, thus saving the community tax dollars while ensuring the money stays in the classrooms – where it belongs. Veregy also created a live energy monitoring system that allows building administrators to see where excess energy is being used in real-time.
Developer: Veregy | EPC/Installer: Veregy | Modules: JA Solar | Inverters: CPS (Chint Power Systems) | Storage: N/A | Mounting/Racking: Solar Flex Rack, Terrasmart and Unirac
---
Rooftop C&I
---
Ravago Manufacturing Americas
Manchester, Tennessee | 2.4 MW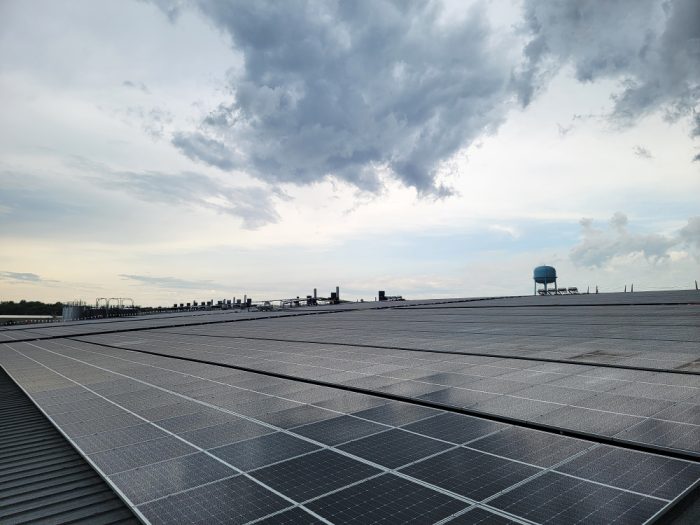 This project helped Ravago Manufacturing Americas, a large plastic and rubber manufacturer, achieve energy cost reduction by installing solar on one of their facility roofs in Manchester, TN. Given the roof structure and the large amount of conduit installation, this project was a technically challenging one for Radiance. With six POIs and two miles of conduit, Radiance Solar SVP of Business Development called it, a "unicorn of a project." However, Radiance acted as the developer, EPC and installer for this project and was able to handle all solar needs from start to finish.
Developer: Radiance Solar | EPC/Installer: Radiance Solar | Modules: Boviet | Inverters: Solis | Storage: N/A | Mounting/Racking: S-5! and IronRidge
---
Badia Spices Warehouse 2
Sweetwater, Florida | 3.24 MWdc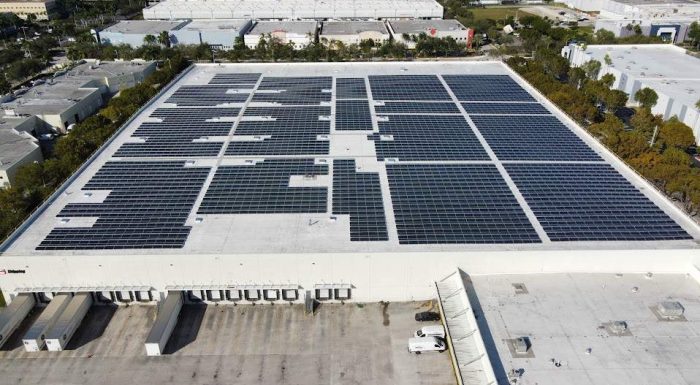 Badia Spices installed solar on the roof of its 300,000-sq-ft distribution and production facility in Sweetwater, Florida, making it the largest privately owned solar project in Florida as of August 2023. The 3.24-MWdc system consists of 40 inverters, 7,200 solar panels and is capable of producing enough power to offset approximately 80% of the facility's electricity consumption. The system is grid-tied through two 1.25 MW Tier-3 net metering agreements. Early coordination between SALT and Badia on the project led to HVAC system being moved off of the rooftop during remodeling, removing significant shading effects and setbacks from rooftop equipment that would have greatly limited the solar potential of the roof. Badia also required no roof membrane penetrations for anchoring the array to preserve the warranty. This constraint, coupled with the hurricane wind load design requirements in Miami-Dade County, posed the two greatest technical challenges for the project. SALT completed the project construction in eight months. Commissioning occurred in November 2022.
Developer: Badia Spices (self-financed) | EPC/Installer: SALT Service Inc., dba SALT Energy | Modules: SunPower | Inverters: Delta | Storage: N/A | Mounting/Racking: PanelClaw
---
City of Mesa – ASU Building
Mesa, Arizona | 391.05 kWdc
This project is an example of how integrating solar with architectural design provides both visual and functional benefits. Constructing a raised solar structure on top of a six-story building in the heart of Downtown Mesa, Ariz., brought design and engineering challenges, and contributed to the complexity of construction. The raised solar canopy superstructure on the roof of the newly constructed ASU Academic Building at Mesa City Center also provides valuable shade for equipment installed on the roof. Also: The bifacial modules used on this project have far surpassed production expectations from the back side of the modules because they are installed over new HVAC equipment and a new, bright white roof creating a significant increase in albedo.
Developer: SOLON Corp. | EPC/Installer: SOLON | Modules: Hyundai | Inverters: Chint Power Systems (CPS) | Storage: N/A | Mounting/Racking: Custom designed & engineered by SOLON
---
North Dade Regional Library
Miami Gardens, Florida | 475 kW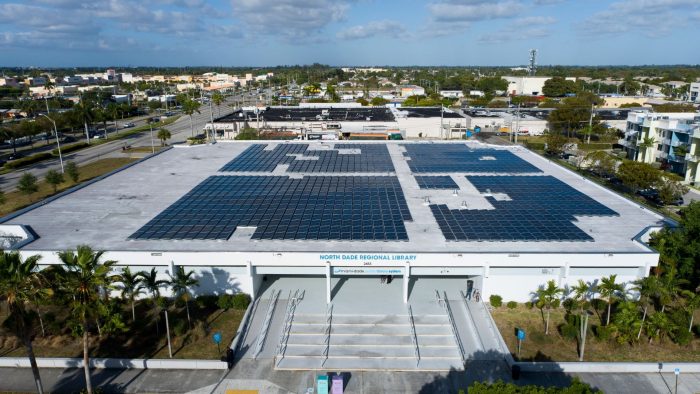 Advanced Green Technologies and Advance Roofing completed the first large-scale county-owned solar roof in Miami-Dade, Florida, at the North Dade Regional Library in Miami Gardens. This project was developed under a DMS contract and energy service agreement, and it marks the first of three pilot larger-scale solar projects being implemented in Miami-Dade County in 2023. The North Dade Regional Library rooftop solar panel installation started in August 2022 and was completed in April 2023. The eight-person crew installed a 475.455 kW solar array using a DCE EcoTop HD racking system consisting of north/south, front and rear beams made of galvanized steel resting on rubber pads attached to the concrete deck and flashed into the roof system. Using a new tap, the system was then connected to the library's existing bus duct. The crew installed a Veris E51C2A meter and Magnelab RCT-1200 CTs for monitoring. The bus duct presented a challenge for the team as interconnection required coordination with the library, vendor, Authority Having Jurisdiction (AHJ) and Florida Power & Light.
Developer: Miami-Dade County | EPC/Installer: Advanced Green Technologies | Modules: Canadian Solar | Inverters: Chint | Storage: N/A | Mounting/Racking: DCE EcoTop HD
---
Alliance Center
Kent, Washington | 30 kW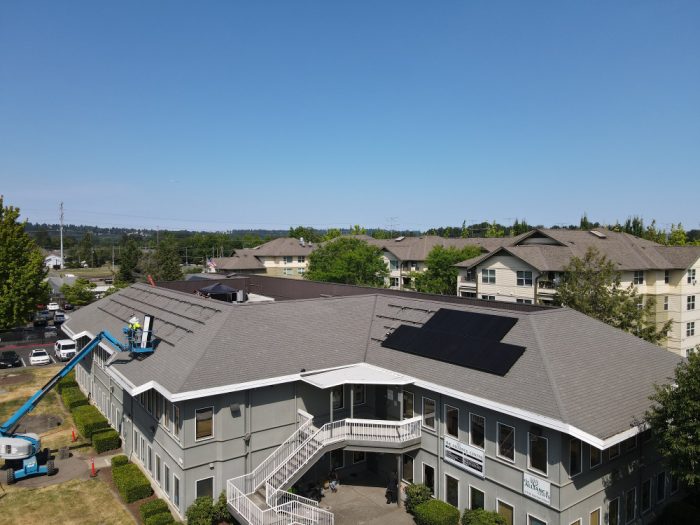 The Alliance Center is a one-stop human service center designed to increase client access while conserving operation costs for nonprofits sharing the same facility and resources. Currently the Alliance Center in Kent, Wash., houses Kent Food Bank, Consejo Counseling, The National Alliance for the Mentally ill, YWCA Femme2Stem program and the Homeless Employment Project, Eastside Baby Corner, and Solid Rock Samoan Church. These services are equilaterally offered and used by a highly diverse population. The Alliance Center in partnership with MAD Energy NW secured a Puget Sound Energy Utility Green Power Grant to fully fund installation of a 30 kW grid-tied PV system to offset 50% of their annual electrical costs. Energy savings are used to further their mission serving the community.
Developer: Puget Sound Energy | EPC/Installer: MAD Energy NW | Modules: Mission | Inverters: SolarEdge | Storage: N/A | Mounting/Racking: IronRidge
---
Listen to more in-depth conversations on Solar Builder's YouTube channel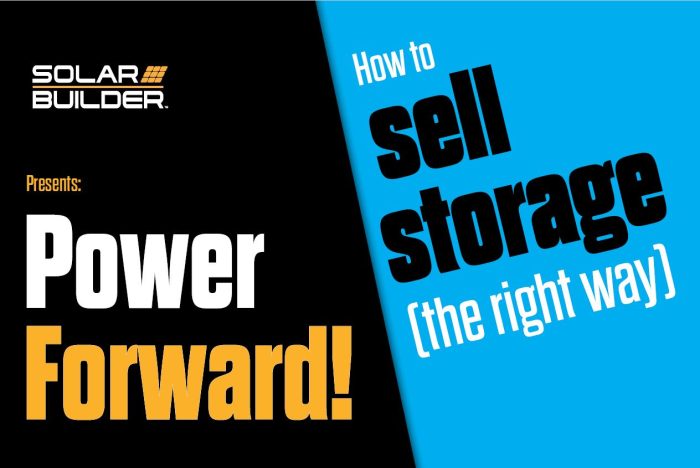 Our most popular series include:

Power Forward! | A collaboration with BayWa r.e. to discuss higher level industry topics.
The Buzz | Where we give our 2 cents per kWh on the residential solar market.
The Pitch | Discussions with solar manufacturers about their new technology and ideas.