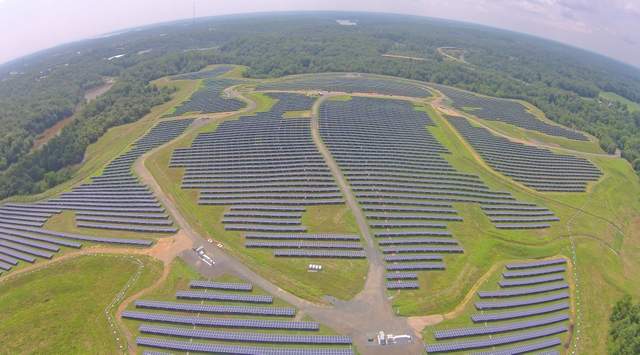 Led by national engineering, procurement and construction firm EDF Renewables Distributed Solutions, this 18.1 MW dc facility, known as the Annapolis Renewable Energy Park, is located in Anne Arundel County, Maryland and is the largest solar project on a closed landfill in the state. The project is owned by a subsidiary of Building Energy, was developed by BQ Energy, a company specializing in landfill and brownfield renewable energy projects, and used Solar FlexRack racking to complete the job.
The Annapolis Renewable Energy Park is remarkable for its size and complexity. The enormous facility spans 80 acres and was completed in mid-2018. The solar energy park will generate enough clean energy to power more than 12 percent of the city's homes annually. In addition to gaining the reassurance of fixed, lower-cost clean energy for its clients and partners, the city is estimated to receive more than $250,000 annually by leasing the property to Building Energy.
Building a renewable energy project on top of a capped landfill is an intricate project, and the expertise of racking provider Solar FlexRack proved invaluable for EDF Renewables. Unable to drill piles into the landfill's protective membrane cap, Solar FlexRack utilized B3P-X pre-cast fixed tilt racking foundations for the more than 54,000 solar panels.
"Solar FlexRack's expertise in this important niche market makes the company a perfect partner for landfill projects," said Jamie Resor, CEO, EDF Renewables Distributed Solutions. "We are pleased to work with a firm that can provide the precise, high-quality product required to execute our vision for the Annapolis Renewable Energy Park."
"EDF Renewables' deep experience and technical capabilities make them an extraordinary leader in the field," continued Steve Daniel, Executive Vice President of Solar FlexRack. "It was a pleasure to collaborate with them on the park, and we look forward to the next partnership opportunity."
Solar FlexRack offers ballasted solar racking solutions for sites challenged with penetration, weight and other regulatory restrictions. The selection and quality of their products provide a wider choice for solar project engineers to design optimal performance into their solar systems.