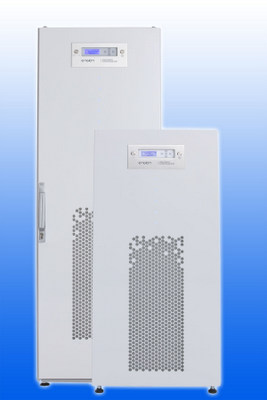 The VARTA Micro Group, a designer and manufacturer of an extensive variety of high-technology rechargeable and primary batteries, announced that its subsidiary VARTA Storage GmbH has expanded its compact and powerful Engion product line of energy storage systems to include Engion Sentry automatic backup power battery storage system, which features 6.8 kW output power. The Engion Sentry will be exhibited this week at Intersolar North America. Additionally on display will be VARTA's Engion flex power and Engion element battery storage systems designed for commercial and residential applications, respectively. All members of the Engion product line can be remotely monitored from a smartphone or the Internet.
Housed in a sleek, tasteful and lockable cabinet, Engion features state-of-the-industry lithium-ion (Li-ion) and lead acid battery technology to allow residential and commercial property owners and managers greater independence from public utilities by storing energy generated by new or existing photovoltaic (PV) systems. The Engion sentry backup power system combines German engineering with solid American manufacturing. It assures that power is available in the event of a power grid fault and is an extremely safe and robust alternative to backup generators. The Engion Sentry eliminates noise emission and the increasingly common occurrences of carbon monoxide poisoning.
Due to the modular configuration of the battery modules, Engion Sentry is offered with usable battery capacities up to 18 kWh. The Engion also boasts redundant mechanical and electrical functions, along with flame-retardant housing and automatic overvoltage cutoff. The system is engineered specifically to allow existing battery modules to be combined with future battery technologies.
Tags:
engion
,
Intersolar 2015
,
VARTA