Intersolar North America has a new home and time — set for San Diego from Feb. 4-6. Yes, it is right around the corner! For those attending, be sure to kick off your Solar+ Decade the right way and check out what's new at the booths below. Then maybe come find us at Modern Times.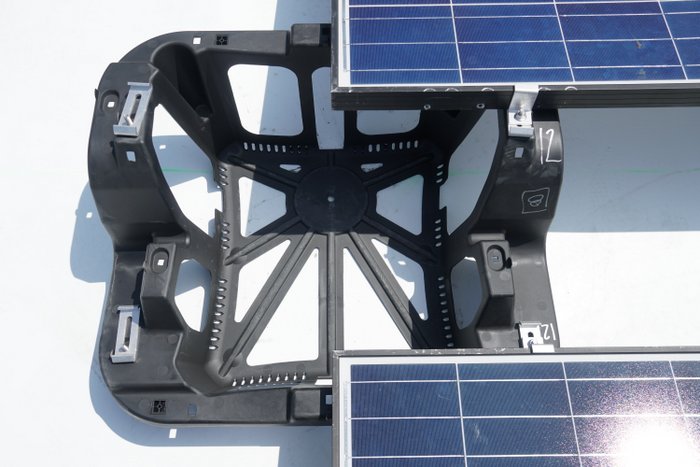 IronRidge Booth 611
BX Ballasted system from IronRidge is designed to meet the needs of commercial solar — navigating complex roof layouts, while also handling the most extreme environmental conditions. At the core of the BX system is the Chassis, a ballasted mount made of BASF Ultramid, exceptional for its high mechanical strength, rigidity and thermal stability. IronRidge BX delivers superior power density and design flexibility to flat roof solar arrays. BX Systems can be fully ballasted, fully anchored or a hybrid optimized for the site.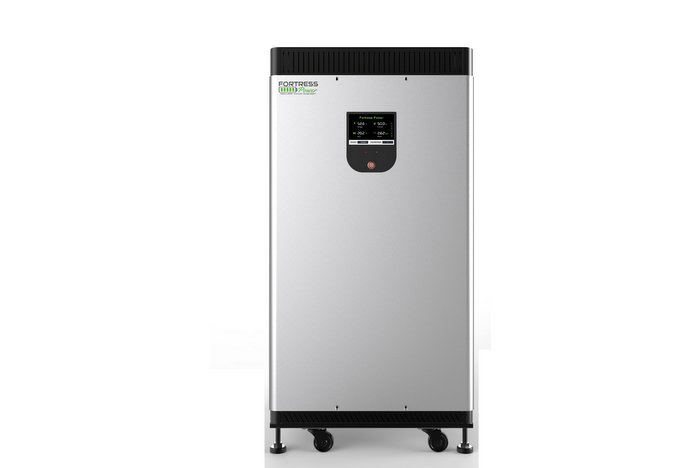 Fortress Power | Booth 727
Fortress Power, a Pennsylvania-based solar storage manufacturer, focuses on helping solar installers use the safest and most reliable energy storage for their projects. They will display the eVault 18.5 kWh and the new LFP-5.4 KWH at Intersolar in San Diego this year. The eVault 18.5, one of the single most streamlined and powerful solar storage batteries, has a user-friendly front display for active monitoring of remaining batter capacity and power output. More compact and affordable, the eVault powers up to 12 stacks in parallel (222 kWh). The new LFP-5.4 storage battery solution comes with a built-in SIM card and WiFi for remote monitoring and troubleshooting ability. Both products deploy the smart relay battery management systems, and can be AC or DC coupled, making for easy integration into existing and new PV installations.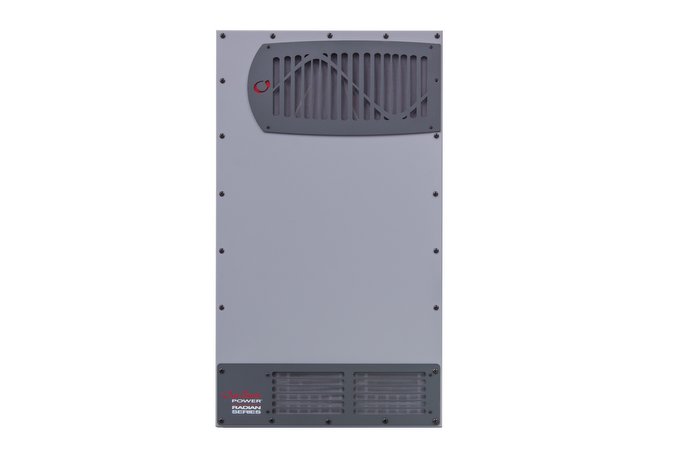 Enersys and OutBack Power | Booth 822
EnerSys and OutBack Power leverage more than two-decades of experience designing and manufacturing energy storage equipment for both off-grid and grid-tied applications. The 24 percent discount for California residents on three energy storage packages is in effect until March 31, 2020. Featuring OutBack inverters and lithium ferrous phosphate batteries, these systems meet California regulations. The OutBack SkyBox Inverter has been updated with AC coupling. This new firmware update gives customers peace of mind knowing their solar systems will automatically disconnect from the grid and feed power to the home when the power is out.
On top of charging batteries faster, the new FM100-AFCI is the only PV charge controller with UL 1699B listed arc-fault protection, eliminating the need for external or combiner-based AFCI.
Alencon Systems | Booth 924
Alencon Systems LLC will demonstrate its unique lineup of power electronics solutions for repowering older PV systems, coupling Solar and Storage and Microgrids at Intersolar North America 2020. That lineup includes: the SPOT Version 6, the newest version of Alencon's string DC-DC optimizer; the BOSS, Alencon's bi-directional DC-DC optimizer for storage systems; and the GARD, Alencon's solution for string level arc and ground fault detection and rapid disconnect. Additionally, Alencon will be show-casing its vastly improved Internet of Things (IoT) technology suite collectively known as the ACE – the Alencon Communications Environment.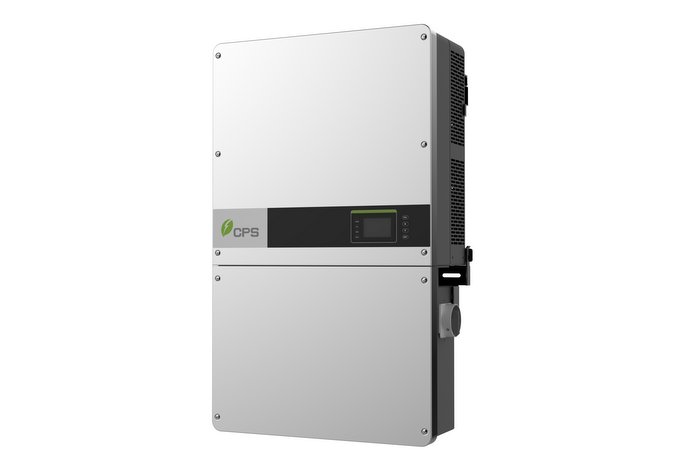 CPS America | 1141
CPS America has a lot going on in 2020. You likely already know about its 50/60 kW inverter with over 1 GW deployed in the U.S. across roof, carport and ground-mount applications. Its high-efficiency, NEMA 4X with AC and DC disconnects come standard in the integrated and separable wire-box. But there is a lot more happening beyond the inverter as CPS has expanded its:
• Data, controls interactive functions (via Flex Gateway)
• Remote update and diagnostics services (via Flex Gateway)
• Monitoring portal
• Revenue grade monitoring
CPS will also have a focus on 1500V string inverters (100-125 kW) because 10-20 MW+ projects are now routinely using its string inverters. CPS promotes its 4:1 AC Combiner to lower conductor costs and its no-LCD-screen, mobile app commissioning as two of its many benefits on larger solar sites.
Generac | Booth 1215
Generac Power Systems' highly anticipated battery storage system and home energy management solution is now available to order. PWRcell features a modular battery pack system, equipped with 8.6 kWh batteries. The system is fully customizable, and can expand up to 34.2 kWh, making it one of the most scalable, robust energy storage systems available on the market today. Installers can become certified on Generac Clean Energy products by completing a one-day, in-depth training course in which they learn technical, sales and marketing information.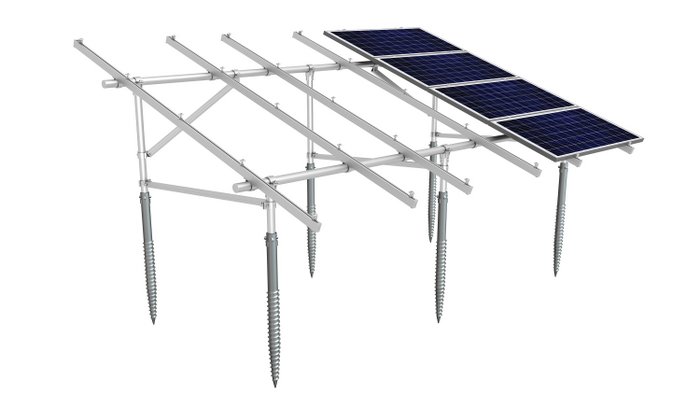 SunModo Corp. | 1226
SunModo introduces its next generation Multi-Purpose System with SunTurf. The versatile system can be used as Elevated Roof Mount, Ground Mount, Canopy or Multi-Pole. The streamlined design combines the simplicity of a pipe-based system with next-level engineering. What's cool is by spanning over roof obstructions, SunTurf Roof Mount takes full advantage of the available roof surface to maximize the PV system size and increase ROI. The system easily achieves 7-ft leading edge height and provides convenient access to the roof surface for maintenance and repair. On the ground, the SunTurf Ground Mount attaches with ground anchors and a complete install of a 15-kW system can be finished in one day. All components are specifically designed for PV with pre-cut pipe — no field cutting, drilling or welding. The innovative swivel pipe cap kit can accommodate terrains up to 27 percent slope east-west and 120% slope north-south. SunTurf is the perfect solution for solar installers looking for a low cost high performance system.

AE Solar | Booth 1311
Germany-based AE Solar is always focused on new innovations and emerging technologies in photovoltaic. As a result, AE Solar successfully developed the world's first Smart Hot-spot Free module for mass production. The Hot-Spot Free Modules developed by AE Solar use bypass diodes between each cell to avoid shading consequences. Available from 260 W to 385 W, the AE Smart Hot-Spot Free Modules offer up to 30% more power output compared to standard PV modules in real conditions. In 2019, AE launched 500 MW/year manufacturing capacity in Europe, putting its total capacity at more than 1 GW/year. AE Solar has presence in more than 70 countries and this year started supplying modules to the U.S. from its European manufacturing facilities. In 2020, it is planning to release its Supreme PV modules product line with Shading resistant Hot-spot Free technology.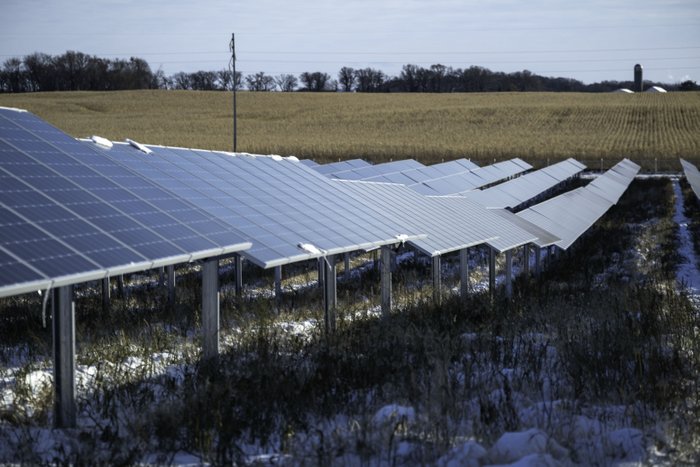 RBI Solar and SolarBOS | Booth 1323
RBI Solar's Sunflower breaks away from the limitations associated with commercial single-axis trackers and aims to redefine how trackers are utilized in the marketplace. With adjustable, independent row lengths up to 120 modules, layouts can cover more real estate and no longer be confined to box-shaped designs. The terrain following capabilities accommodate North/South slopes up to 10%, lowering land acquisition costs and/or helping to reduce the amount of civil work required before installation. Check out the Sunflower in action this InterSolar at Booth 1323.
SolarBOS is a leading developer and manufacturer of Balance of System products. In addition to a wide array of standard products, SolarBOS excels in offering custom solutions for all solar integrators, regardless of the size of the project. Since the company's acquisition by RBI Solar, customers can now take advantage of turn-key solutions that include electrical BOS, solar racking system, and wire in one bundle. At the 2020 Intersolar expo, visitors will have the chance to see SolarBOS' AC and DC Combiners, Rapid Shutdown Solutions and Wire Harnesses.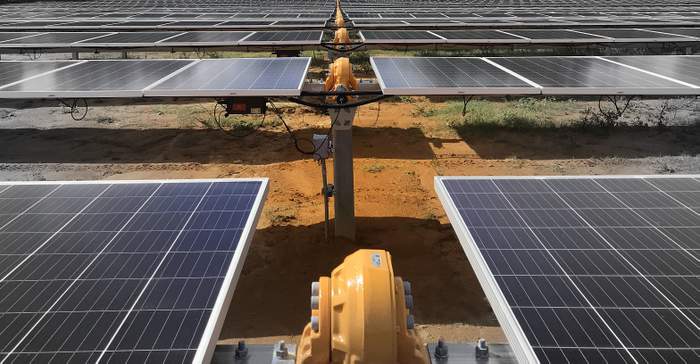 Solar FlexRack | Booth 1511
Solar FlexRack offers full turnkey solar tracker and fixed tilt solar racking with all foundation types, including ballast, for reduced risks and costs in utility-scale and commercial solar projects. See Solar FlexRack's reliable TDP 2.0 Solar Tracker with BalanceTrac on display. It is available with the Self-Powered Option for crystalline and thin film solar modules. The tracker technology bundles an advanced tracker design with world-class project support services. The TDP 2.0 Tracker features include: More modules per row (up to 90), rotational range of 110° (± 55°), optimization for 1,000- and 1,500-V modules, lower per-unit fixed costs for BOS savings and more.
Solaria | Booth 1514
Solaria's high-output solar panels deliver maximum energy production in a streamlined, all-black design that complements a home's architectural style. Solaria's advanced PowerXT 370W panels pack maximum power into minimum space for high efficiency. PowerXT 365W AC panel provides a pre-engineered system to maximize performance and optimize cost-effectiveness. Solaria's solar panels are backed by a 25-year warranty.
Energy Toolbase | Booth 1523
ETB specializes in modeling solar and storage economics and creating customized proposals for developers. Throughout the conference, Energy Toolbase will be hosting live demos and training sessions to show how expansive and diverse its platform is for the solar and energy storage market. It will also be demoing its newest residential storage integration with SolarEdge.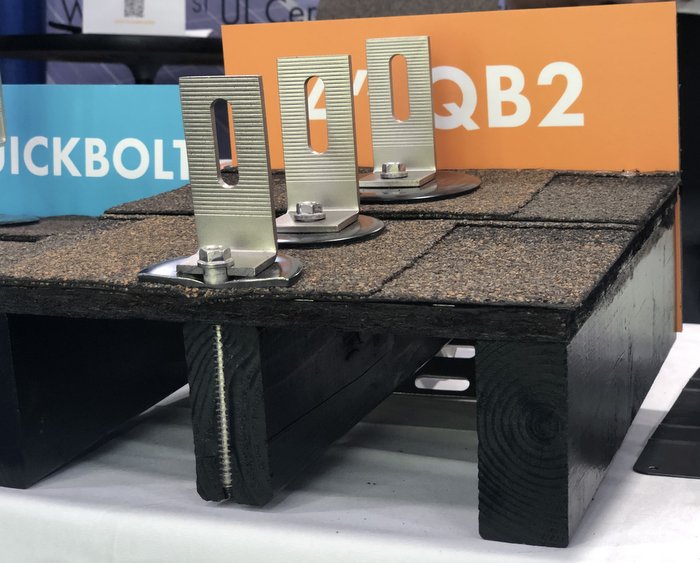 QuickBOLT | Booth 1527
Stop lifting shingles. Prevent leaks. Install quickly. QuickBOLT's new QB2 mounting kit for asphalt shingle, EPDM and TPO roofs combines superior speed with UL Certified waterproof technology called Microflashing. There are only three components, so installers can install with ease. The QB2's patented shoulder design compresses, plugs and seals the Microflashing into the penetration — in one step. The product is also sealant optional, passing multiple ASTM water tests with and without sealant. There are now over 1 million QuickBOLTs sold across the United States.
Listen to more in-depth conversations on Solar Builder's YouTube channel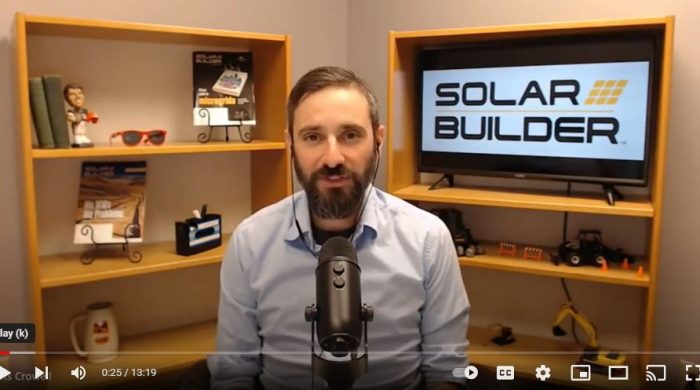 Our most popular series include:

Power Forward! | A collaboration with BayWa r.e. to discuss higher level industry topics.

The Pitch | Discussions with solar manufacturers about their new technology and ideas.
Tags:
AE Solar
,
Alencon Systems
,
Energy Toolbase
,
Enersys
,
Fortress Power
,
Generac
,
Intersolar
,
IronRidge
,
Outback Power
,
QuickBolt
,
RBI Solar
,
Solar FlexRack
,
SolarBOS
,
Solaria
,
SunModo