We asked for you to send us your coolest, most innovative and noteworthy solar projects of the last 12 months and, boy, did all of you deliver. From among the record amount of submissions, the Solar Builder editorial team has selected the best of the best as nominees for the 2019 Project of the Year awards. This year we divided the field into three categories:
Residential (single-family, multi-family and community solar projects)
Small C&I (under 500 kW)
Large-scale (Projects and deals over 500 kW)
The ballot is located at the end of this page. We are extending the voting this year to coincide with the final day of Solar Power International, Thurs. Sept. 26. Good luck to all of this year's nominees.
The voting period has ended! Stay tuned to the November / December issue of Solar Builder to see which projects won. Not a subscriber? Subscribe for free right here.
---
Residential solar
Single-family, multi-family and community solar projects
---
City Cabins at Abbott's Alley
Sedro-Woolley, Wash. | six 9.9-kW systems
Located in a rural town, this net-positive energy project of live/work spaces stands out in several ways. The live upstairs with a business downstairs configuration, allows self-employed people to reduce their commute time to zero. The concept isn't new — it's getting back to our roots — and it satisfies the city's mandate for commercial use in this C zone, while at the same time providing much needed housing. The location, on the main drag, across from City Hall, is a high profile location to show off (6) 9.9 KW solar arrays. Charging capability for electrical vehicles are provided for each home. Abbott's Alley achieved 5-star Built Green certification with over 800 points. The HERS Score for each home is -11.
• Completed: May 2019
• Developer: Martha Rose Construction Inc.
• Contractor: Martha Rose Construction, Inc.
• Modules: Itek
• Inverters: Itek
• Mounting: Iron Ridge
Basalt Vista Housing Partnership
Basalt, Colorado | 42.66 kW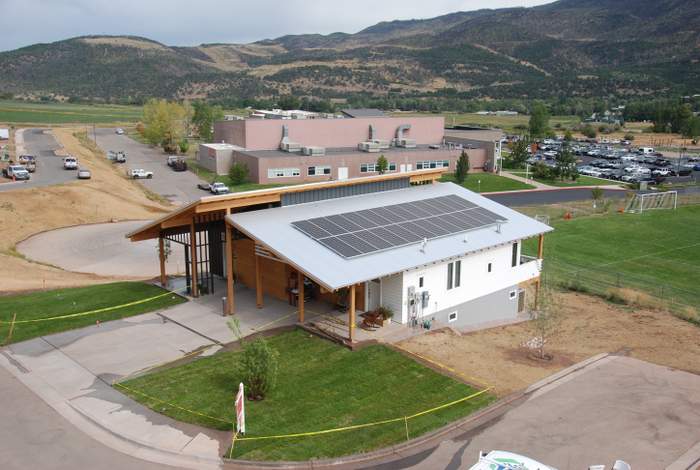 The Basalt Vista Housing Partnership is a collaboration between Habitat for Humanity Roaring Fork, Holy Cross Energy (HCE – the local cooperative utility), the National Renewable Energy Laboratory (NREL) and Sunsense Solar with the goal of providing affordable housing to teachers and other workforce families within a framework of solar electric power generation and battery storage. In the first four homes, for a four-month field deployment, HCE will conduct a study hoping to prove how adjusting energy levels provided by solar arrays and battery storage, designed and built by Sunsense Solar, can be more cost-effective than modifying energy production at a centralized power plant. HCE believes that gathering the data from the Live Learning Lab, in the first four homes will prove out the theory that it can be less expensive to vary consumer demand than it is to adjust power plant production. This means that homes will need to get a lot smarter if they are to be a meaningful part of a future 100% renewable energy grid.
• Developer: Habitat for Humanity Roaring Fork
• Contractor: Sunsense Solar
• Modules: LG
• Inverters: SMA
• Storage: Blue Planet
• Mounting: IronRidge
The Maycroft Resiliency Center
Washington, DC | 62.4 kW solar, 56 kWh battery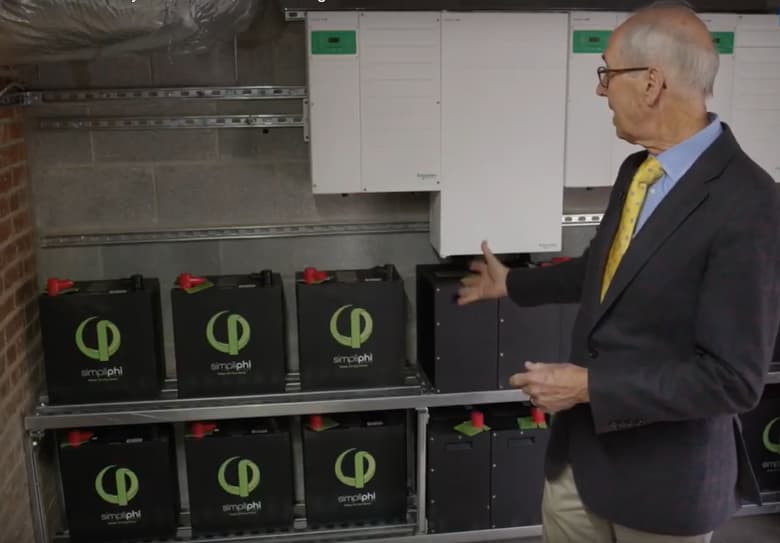 Jubilee Housing and PEPCO, along with New Partners Community Solar and the DC Department of Energy and Environment, launched Washington D.C.'s first affordable housing resiliency center powered by solar + battery storage. The Resiliency Center, Powered by PEPCO for the Jubilee Community is located at the Maycroft Apartments sponsored by Jubilee Housing. The Maycroft hosts a rooftop solar array combined with battery storage to power an on-site Resiliency Center and community space for three days – providing refrigeration for medication and perishables, lighting, outlets for charging cell phones and other communication devices, and a television. The system as a whole is D.C.'s first-of-its-kind effort to channel the benefits of solar + storage to low-income housing residents. One hundred of Jubilee Housing's most rent-burdened households will be participating in this community solar program.
• Completed: July 2019
• Developer: PEPCO, Jubilee Housing, New Partners Community Solar, Clean Energy Group (grant support)
• Contractor: Design & Engineering: amidus; solar installer: Solar Solution (DC); Battery Integrator: SunCatch Energy
• Modules: Boviet
• Inverters: Enphase (Solar); Schneider (Battery)
• Storage: Simpliphi
• Mounting: PanelClaw
Western Slope Community Solar
Western slope, Colo. | 10.3 MW total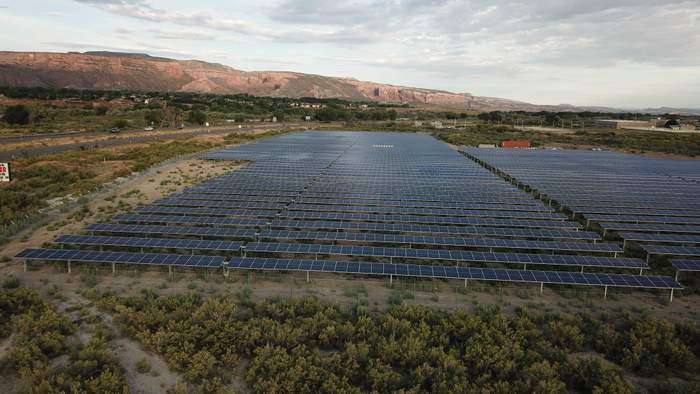 Late last year, Colorado brought online some of the most impactful community solar projects it's seen since it enacted the first community solar program in the country in 2010. Standard Solar and Pivot Energy partnered to develop six sites along the I-70 corridor in Colorado – including several towns, school districts and housing authorities serving low income residents – that now benefit from 10.3 megawatts of new solar capacity. For context, Colorado installed 20 MWs of community solar in 2018, bringing its total installed base to about 55 MWs and placing it fourth in the country for cumulative capacity. These 10.3 MW of projects accounted for more than 50% of the installed capacity in 2018, and nearly 20% of the total installed capacity in Colorado as of October 2018.
• Completed: October 2018
• Contractor(s) Involved: Pivot Energy (developer, subscriber organization), Konisto Construction (onsite construction), Standard Solar (owner).
• Module: Canadian Solar
• Inverters: Chint Power Systems
• Mounting: Array Technologies
Newfield Solar
Newfield, NY | 7.5 MW
Newfield Solar is a 30-acre community solar farm that generates 7.5 MW of clean electricity, enough to offset the energy usage of more than 800 average local homes. The project was Nexamp's first community solar site in New York. In addition to bringing clean power to the local grid, Newfield Solar represents the beginning of an important new initiative for Nexamp. To address the vegetation management needs at the site, Nexamp launched its new solar grazing program. With solar grazing, local sheep are used to maintain the grass throughout the season, eliminating the need for traditional fossil-fuel-based grass cutting processes. The result is a triple win for the community, local farmers and Nexamp. The sheep benefit from fresh pasture and plenty of shade, the farmers gain additional income and we enhance the positive local impact of an already sustainable project. More than 150 sheep are deployed at Newfield Solar.
• Completed: January 2019
• Developer: Nexamp
• Contractor: Nexamp
• Modules: Astroenergy
• Inverters: Chint Power Systems
• Mounting: TerraSmart
---
Small C&I
Under 500 kW
---
Marion House Food Kitchen
Colorado Springs | 26.10 kWdc
This project was donated by Peak View Solar to Marion House Food Kitchen of Catholic Charities of Southern Colorado ($75,000 worth of solar panels). It is one of only a handful of soup kitchens powered by solar in the nation. When Peak View employees heard about the donation, they volunteered their time on the weekend to do the install. And of course with solar, it is a gift that keeps on giving. Thanks to the donation, the Marian House believes they can save up to $500 a month in energy cost savings. And not only that, but a new gas operated tilt skillet also installed this to save the Marian House an extra $3,500 a year. In total, between the two new additions, the Marian House will save around $10,000 a year.
• Completed: April 2019
• Contractor: Peak View Solar
• Modules: Trina 290
• Inverters: SolarEdge
• Mounting: Unirac
My Possibilities
Plano, Texas | 160 kWdc
This solar project is particularly noteworthy because of the great organization it benefits – My Possibilities. This non-profit, founded in 2008, pioneered continuing education for adults with intellectual and/or developmental in North Texas. In 2019, the organization is once again a North Texas pioneer, tapping solar energy to power operations. "The non-profit world traditionally doesn't look into investments like solar panels because it's looked at as a front-end cost, but realistically, this is a long-term investment that is going to save us a lot of money," said Executive Director Michael Thomas. The system is projected to save the organization $540,000 or more in electricity costs over the life of the system. The solar array was funded in part via a $200,000 grant from SUN CLUB, an initiative of Green Mountain Energy dedicated to investing in nonprofits to advance sustainability for people and for the planet. The remainder of the grant was used to erect hydroponic sheds which will be used year-round to grow produce.
• Completed: February 2019
• Developer: Sunfinity Renewable Energy
• Contractor: Allegiance Solar
• Modules: Adani Mono-crystalline Silicon Solar PV Modules, ASM-7-PERC-340W
• Inverters: Chint Power Systems
• Mounting: Unirac RM 10 Roofmount racking
Cope Salt Company
Lancaster, Pa. | 46.08 kW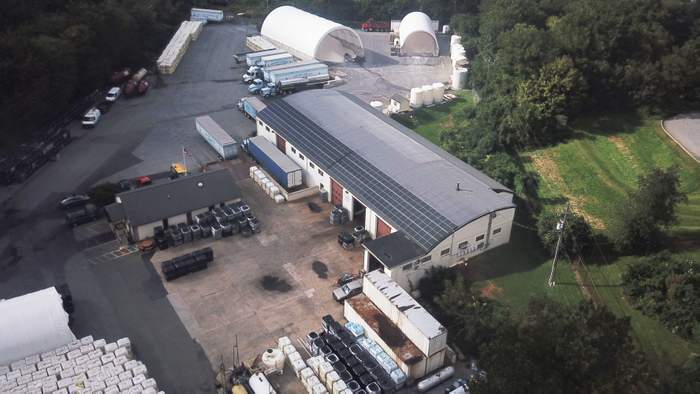 This project presented a unique set of hurdles for Paradise Energy Solutions, the system's installer. The solar system was installed on a rounded roof which included a rubber and shingle surface. "This was a project of firsts for us" said Charlie Allen, Project Manager for Paradise Energy Solutions. "This was our first project installed on a rounded roof, and we needed to find an attachment method that worked for rubber roofing." Paradise Energy found an attachment for rubber surfaces, and had the roofing company flash those attachments into the new rubber surface. "Having the roofing company install flashing around the attachments allowed the roof warranty to be preserved and the solar panels fit where they were originally intended to be installed," Allen said.
• Completed: November 2018
• Developer: Paradise Energy Solutions
• Contractor: Paradise Energy Solutions
• Modules: Hanwha
• Inverters: SolarEdge
• Mounting: IronRidge
Monterey Conference Center
Monterey, Calif. | 132 kW

The project design is simple, consisting of two roof-mounted SMA Core1 inverters, each with multiple strings of 15. The innovation of this project is in its unique bid parameters. The City of Monterey's engineer crafted a metric that rewarded something other than raw lowest cost per watt, as is typical. From the bid documents: "Award … shall be made to the Contractor with lowest weighted system unit price …. The weighting system values higher efficiency systems and higher density installations because the City of Monterey wants to maximize cost effective production on the Monterey Conference Center." The formula used encouraged using the highest quality modules and inverters optimized for the location, resulting in optimized production.
• Completed: April 2019
• Developer: City of Monterey
• Contractor: Applied Solar Energy, Pacific Grove
• Module: LG
• Inverters: SMA
• Mounting: Sollega
Charlotte Motor Speedway
Concord, NC | 247 kWdc
The Turn 4 Grandstand at the Charlotte Motor Speedway was removed and solar was installed on the existing steel infrastructure (saving on some mounting costs). Most of the array is 40-50 feet in the air. The structure has become an integral part of the facility — called the "Sun Deck" — and is a unique viewing location for races. CMS brings in food trucks, games, a DJ, and other forms of entertainment.
• Completed: May 2019
• Developer: Renu Energy Solutions
• Contractor: Renu Energy Solutions
• Modules: REC Solar
• Inverter: HiQ Solar
• Mounting: Existing steel from grandstand
---
Large-scale
Projects and deals over 500 kW
---
Mercedes-Benz of McKinney
McKinney, Texas | 787 kW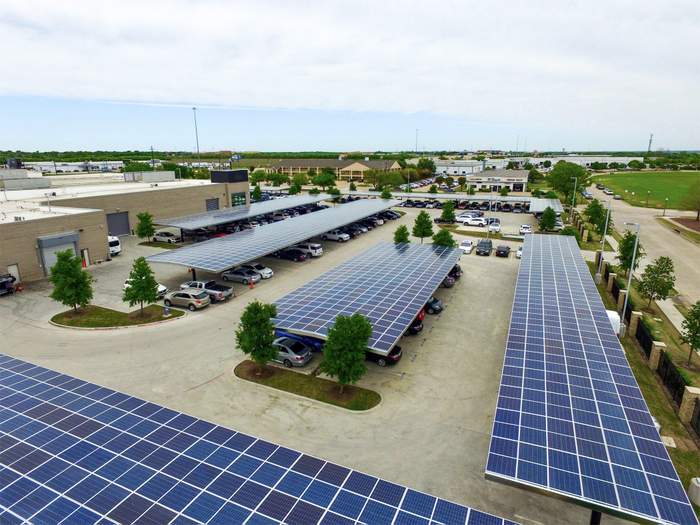 The attractive curved design of this carport, which encompasses the dealership's showroom and service building, complements their inventory and provides a shaded and comfortable environment for customers. It acts as an extension of their showroom floor where customers can walk around out of the sun and make their way into the dealership's VIP lounge. The carport is also equipped with solar-powered canopy lighting to illuminate the inventory late into the evening. "The radius design provided what we and the end-user felt was a more aesthetically pleasing design because it is a high-end dealership," noted the engineering teams of Baja Carports and Renewvia. The project was completed in just 28 days.
• Completed: May 2019
• Developer: Renewvia Energy
• Contractor: BAJA CARPORTS
• Modules: Canadian Solar
• Inverters: Chint Power Systems
• Mounting: Baja Carports
Flowing Wells Junior High School
Tucson, Ariz. | 512.5 kWdc
Flowing Wells Unified School District partnered with SOLON Corporation to construct 2.57 MWdc of solar at District schools which would generate 105.7 million kWh of electricity over 20 years and save the District an estimated $17.2 million dollars. The optimal location at this Junior High School was a parcel of land that had remained unused because it lies within the boundaries of a known archaeological site called the Hodges Site. Prehistoric remains were uncovered during previous preliminary construction activities in the area, and, after performing archeological testing at the request of the District, the Center for Desert Archeology recommended that no further construction occur on the site. SOLON proposed a ballasted ground-mount solution which allowed for the solar modules to be installed without penetrating the ground, allowing for zero impact to the archeological site. Security fencing was also supported with a ballasted system and all conduit was installed above ground. Together, SOLON and Flowing Wells USD were able to secure archaeological approval and permits to proceed with the solar project, with savings at this 512.5 kWdc project alone totaling at least $2.6 million.
• Completed: October 2018
• Developer: SOLON Corporation
• Contractor: SOLON Corporation
• Modules: JA Solar
• Inverters: Chint Power Systems
• Mounting: APA Solar Racking
Sutter Santa Rosa Regional Hospital
Santa Rosa, Calif. | 1.6 MW
Sutter Santa Rosa Regional Hospital (SSRRH), an 84-bed acute-care facility located about an hour and a half north of San Francisco, partnered with renewable energy company Ameresco on a "resilient ready" 1.6 MW solar energy system. An impressive aspect of this project is the care that went into maximizing the available footprint of the hospital in a cost-effective manner while also being installed (in seven phases) to minimize disruptions to the hospital. Infrastructure for electric vehicle charging stations was included in the project. The aesthetic of the hospital entrance was taken into account as part of the design as well as being able to see critical signage such as the emergency entrance. The array designers coordinated appropriate lighting with CalTrans for the helipad array. The carports also provide shade to keep cars cool for the patients, visitors and staff who travel to SSRRH. Additionally, the LED lighting provided by the solar powered parking canopies provides improved lighting and safety over traditional pole light fixtures.
• Completed: June 2019
• Developer: Ameresco
• Contractors: RBI (Structural); Collins (Electrical)
• Modules: Jinko
• Inverters: Chint Power Systems
• Mounting: RBI Custom Carport Canopies
Walmart – Phase IV
Bayonne, N.J. | 259 kWdc (1.9 MW across five stores)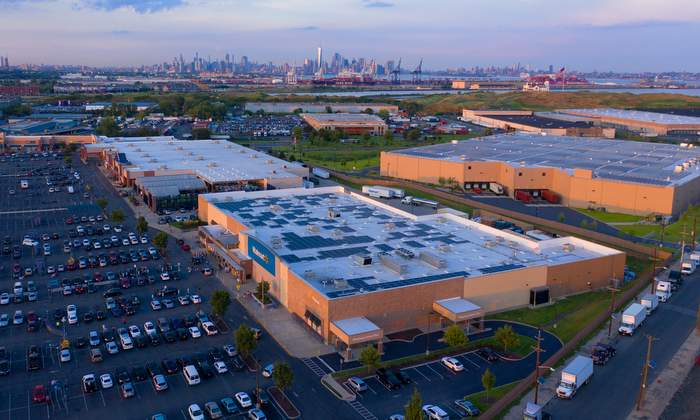 This Walmart Bayonne Solar Project is part of five rooftop solar projects, totaling just over 1,900 kW on Walmart stores in New Jersey, which were developed and operated by C2 Energy Capital. As one of the largest retailers in the world, Walmart has laid out an impressive plan that spans their entire organization in an effort to transition to a new sustainable business model (being 50 percent powered by renewable sources by 2025). Because of their global brand recognition and participation in organizations like RE100, they are an important leader in environmental stewardship. The Walmart Supercenter in Bayonne, N.J., is one step in those plans, delivering enough electricity to power 15 percent of the store's needs and helping Walmart.  C2 Energy Capital and Walmart have over 46 distributed generation solar projects in a national portfolio either in operation or under construction.
• Completed: December 2018
• Location: Bayonne, New Jersey
• Developer: C2 Energy Capital
• Modules: Silfab
• Inverters: SolarEdge
• Mounting: DCE
Flushing Community Schools
Flushing, Mich. | 956 kW
Solar has always faced an uphill battle in the upper Midwest. States like Michigan and Ohio, built on coal-fired electricity generating plants, have battled outdated thinking by utilities and the public about solar power. It's often been a hard sell to get public entities to embrace the possible financial benefits of installing a solar plant on their property—but one public/private partnership may be changing the equation in Michigan. Standard Solar and Flushing Community Schools joined forces to build a mixture of roof-mounted and ground-mounted solar arrays on seven schools in the district. It was a groundbreaking arrangement for Michigan, a first-of-its-kind public/private partnership to build a nearly 1 MW system of solar arrays that will provide 84% of the district's electricity use. It will also save the district $45,000 annually and $900,000 over the life of the contract.
• Completed: July 2019
• Developer: Standard Solar
• Contractor: Standard Solar
• Modules: Adani
• Inverters: Chint Power Systems
• Mounting: PanelClaw
Wilkinson DeFore Solar Project
Gordon, Ga. | 2.3 MW DC (Part of 9 Projects Totaling 14.1 MW)
Part of Georgia Power's Renewable Energy Development Initiative (REDI) customer-sited distributed generation program, the Wilkinson DeFore Solar Project is located in Gordon, Ga. Contracted to deliver energy and all environmental and renewable attributes to Georgia Power through a power purchase agreement, the 2.3 MW solar system was installed by SolAmerica. The Georgia Public Service Commission (PSC) approved the REDI initiative in 2016 authorizing Georgia Power to procure 1,200 MW of renewables through multiple programs. The Wilkinson DeFore Solar Project was accepted in this phase along with 8 other solar projects that were acquired in 2018 by Duke Energy Renewables, a subsidiary of Duke Energy, together totaling over 14 MW. The REDI Program has caused solar energy in the state of Georgia to soar in comparison to only five years ago when solar capacity set at around 150 MW. Today the state of Georgia has over 1,571 MW of solar installed and is expected to have over 2,500 MW in the next 5 years.
• Completed: December 2018
• Developer: Duke Energy
• EPC/ Contractor: SolAmerica
• Modules: REC
• Inverters: Solectria
• Mounting: Solar FlexRack
The voting period has ended! Stay tuned to the November / December issue of Solar Builder to see which projects won. Not a subscriber? Subscribe for free right here.
Listen to more in-depth conversations on Solar Builder's YouTube channel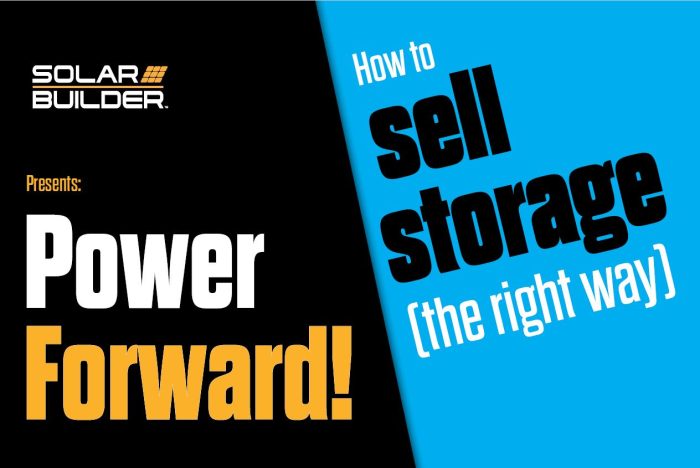 Our most popular series include:

Power Forward! | A collaboration with BayWa r.e. to discuss higher level industry topics.
The Buzz | Where we give our 2 cents per kWh on the residential solar market.
The Pitch | Discussions with solar manufacturers about their new technology and ideas.
Tags:
Projects of the Year