Town of Stafford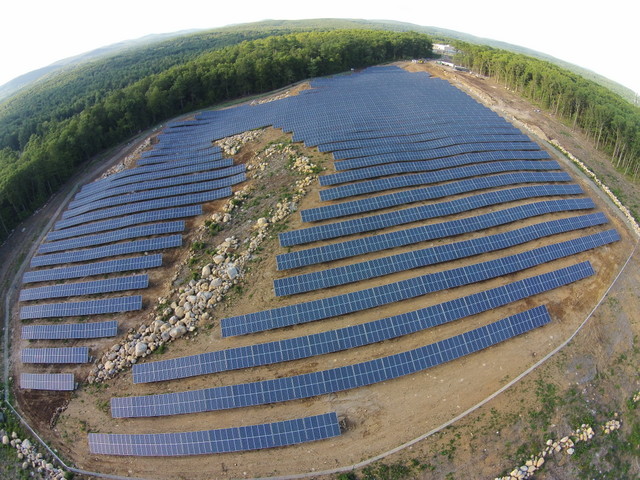 Location: Stafford, Conn.
Size: 3.45 MW
Completed: July 2016
Challenges: Building this PV system on a rocky, steep terrain required special drillers just to install the piles. Some boulders pulled out were bigger than a pickup truck. Developer Standard Solar did a formal study and used innovative smart inverter capabilities to integrate to the grid according to ES's requirements. The landfill part of the project was unique in that all electrical wiring/conduit and racking foundations had to remain above grade so as to not penetrate or disturb the cap layer. We had to run the inverter output feeders in conduit down a very steep (approximately 40 percent grade) section of the cap in order to reach the equipment pad. Innovation: This is one of the first virtual net metered projects approved in Connecticut, and it offsets 100 percent of the town's load, making the whole town net zero. It supports mostly schools and other community loads.
Developer: Standard Solar
Contractor: Electrical Contractors, Inc, Maine Drilling and Blasting
Modules: Hyundai Heavy Industries
Inverters: Chint Power Systems
Mounting: Gamechange and DCE Solar
---
Moapa Southern Paiute Solar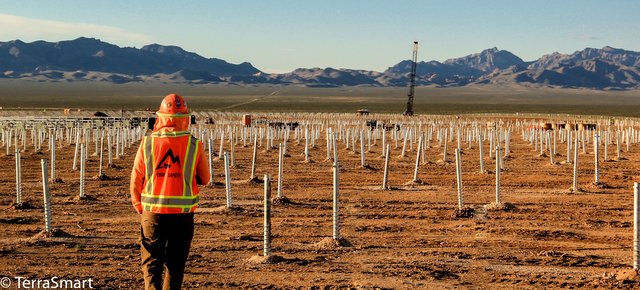 Location: Moapa, NV
Size: 353 MW
Completed: July 2016
Moapa Southern Paiute chose TerraSmart's construction team to work on the hallowed Moapa River Indian Reservation to construct the first utility-scale solar plant on U.S. tribal lands. There were some huge challenges, particularly the sand/caliche type of soil. Caliche, a combination of soil fused together by limestone, is primarily found in South America, so it was a challenge most U.S. racking companies couldn't embrace. Underneath a 12- to 24-in. layer of caliche, engineers found 8-12 in. of light sand, which would pose significant issues for the typical driven piles. That's why TerraSmart's ground screws were a cost-effective solution to the problem. The ground screws also provided an accelerated foundation for the fixed-tilt mounting solutions that were to support 3,209,091 modules on approximately 2,000 acres on the Moapa River Indian Reservation in Clark County, Nevada. The loose sand top layer also posed an interesting problem: It required pinpoint accuracy from TerraSmart to ensure proper pile location without unduly damaging the sacred Paiute lands. The standard survey method of staking points also wouldn't work with the loose soil. So TerraSmart deployed a proprietary software to survey/drill at the project site, enabling the proper accuracy to complete the project.
Developers: Moapa Southern Paiute Solar, LLC (a subsidiary of First Solar Electric, LLC)
Contractors: First Solar, TerraSmart – contracted by First Solar, Civil-Contractors VT Excavation and Lone Mountain Excavation, High Voltage Electrical is Klondyke, Electricians for Blocks 4,5 &6 is Cupertino Electrical, Electricians for Blocks 7,8 & 9 is Bombard Electric. Eastridge Construction Solutions provided contracted labor force.
Modules: First Solar
Inverters: GE (General Electric)
Mounting: TerraSmart foundations
---
Entergy New Orleans Solar Power Plant
Location: New Orleans, Louisiana
Size: 1 MW AC
Completed: June 2016
Owned by Entergy New Orleans, this project incorporates utility-scale solar generation and state-of-the-art battery storage technology while simultaneously creating a standard for utility-scale solar generation performance in the New Orleans metro area. This 1 MW project will allow Entergy New Orleans to study the feasibility of utility-scale solar in the city and the extent to which battery storage (LG Chem) can help compensate for cloud cover and provide the power when it is needed most. It consists of more than 4,000 (Jinko Solar) solar panels that can power approximately 160 average homes. When the project is finished, Entergy will be able to test and analyze five different use cases. These use cases include: frequency regulation, load shifting, renewable smoothing, solar ramp rate management (up and down), and additional VAR support. The system will be capable of charging the battery energy storage system from both the grid and solar system while also allowing Entergy to evaluate the positive effects its integration has on Entergy's existing grid.
Developer: Blattner Energy, Inc.
Contractor: Blattner Energy, Inc., South Coast Solar
Modules: Jinko Solar
Inverters: GP Tech
Storage: LG Chem
Mounting: NEXTracker
---
Red Horse 2 Solar and Wind Farm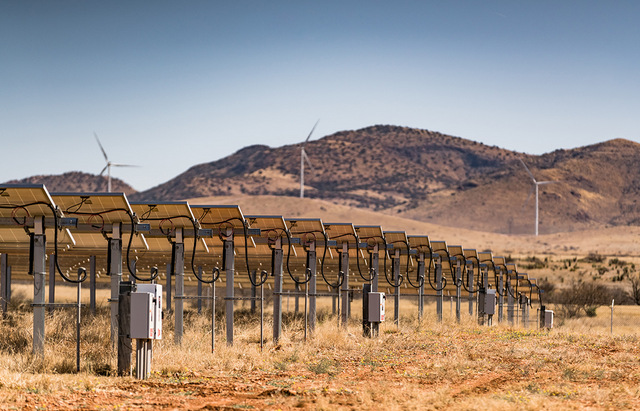 Location: Willcox, AZ
Size: 85 MW
Completed: December 2015
Typically, collocated solar and wind facilities operate as independent power plants with separate interconnections to the electric grid. In this case, Red Horse's enterprising design combines nighttime peak wind production with daytime peak solar production to provide a more consistent output of energy in a single power plant. Joining 30 MW AC wind and 55 MW solar, it has 11 miles of overhead 34.5 kV transmission lines and a new 345 kV substation. The solar field is comprised of approximately 250,000 305-watt Jinko modules, 55 AE 1000NX inverters and Array Technologies single-axis trackers. The distinctiveness of Red Horse lies in its single point of interconnection to the TEP grid, therefore eliminating the need for expensive system upgrades and unnecessary cost burdens to TEP customers.
Developer: DE Shaw & Co. – DESRI
Contractor: Swinerton Renewable Energy
Modules: Jinko Solar
Inverters: Advanced Energy
Mounting: Array Technologies
---
Eurus Energy Waianae Project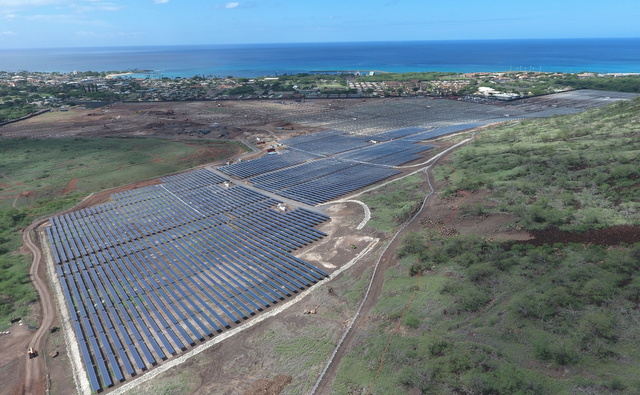 Location: Waianae – Hawaii (Oahu)
Project size: 40 MW DC
Completed: November 2016
The Waianae project is the largest PV project in Hawaii. It is located on an extremely challenging site at the base of the cliff with numerous subsurface obstructions, including boulders and a coral field. REC Solar partnered with the developer and Goodfellow Brothers International to value engineer the site preparation and foundation design to ensure the project was economically viable. The design incorporated 100 percent site reuse methodology to minimize construction impact on the surrounding community, including the school and housing directly adjacent to the project site. To achieve a Zero Import / Zero Export goal, a mini-quarry was established that has processed 15,000 tons of rock for re-use as road, pad base, and soil stabilization material, vegetation for re-use as 5 acres of dust controlling ground cover, and native coral, sand and trench spoils for bedding and backfill.
Developer: Eurus Energy Americas
Contractor: REC Solar
Modules: Canadian
Inverters: TMEIC
Mounting: Exosun
---
Cedar Falls Utilities "Simple Solar" Community Solar Project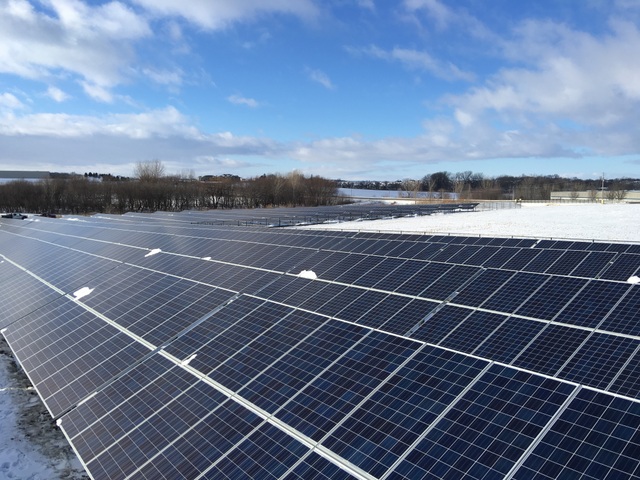 Location: Cedar Falls, Iowa
Project size: 1.987 MW (DC)
Completed: April 2016
The innovation in this community solar project was that the more customers who participated, the lower their cost would be to participate. Cedar Falls Utilities (CFU) launched its "Simple Solar" community initiative to meet a growing demand for clean energy while offering flexibility around participation in the project. They gave their customers the opportunity to 'pre-subscribe' for the solar energy by making an upfront payment. These payments gave customers access to a portion of the energy that the array will produce, an amount by which their ongoing energy bills will be reduced. This approach proved demand/interest among customers, drove the size of array built and created a mechanism where a customer could apply their energy savings to another home (within the CFU territory) if they decide to move. This provides flexibility to consumers and confidence that they will benefit from the energy savings long-term. Interest and economies of scale drove the solar unit price from $399 to $270.
Developer: RER Energy
Contractor: SunLink PowerCare
Modules: Hanwha 305 Watt Modules
Inverters: Solectria Inverters
Mounting: SunLink GeoPro Fixed Tilt
---
Village of Minster Energy Storage Project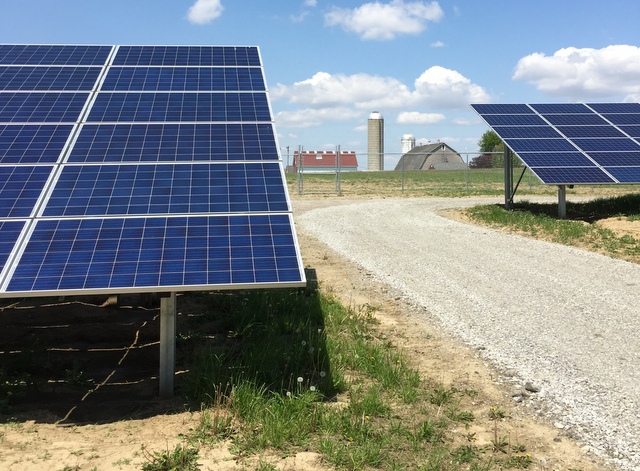 Location: Minster, Ohio
Size: 7-MW
Completed: 5/6/2016
The Village of Minster Energy Storage System is one of the largest solar + storage facilities in the United States that is connected to a municipal utility. It is also one of the largest energy storage facilities in the state of Ohio. The Minster project is the first case where multiple revenue streams: frequency regulation services, transmission and distribution deferral, voltage support and demand response services, flow to multiple partners. Half Moon Ventures, the project developer, is participating in the PJM frequency regulation market on this project and capitalizing on that revenue stream. The Village of Minster utilizes the energy storage to lower their coincident peaks and subsequent demand to avoid the costs associated with peak load contribution (PLC) charges assessed by PJM. In addition, the village of Minster was able to cancel a planned purchase of power factor correction equipment due to the energy storage system's reactive compensation capabilities. Because the system is co-located with 4.2 MW of PV, the village is able to reduce its carbon footprint while increasing the reliability and simultaneously decreasing the operational costs to maintain the system.
Developer: S&C Electric Company, Half-Moon Ventures
Contractor: LG Chem, Premier Power
Modules: Canadian Solar (procured by American Renewable Energy and Power)
Storage: S&C Electric Company for the PureWave SMS – Energy storage PCS and EMS;
Inverters: Ingeteam
Mounting: RBI Solar
---
Pahrump Solar Project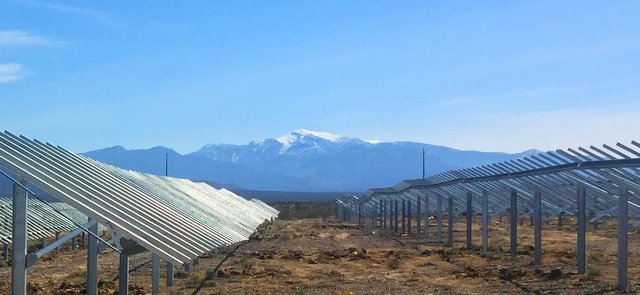 Location: Pahrump, Nevada
Size: 17.5 MW
Completed: July 2016
This project required collaboration by Valley Electric Association, Bombard Renewable Energy and the U.S. Fish and Wildlife Service to protect the Mojave Desert tortoises discovered at the project site. Key to this was the project's racking system from Solar FlexRack. Because of the versatility of the racking system, all the special onsite requirements to protect the tortoises' habitat were able to be met. The project is a milestone example of balancing the construction of a renewable energy project and protecting the indigenous wildlife, particularly in this case – the Desert Tortoise. It demonstrates how development, construction and wildlife conservation can work together to achieve mutual environmental goals.
Developer: Valley Electric Association
Contractor: Bombard Renewable Energy
Modules: SolarWorld (51, 562) 340-watt modules
Inverters: 20 Yaskawa Solectria Solar, SGI XTM Utility-Scale Inverters
Mounting: Solar FlexRack G3-X Fixed Tilt
---
Morelos Del Sol Solar Project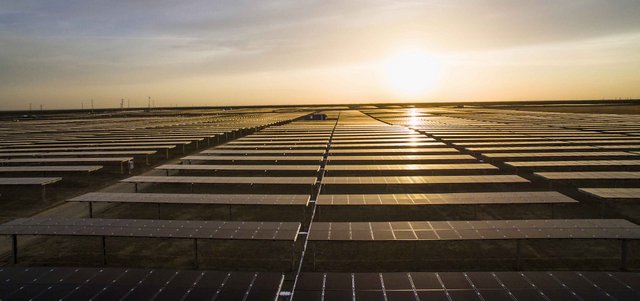 Location: Lost Hills, Calif.
Size: 18.7 MW DC
Completed: November 2015
The project required a carefully coordinated timeline to overcome challenges and meet construction deadlines. There were geological challenges on site that required special engineering considerations and gas lines ran diagonally underneath the site posing technological complexities. The development team worked with PG&E to meticulously coordinate timing on the interconnection to not disrupt other users on the line and accommodate backfeed restrictions. Solar Frontier modules generate more power than conventional crystalline silicon in real-world conditions. The optimized solar components in the system effectively reduce the levelized cost of energy and can potentially boost production up to 30 percent. The development of solar in the Imperial Valley is contributing significantly to the local economy with employment, tax revenues and local business services support.
Developer: Solar Frontier Americas Development LLC
Contractor: DEPCOM Power
Modules: Solar Frontier CIS SF165-S, SF170-S
Inverters: Bonfiglioli, RPS TL – 1350
Mounting: Clavijo Single – Axis Tracker
---
Calipatria Solar Project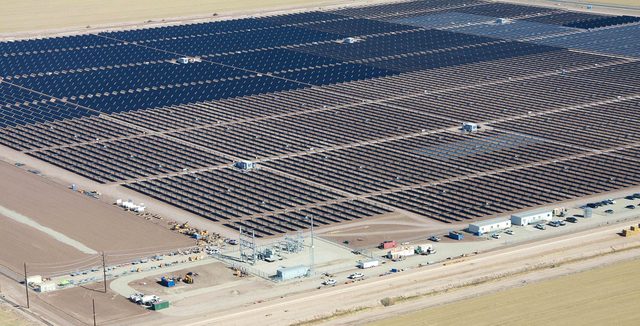 Location: Calipatria, Calif.
Size: 21.99 MW DC
Completed: February 2016
Due to the flat terrain, low regional labor costs, high irradiance levels of the sun and support from local jurisdictions, this is an exceptional area for solar production. The Calipatria solar power plant reaps the advantages of the area and contributes to local economies through employment, tax revenues and local business services support. San Diego Gas & Electric recognized Solar Frontier Americas for exceeding their supplier diversity goals while working on Calipatria. The California Public Utility Commission has set a goal for the state's investor-owned utilities to procure at least 21.5% of their expenses, including electric and fuel costs, with Diverse Business Enterprises (DBEs). DBEs include women-, minority-, service-disabled veteran-, and LGBT-owned businesses. San Diego Gas & Electric (SDG&E) also encourages power project developers to subcontract with DBEs during project development and construction to create additional opportunities for those companies.
Developer: Solar Frontier Americas Development LLC
Contractor: DEPCOM Power
Modules: Solar Frontier
Inverters: Bonfiglioli
Mounting: Clavijo Single -Axis Tracker
Listen to more in-depth conversations on Solar Builder's YouTube channel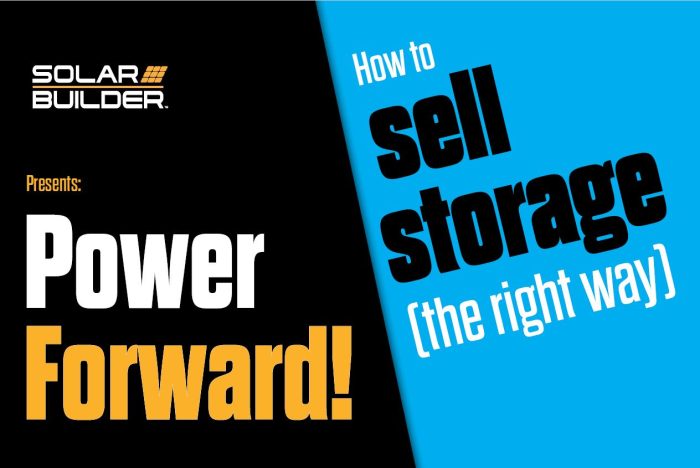 Our most popular series include:

Power Forward! | A collaboration with BayWa r.e. to discuss higher level industry topics.
The Buzz | Where we give our 2 cents per kWh on the residential solar market.
The Pitch | Discussions with solar manufacturers about their new technology and ideas.