Grenada Elementary & Delphic Elementary
Location: Grenada & Montague, Calif.
Size: 22 kW & 7.3 kW DC
Completed: May & June 2016
A major project goal of these school installations was to demonstrate and measure the investment benefits of renewable technologies for schools. All funding for the PV Tracker project was procured by SES from California's Proposition 39 job creation program, bundled with other energy efficiency measures (HVAC, insulation, lighting) for the schools. The school's electricity bills are significantly reduced (freeing up money for other school needs), and these programs promote community development in the building and maintaining of solar-electric production facilities. The program requires the tracker bundles to show an SIR of greater than 1.05. The tracking systems are currently generating nearly 530 MWh of clean electricity per year, saving the districts over $8,000 annually in utility costs. The 7.3-kW Tracker units are American-made AllEarth Renewables L20 Series, each with their own ABB inverter, producing ~40% more energy than equivalent fixed panels in the location. Delphic Elementary is directly tied to single-phase power, while each of the three trackers at Grenada provides one leg of a 3-phase service. The installations are modular and relocatable if needed, and the pole-mounting negated the need for re-roofing. They were approved, funded, installed and producing net-metered power in less than 30 days.
Developer: Sharpe Energy Solutions
Contractors: Sharpe Energy Solutions, Double J Electric, Willpower Electric, Price Excavating
Modules: LG
Inverters: ABB
Mounting: AllEarth Renewables
---
Ad Astra Rocket Co.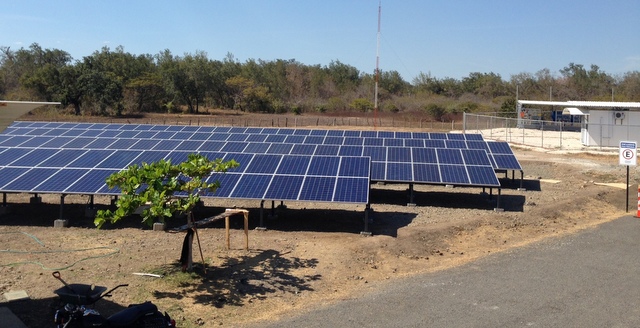 Location: Liberia, Guanacaste, Costa Rica
Size: 77 kW
Completed: March 29 2016
In the late 1950's and early 1960's the "space race" provided an important foundation to the solar industry we know today. In a moment in history, where solar was inaccessible to virtually almost anyone, the U.S. space agency heavily invested in solar for space-bound satellite technology. This long term investment from the aerospace industry is now yielding even more dividends. As of March 2016, solar energy is now playing an important role in the development of the plasma propulsion engine, which could allow for manned travel to Mars in just 39 days. A 77-kW ground-mount solar installation at Houston-based Ad Astra Rocket Company's lab in Liberia, Costa Rica, provides 100 percent of the power used for running experiments of the plasma propulsion engine; which heats up gases to over 1 million degrees Celsius (1.8 million degrees Fahrenheit), while creating an electromagnetic field that prevents the plasma from coming into contact with any of the engine's components. Excess power from the PV system is used to produce and store hydrogen; which is used for industrial and transportation purposes; making this solar photovoltaic system one of the most interesting applications of its time.
Developer: Sibo Energy S.A.
Contractor: Sibo Energy S.A.
Modules: Jinko Solar
Inverters: Kaco new energy
Mounting: S.E.
---
North Putnam High School & Middle School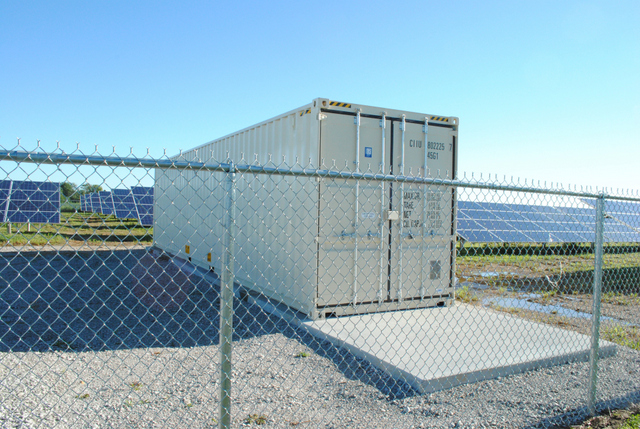 Location: Bainbridge, Indiana
Size: (kW/MW) 1.6 MW with Battery 5,245 – 305W modules
Completed: March 2016
North Putnam Schools were in need of physical upgrades including a need to improve air quality with new ventilation systems. North Putnam was looking to institute a debt service program and considered using wind turbines. Johnson-Melloh Solutions (JMS) proposed a solar panel farm on 6 acres as an alternative because it gave North Putnam control of their electricity cost for the next 25 years. JMS also introduced a capital lease agreement through a non-debt service finance program via a community bank that required no upfront capital and did not raise any local tax levy with a positive cash flow in Year 1 – after the annual lease payment. JMS selected JLM Energy to create an energy system that combined solar + storage. Facilities can rely on stored power during peak times to lower bills, and excess energy can be fed back to the grid at a constant rate over the course of the day, resulting in lower bills. Transmission & Distribution (T&D) infrastructure at the school facility caps the amount of power that can be transmitted back to the grid to 500 kW – a limitation easily overcome by the brains of the energy storage system. Students get a hands-on lesson in energy efficiency because they can monitor the JLM Energy's Measurz software dashboard real-time on kiosks located throughout the school.
Developer: Johnson-Melloh Solutions
Contractor: Johnson-Melloh Solutions and JLM Energy
Modules: Boviet
Inverters: Fronius
Mounting: Solar Flex Rack
---
Phase I of Fort Campbell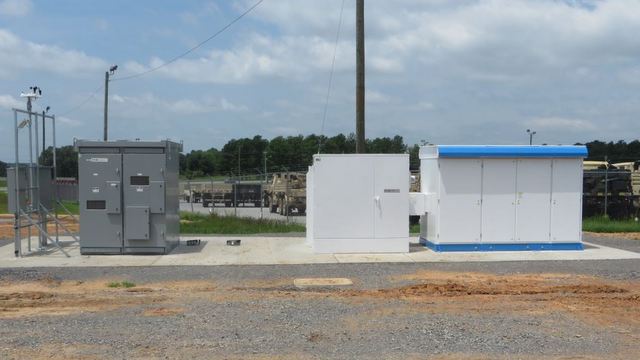 Location: Fort Campbell, Kentucky/USA
Size: 1.9 MW
Completed: September 2015
Home to the 101st Airborne Division and the third largest military population in the Army, Fort Campbell seeks to reduce energy intensity on site by 30 percent by 2030. The project included the design, installation and containment of Kentucky's largest PV array to date – a 1.9-MW renewable energy plant on a former landfill site. A special ground-mount ballasted system was required for this application. Additionally, three separate switching schemes were available into which the new solar site could export power. The existing relays were carefully analyzed to ensure no nuisance feeds would reverse flow current onto the PRECC distribution lines. Other key technology includes: Direct-coupled solar inverter and transformer designed to increase electrical resiliency; String combiner boxes with fuses and integrated DC disconnect switches and surge suppression; All the cables are routed above ground in cable trays or conduits; all metal components of the module racks and cable trays connect to a grounding system integrated with the inverter grounding loop; Web-based monitoring to oversee power generated by the solar array.
Developer: US Army Corps of Engineers / Pennyrile Rural Electric Cooperative
Contractor: Eaton
Modules: Suniva
Inverters: Eaton
Mounting: RBI Solar
---
Tucson Proving Ground Microgrid
Location: Green Valley, Arizona
Size: 1 MW (500kW solar pv panels, 500kW Energy Storage)
Completed: February 2016
Nearly 25 years ago, Caterpillar opened a proving ground about 30 miles southwest of Tucson, Ariz. While this site was ideal for testing Caterpillar mining equipment, the site was too remote to be easily connected to the local utility grid. So for years, the Tucson Proving Ground (TPG) relied on diesel generator sets for power generation, using approximately 250,000 gallons of diesel fuel each year. In an effort to provide reliable power to the site and reduce operating costs and emissions, the Caterpillar team installed 500 kW of PV solar panels and 500 kW of energy storage to help supply power to the site. With the addition of solar panels and energy storage to its microgrid, the team at TPG expects to reduce its diesel fuel use by 33 percent and its generator set operation by 25 percent, saving an estimated $250,000 annually. The hybrid microgrid at TPG is a real-world example of Cat Microgrid technologies, now available through the Cat Dealer Network around the world. The installation of solar PV panels at TPG ushers in a new chapter for Caterpillar focused on providing sustainable power to its facilities and to its customers.
Developer: Product Development and Global Technology (PD&GT), division of Caterpillar Inc.
Contractor: Empire Renewable Energy LLC.
Modules: First Solar Electric LLC
Inverters: SMA
Mounting: First Solar Electric LLC
---
Levee Mount Solar Project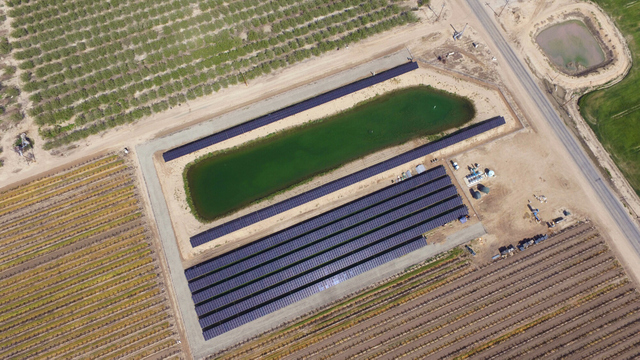 Located: Delano, Calif.
Size: 522 kW
Completed: November 2015
One problem area in large-scale agricultural solar projects is the consternation about wastage of productive agricultural land. To combat this problem, Staten Solar installed solar panels along the levees of irrigation lagoons, to avoid wastage of productive space in farms. This kind of innovative mounting system is called a Levee Mount, and Staten Solar says it is the first company in the world to design and construct it. Presently, Staten has effectively accomplished a 522 kW Levee mount project in Delano with several others awaiting construction. Generally, a 500-kW solar system covers about 2 acres of land, but by strategically placing solar panels along the levees of the lagoon, 20-30 percent of the productive land, and the associated annual crop revenues are saved. This also helps avoid deforestation. The farmer can now save tens of thousands of dollars every year by harnessing the power of solar energy.
Developer: Staten Solar Corporation
Contractor: Staten Solar Corporation
Modules: Solar Frontier
Inverters: Canadian Solar
Mounting: Staten Solar
Listen to more in-depth conversations on Solar Builder's YouTube channel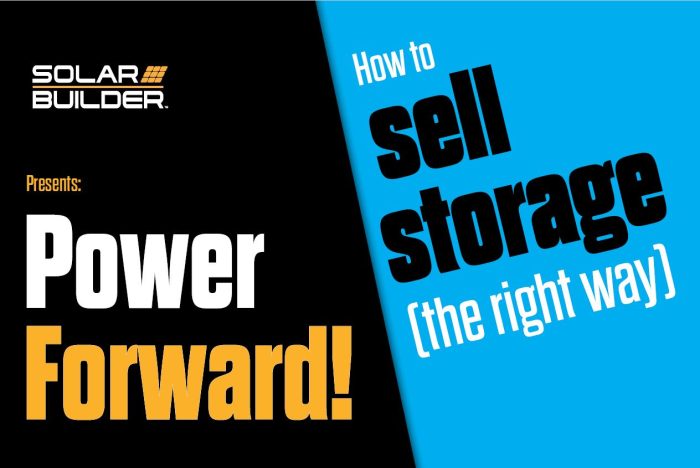 Our most popular series include:

Power Forward! | A collaboration with BayWa r.e. to discuss higher level industry topics.
The Buzz | Where we give our 2 cents per kWh on the residential solar market.
The Pitch | Discussions with solar manufacturers about their new technology and ideas.