Verengo Inc., the nation's leading residential solar specialist, announced it will host a job fair on Wednesday, June 26th from 10 a.m. to 1 p.m. at its Torrance, Calif., corporate headquarters, 20285 S. Western Blvd.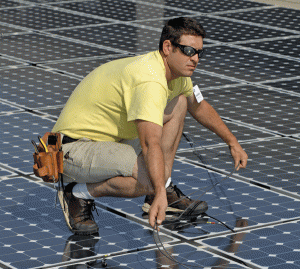 The company will interview candidates for 70-plus new positions including certified electricians, electrical apprentices, solar sales consultants, field marketing associates, canvassers, solar installers, solar system designers, and several other positions.
"Verengo is seeking bright, energetic applicants with positive, can-do attitudes who are looking for a professional career in the booming clean energy business. We offer extensive training, highly competitive compensation and a unique opportunity for advancement," said Co-Founder and President Ken Button.
"The company is very much in an expansion mode," said Human Resources VP Rob Shneer. "We hired over 400 new employees last year, and we plan to hire at least that many this year. We have a values-driven, customer-centric corporate culture and programs that make for happy, loyal customers and employees. We prefer to promote from within our Verengo Team, making this a great ground floor opportunity for go-getters who are passionate about the solar energy field."
The job fair is free and both full-time and part-time positions are available. Candidates are advised to dress professionally and come prepared with two copies of their resume.
Verengo Solar is an equal opportunity employer, a recently announced partner of Veterans Green Jobs, and has been named by Inc. Magazine as one of the top job creators in the U.S over the past three years amongst private companies.
For job fair information call 714-453-2013 or email recruiter@verengosolar.com.