Tioga Energy and Energy Finance Company (EFC), providers of renewable energy services to commercial, government and non-profit organizations, today celebrated the commissioning of a 473-kW solar electric system for the Wildwoods Convention Center overlooking the beach in Wildwood, N.J. Tioga served as the project developer and managed the project through construction, with financing provided by Energy Finance Company, who will also own and operate the solar power system. Under the terms of a Tioga SurePath Solar power purchase agreement (PPA), electricity generated by the solar energy system will be sold to the Wildwoods Convention Center at rates less than those of the local utility.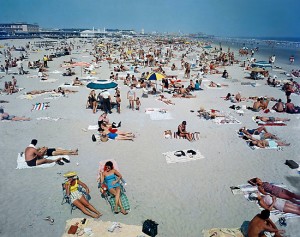 A 260,000 square-foot meeting and exhibition facility located on the Wildwoods Boardwalk, the Convention Center now obtains 24 percent of its electricity needs from solar energy. Designed for optimal performance in the coastal environment, the new rooftop installation enables the Convention Center to reduce electricity costs and meet its goals for sustainability. The project reduces the facility's CO2 emissions by 179 tons annually, equating to 387,500 vehicle miles not traveled. Additionally, the Wildwoods Convention Center received a full roof replacement as part of the agreement.
New Jersey-based energy consulting firm Gabel Associates supported the Wildwoods Convention Center throughout the development of the project, including a thorough evaluation of proposals in which Tioga Energy was recommended as the preferred developer.
"Already boasting a number of environmentally friendly design aspects, the Wildwoods Convention Center is a longtime champion of environmental sustainability. Now, a decade after opening its doors, the organization furthers its green vision, reducing operational costs through the use of renewable energy," said Paul Detering, CEO of Tioga Energy. "We're confident this system will prove to be an essential component to everyday operations while serving as a solar beacon for the greater Wildwood community."
Energy Finance Company CEO Reyad Fezzani commented, "We are truly excited to provide the capital required to construct, own and operate EFC's first East Coast project at such a noteworthy location. Wildwoods Convention Center is an excellent addition to our solar power portfolio and we are also pleased that the project was 100 percent constructed by local unions including an IBEW affiliate, representing approximately 4,800 man-hours."
Pro-Tech Energy Solutions managed all engineering, procurement and construction (EPC) services for the project that included IBEW Local 269 Member Huen Electric.
"When our solar initiative presented some late-stage challenges, the team at Tioga Energy went above and beyond to help us overcome the hurdles and see it through to completion," said John Siciliano, Executive Director of the Greater Wildwoods Tourism Improvement and Development Authority, the operating agent for the Wildwoods Convention Center. "Thanks to the expertise of all the players involved, we can now provide a solar-powered experience for our visitors from around the world."