Solar panels are too often lumped into an "all modules are essentially the same" bucket. Many argue that modules have been commoditized and that attempting to differentiate between them is a wasted effort. This is fundamentally not true. Here are three great examples of innovative solar panels just now hitting the market:
BeamReach Solar's Sprint Lightweight PV System
BeamReach Solar's 60-cell Sprint Lightweight PV System is the most innovative integrated racking solution on a module I've seen yet. BeamReach created an injection molded frame and rack that packs and ships together flat (think origami racking but sturdier). There are pre-molded cable trays on the frame to eliminate the need for roof wire management tie wrapping (oh yes, and no grounding required).
Super thoughtful design engineers also created fold-down feet that peel and stick to the surface of the roof. That's right, peel and stick — no penetrations and no ballasting. This super light system makes the case for solar on roofs that otherwise wouldn't be able to handle weight loads from conventional systems. The icing on the cake is that because you don't need to do grounding or other labor intensive wire management and racking assembly, the time needed for installation is five times less than is typically needed. This is what commercial rooftops have been waiting for.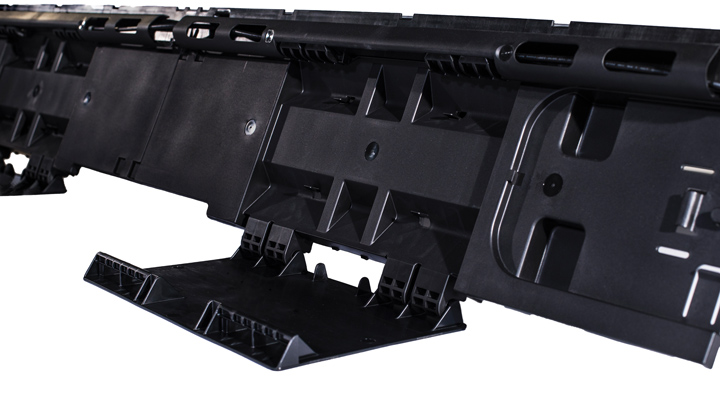 ---
LG's NeON 2
The simple fact that a panel is made by LG is often justification enough to differentiate it in the marketplace. LG is the one true household name brand that offers a competitive product in the solar market today. That said, the LG NeON 2 holds its own in the innovation department by using LG's proprietary Cello cell technology. Cello cells utilize circular-shaped wires to increase power output in two ways: The shape of the wire helps to scatter light for better absorption, and the 12 thin wires spread current more effectively than the three busbars found in traditional cells.
The LG NeON 2 also comes with a black backsheet, which is a great option for the aesthetically discerning end-customer. With its combination of great performance, good looks and a competitive warranty, this module is a hit with homeowners.
---

Sunpreme's GxB
The Sunpreme GxB module series is a glass-glass module that it is remarkably unique, not only for its frameless design, but also for its bifacial cells. Bifacial cells have long been the promise of laboratory researchers pushing the limits of cell efficiency. Sunpreme has managed to integrate them into a market-ready form-factor designed to make use of this technology. Sunpreme modules' heterojunction (HCT) cells enable them to outperform other premium modules by as much as 6 percent even before the bifacial effect because of their sensitivity to low light and resistance to high heat.
The true benefit of bifacial cells is that they also absorb sunlight from the backside of the cell, which is why Sunpreme has backed the modules with a second sheet of glass rather than the typical backsheet materials. The production boost provided by bifacial cells varies depending on what is behind the module. Basically, the more reflective the surface behind the module, the more power you'll get out of it. Bonus: That layer of glass is actually a better protector of the cells than the typical backsheet, so technically the lifespan of these modules is expected to be longer than standard modules.
Misty Benham Chioffe is the director of marketing and business development at BayWa r.e. Solar Systems, one of the leading distributors of solar products in the U.S. market. Reach her at misty.chioffe@baywa-re.com.