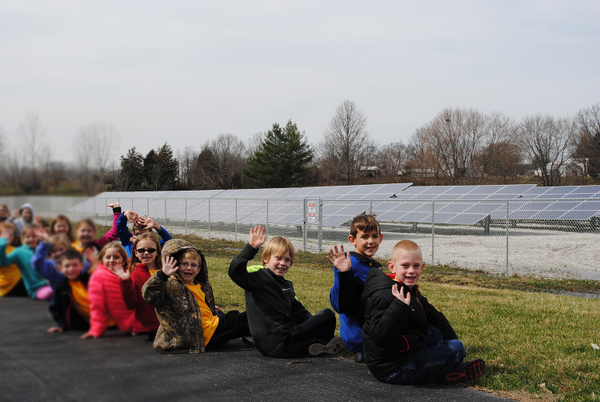 Johnson-Melloh Solutions is getting a lot done in Indiana. It started a year ago with the Jennings County Public Library's alternative energy savings initiative, which is showing positive results. The ability to build, own and operate alternative energy systems allows corporations to run buildings on renewable energy.
"Not only has the initiative allowed our client to generate most of their own electricity, it has produced an extra $3,913 in revenue credits that can be allocated back into operations." said Johnson-Melloh Solutions' President Bob McKinney. "This is truly a win for Jennings County, the potential for solar power as a viable alternative energy source, and most definitely, our environment."
Johnson-Melloh Solutions is now working with three environmentally conscious Indiana school districts to save energy and money, and they are slated to have similar results. The schools will be able to fix their energy costs for the next 25 years, allowing them to allocate revenue to new programs or other operational areas.
RELATED: PV in schools: Education sector is one of solar's best opportunities
In November, Mill Creek West Elementary School in Hendricks County became the first in the Midwest to build, own and operate an alternative energy system, giving them the ability to offset all of their energy consumption needs. After years of increasing electricity costs, the Mill Creek Community School Corporation entered into a Guaranteed Energy Savings Program, or GESP, with Johnson-Melloh Solutions.
Superintendent Jim Diagostino reported, "Our electricity expenses have increased 8-10% each year for the past several years and would have climbed by $800,000 over the next 25 years. Our investment may save about $32,000 per year and will likely exceed this amount." By adding LED lighting and solar power, they have already seen decreased electricity bills. The new direction has been so successful it even garnered a letter from Superintendent Glenda Ritz (attached) commending them for their commitment to renewable energy and creating an environment conducive to additional learning opportunities.
Johnson-Melloh Solutions just finished installation on a solar farm on a 5-acre plot of land just north of the North Putnam Community School Corporation's middle and high schools. The completed solar farm has 5,000 panels, which enables them to be self-sufficient in running their buildings, another first for the Midwest. The solar farm idea may be taking ground in other school districts soon. North Putnam Community School Corporation Superintendent Dan Noel says he's getting three to four phone calls a week from other districts that are considering switching to solar power.
More recently, Sheridan School Corporation has determined a need to manage energy budgets for their elementary, middle and high school. In working with Johnson-Melloh Solutions, the schools have been reviewed and evaluated for a project which will include two solar plants to produce a large percentage of the electricity consumed, as well as the installation of LED lighting in all facilities.