Talmage Solar Engineering Inc., an installer of solar PV modules, today announced the completion of its largest project in the United States to date: a 2.2-MW solar power plant in Sharon, Vt.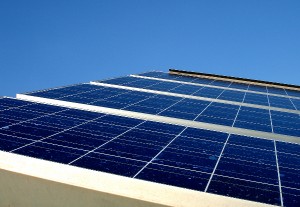 The system incorporates 9,562 Upsolar UP-M230 polycrystalline modules equipped with Tigo Energy Maximizers. The Sharon project is backed by the Upsolar's Reinforced Warranty. Featuring trigger points at years 3, 7, 12, 16, 20 and 25, the company's Reinforced Warranty ensures its modules will maintain high levels of performance over the long term.
Tigo Energy Maximizers are used to monitor each panel and deliver the most power available under any condition. Panel level optimization allowed modules to be placed on varying tilts and orientations eliminating the expense of grading the site. The Maximizers are expected to increase performance of the array by 4 percent within the first year while driving the cost of operation down.
Inverters were provided by Massachusetts based manufacturer, Solectria Renewables. "We have the highest level of confidence in Solectria products, they are a shining example of the potential of American manufacturing capability. Inverter reliability is the most critical component to a solar system," says Kale Inoue, Chief Financial Officer for Talmage. "We are literally betting our success on the performance and reliability of our equipment manufacturers."
The project, known as SunGen Sharon 1, is part of the Vermont Feed-In Tariff that is managed by Vermont SPEED. The contract of 25 years purchases power at a fixed rate of $.30/kWh. Power produced at this site will be fed into the Central Vermont Public Service grid which recently merged with Green Mountain Power.
Over the life of the project the system is expected to produce approximately 57,500,000 kWh. The array will produce enough power to supply approximately 440 of the 553 homes in the Town of Sharon. Vermonters already have one of the lowest carbon footprints of any state in the US with a score of 10.46 metric tons per capita. Each Vermonter has a footprint of 2.61 tons of carbon per year that can be attributed to electricity consumption. With the commissioning of this solar array the Town of Sharon will have an average carbon footprint of approximately 8.37 tons per capita or 42 percent of the national average of 19.84 tons per capita.