In an expansion of the company's fixed-tilt product line, SunLink Corp. introduced the newest addition to its Large-Scale GMS family, Large-Scale GMS Portrait. The new product solves critical ground-mount project challenges like space restrictions, steep or uneven terrain, demanding lead times and module variations.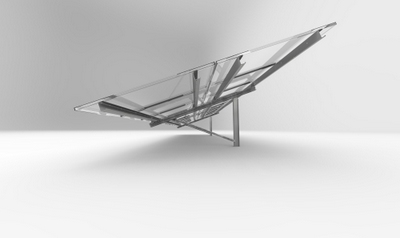 "We constantly push ourselves to drive total installed costs down while maintaining system quality, and we think a great deal about what support services we can offer to ensure a more successful project and better overall experience for our customers," said Kate Trono, VP of products for SunLink. "In the ground-mount arena, we are seeing demands for faster lead times and lower material costs paired with a desire for more turn-key services and less site preparation. Large-Scale GMS Portrait tics all of those boxes."
With an industry-leading 20 percent east-west terrain following capability, Large-Scale GMS Portrait can be installed on ungraded sites as well as those with constant slope or rolling terrain. It is also designed for incremental array sizing via smaller tables to streamline project design. Importantly, the new product is module independent to eliminate any delays formerly posed by changes in module choice.
In connection with Large-Scale GMS Portrait, SunLink offers both its highly regarded project management and engineering support as well as a full suite of geotechnical, post driving and mechanical installation options.