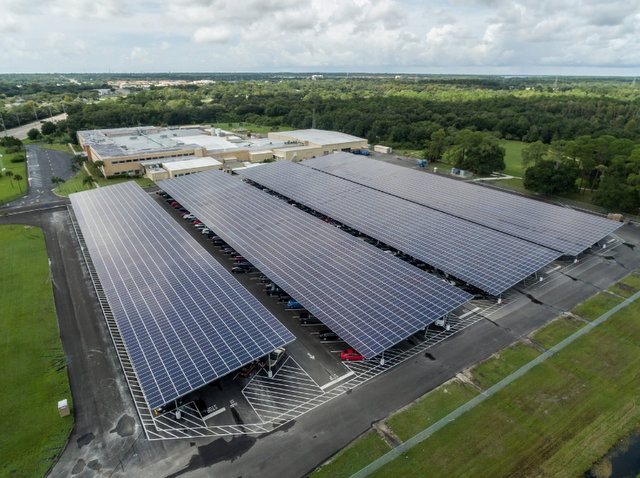 Sungrow supplied its 60-kw string inverter to a 2.25 MW Lockheed Martin-owned solar carport — a 151,400-sq-ft solar array covering the parking lot at its facility near Clearwater, Fla. The project represents Florida's largest, private solar array.
Lockheed Martin and lead contractor Advanced Green Technologies broke ground on the project in March 2015. Since then, 7,260 solar modules manufactured by Hanwha SolarOne Co. and SG60KU-M PV inverters by Sungrow were networked to create the 2.25-MW solar carport. AGT designed and led construction for the project, which was completed and tested by September 2015.
"We are very glad to join force with Lockheed Martin and contribute to creating a more sustainable future for local communities in Florida," said Renxian Cao, CEO of Sungrow Power Supply Co,Ltd
The solar project will generate 3.33 million kWh per year resulting in $6.5 million in savings over 25 years. The covered parking will not only provide shade for more than 500 cars, but it will also contribute to the company's goal of slashing greenhouse gas emissions by 35 percent by 2020
The Lockheed Martin location near Clearwater employs approximately 500 employees and 100 contractors providing engineering, software development and other services for company programs. Lockheed Martin is currently considering other Florida sites to construct an additional solar carport.