From the Caribbean Summit of Political and Business Leaders that took place in the British Virgin Islands last week, Starwood Hotels & Resorts Worldwide Inc. and NRG Energy Inc. on Friday announced a new global alliance to expand the use of renewable energy systems at Starwood properties.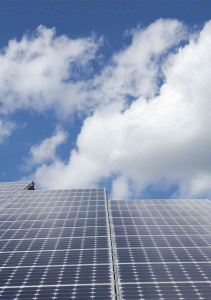 The alliance will begin with three properties, including the installation of a 1.3-MW solar array at the Westin St. John in the U.S. Virgin Islands where NRG will build, own and operate the project. This array will provide clean, efficient power to the resort helping to reduce local air emissions and the impact of shipping on the fragile Caribbean ecosystem by directly reducing demand for diesel fuel imports.
NRG will own the solar arrays while Starwood will be the enabling partner through a multi-year agreement to purchase electricity from the solar arrays installed at several locations. Not only will Starwood reduce its electricity costs, it also will lock in predictable energy costs at an affordable level for years to come and reduce the company's carbon footprint and local air emissions. The customized solar solutions designed by NRG in consultation with Starwood will seamlessly integrate with the aesthetic of each location while enhancing the guest experience.
"At Starwood, we have established an environmental sustainability goal we call 30/20 by 20 meaning we're committed to reducing our energy consumption by 30 percent and water consumption by 20 percent by 2020 throughout our global hotel and resort system," said Ken Siegel, Chief Administrative Officer and General Counsel for Starwood. "We are making great progress against those goals through a variety of programs in place around the world and we're pleased to partner with NRG to be able to provide affordable and sustainable electricity that will benefit the environment, our guests and our business."
NRG's wholly owned subsidiary NRG Solar, one of the largest developers and owners of solar power in the United States, is also a leading developer of industry-leading distributed solar for businesses. NRG Solar's capability to customize and scale solar solutions to the specific needs of customers with a broad variety of facilities is what attracts organizations to partner with NRG.
"In many parts of the world, including in the United States, solar power, generated locally, is well on its way to becoming the most cost-effective, environmentally beneficial and aesthetically pleasing energy option for any customer-facing business," said David Crane, NRG President and Chief Executive Officer. "Starwood, with its 30/20 by 20 initiative and other commitments to sustainability best practices, is an acknowledged leader in this regard in the global tourism and hospitality industry. We look forward to working with Starwood on clean energy and related sustainability initiatives in order to achieve the environmental and economic goals that we share in common."