St. Louis Cardinals' fans may not taste the difference, but the next hot dog they consume at Busch Stadium could be cooked with power from solar energy. The Cardinals have partnered with Microgrid Energy, the Electrical Connection and Sachs Electric, to bring solar energy to Busch Stadium for the first time ever. Fans attending the April 13, 2012 opening day game enjoyed food, beverage and retail shops powered by 106 solar panels, producing approximately 32,000 kWh of solar energy per year.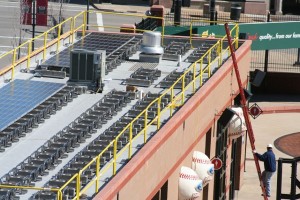 "This is all part of the St. Louis Cardinals' commitment to green its game," said Joe Abernathy, vice president, stadium operations. "Since the stadium opened in 2006, we've been able to cut our energy use by 20 percent and water use by 10 percent."
The Cardinals will be celebrating "Solar Day" at Busch Stadium at the home game on April 29, and a variety of related activities and events will take place at the game and throughout the day."We were excited to work with the world champion St. Louis Cardinals on this project, not only because they are a cornerstone in St. Louis, but also because the solar installation has the potential to have such a far-reaching impact in terms of educating and increasing awareness of solar energy," said Microgrid CEO Rick Hunter.
The two solar arrays are located on the roof of the ticket building on Clark Street and atop a canopy in the left centerfield bleachers at the Ford Family Plaza. To raise awareness of solar energy, an educational kiosk providing information about the project and solar energy in general is being installed in Ford Family Plaza. Additionally, Microgrid Energy has created a webpage dedicated to the installation. (Visit www.microgridenergy.com/cards)
"We are proud to team with the Cardinals, Microgrid Energy and Sachs Electric to introduce solar energy to Busch Stadium for the first time," said Jim Curran, executive vice president of the Electrical Connection. "It's a great opportunity to engage the community in another hometown team powering our future – our skilled IBEW Local 1 electricians and the local NECA contractors who employ them."
The Electrical Connection is a partnership of the International Brotherhood of Electrical Workers (IBEW) Local One and the St. Louis Chapter, National Electrical Contractors Association (NECA).The two solar arrays – manufactured by Schott Solar in the U.S. – produce electricity that feeds into the stadium's electrical distribution system and mixes with the power from the grid for use throughout the stadium. There are no batteries and all the energy produced is used in the stadium. The solar energy will offset the grid power used by stadium operations, reducing electrical bills. Although the offset is a relatively small percentage of the stadium's power use, it will result in a large amount of savings over the life of the system.
"Sachs Electric has served the Cardinals for more than 70 years, including the floodlighting and electronic scoreboard at Sportsman's Park for the first night game ever played in St. Louis," said Joe Barnard, vice president at Sachs Electric.  "It's a pleasure to help the Cardinals usher in a new era of renewable energy in a form that educates the public as well."