SPI Solar, a vertically integrated PV solar developer, announced it has been contracted by Twentieth Century Fox Film Corp. to install an additional 230 kW of rooftop PV solar to the company's Century City studio complex. The new solar system will utilize the rooftops of soundstages 26 and 29 and complement the 160-kW system completed by SPI in February 2011.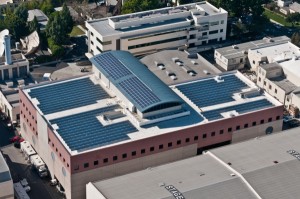 "We are very pleased that Twentieth Century Fox Film Corporation has chosen us to install additional solar for their studio complex," said Steve Kircher, CEO for SPI Solar. "They have been a great client and partner to work with, and it's an honor to be invited back for an encore project."
Initially, SPI designed, engineered and constructed a 160 kW DC photovoltaic system that was a mixture of SPI's proprietary SkyMount racking system and traditional racking to be installed atop Fox's Building 99. The system was completed in February 2011. The new addition of 230 kW will not only reduce studio operating costs, but also makes an important contribution to the motion picture company's Global Energy Initiative.
"This addition to our existing system more than doubles our o
nsite solar electricity generation capabilities and is a significant contribution to our ongoing sustainability initiative," said Hal Haenal, Senior Vice President of Fox Studio Operations. "We are very pleased with the results of the first system SPI developed for us and are happy to have them back to design and install the second phase of our onsite solar system."
A case study and photographs of the first system installed by SPI at the Twentieth Century Fox studio complex can be seen at the Company's web site at: www.spisolar.com