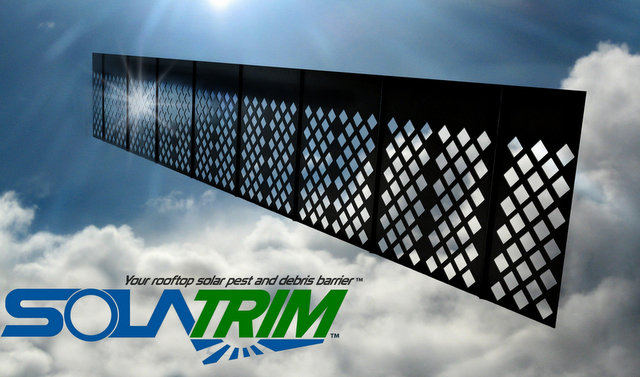 SolaTrim LLC, innovators in protective barriers that safeguard and beautify residential rooftop solar systems, has just signed a distribution agreement with Guillevin Greentech of London, Ontario, who now joins SolaTrim's expanding network of Canadian distributors. Guillevin Greentech, a subsidiary of Guillevin International Co., and affiliated with CED Greentech in the US, will be offering SolaTrim's solar panel protection to residential solar system integrators all across Canada.
Guillevin Greentech is the newly launched renewable energy division of Guillevin International Co., supplier of electrical materials since 1906. The name Guillevin International Co. has been synonymous with quality, efficiency and innovation in the field of product distribution and supply. With 1,200 employees based in more than 100 locations across Canada, Guillevin distributes a wide range of products deriving from multiple worldwide manufacturers.
"We are impressed with the clean look offered by the system and the high level of protection as well as ease of installation," says Mike Jeffrey, General Manager of Guillevin Greentech in Canada. "We will offer the product from our two main warehouses located in Eastern and Western Canada and make it available through our network of Guillevin Greentech Champion locations."
RELATED: SolaTrim debuts Barrier System for solar arrays 
"We are thrilled with the Guillevin Greentech agreement," said Bob Smith, President and Co-founder of SolaTrim LLC, "which we believe gives us the coast-to-coast availability of the SolaTrim product in Canada, which has been our goal. As we see SolaTrim become the preferred system for residential solar environmental protection across North America, we are also extremely pleased to have attracted business relationships with international companies like Guillevin Greentech."
What is SolaTrim?
SolaTrim is an all-weather aluminum barrier applied to rooftop solar array perimeters to prevent pests from nesting under the solar panels while providing a clean, finished look to any solar installation.
The SolaTrim panels come with a peel-and-stick adhesive that attaches permanently to the solar modules and requires no screws, clips or fasteners. SolaTrim's panels are stiffened by design to resist warping and diamond-stamped to facilitate airflow. The adhesive has been tested to withstand extreme weather, is engineered specifically to prevent birds and rodents from nesting under the solar array, and is designed to last for the life of the system.