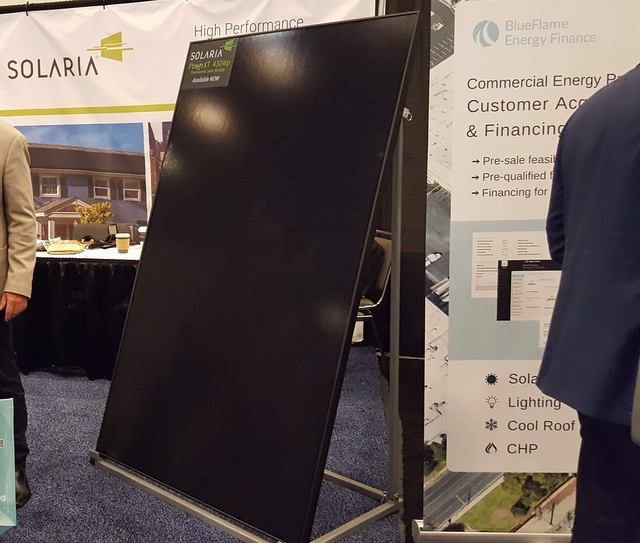 Solaria Corp., announced its latest commercial PV module solution at Intersolar in San Francisco: Solaria PowerXT 430Wp. The PowerXT 430 W is now available through Solaria and its leading solar distributors supplying thousands of engineering procurement construction (EPC) professionals and solar installers throughout the U.S. and worldwide.
"The demand for aesthetic, high density solar panels has been growing," said Solaria CEO Suvi Sharma. "Solaria's technological innovations bring to market a high value, superior performance product backed by a 25-year product warranty. Businesses and organizations that want to avail themselves of best-in-class photovoltaics will find that PowerXT exceeds their expectations; the sleek all black module delivers an elegant streamlined look and industry-leading efficiency. Our high energy yield technology addresses rooftop space constraints, drives accelerated customer payback– while increasing installers' profitability."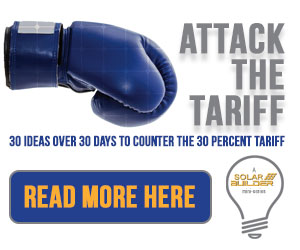 "We are pleased to be working in strategic partnership with Solaria," said Neo Solar Power president Andy Shen, "as they're a leading solar technology innovator in the U.S. Solaria is on the leading edge of solar product innovation; we're thrilled that our high performance cells are integrated into their beautifully aesthetic, industry-leading PowerXT modules – deployed in such stellar projects as the net zero energy Cornell Tech campus in New York City."
The PowerXT 430W builds on the success of the PowerXT platform, a solution in great demand among installers and customers. The modules ensure labor savings on racking and system components over other lower wattage modules.
Solaria PowerXT modules are manufactured at the company's recently expanded manufacturing facility in Fremont, California. The all-black, high output modules feature a black back sheet. The proprietary PowerXT platform uses Solaria's advanced cells interconnect and module production processes, significantly boosting power generation and providing outstanding performance.