IKEA, the world's leading home furnishings retailer, today announced plans to increase the solar array atop its Denver-area store that opened two years ago in Centennial, Colo. Installation of panels on the roof's remaining space can begin in July, with completion expected by Fall. Already the state's largest single-use rooftop array on a commercial building, the project will become Colorado's largest rooftop array of any use.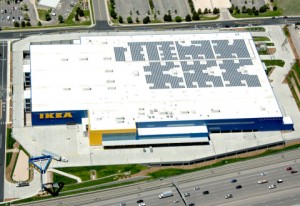 The 83,700-square-foot solar addition will consist of a 623-kW system, built with 2,492 panels, and will produce 961,000 kWh of electricity annually for the store. Including the existing system, IKEA Centennial's total 1,121-kW solar installation of 4,704 panels soon will generate 1,701,000 kWh of clean electricity yearly, the equivalent of reducing 1,200 tons of carbon dioxide (CO2), eliminating the emissions of 250 cars or powering 180 homes.
For the development, design and installation of the Centennial store's customized solar power system, IKEA contracted with REC Solar Inc., a national leader in solar electric system design and installation with more than 10,000 systems built across the United States.
Last month, IKEA achieved its goal of completing solar installations atop nearly 90 percent of its U.S. buildings (39 out of 44 locations), with a generation goal of 38 MW. IKEA owns and operates each of its solar PV energy systems — as opposed to a solar lease or PPA (power purchase agreement) — and globally has allocated $1.8 billion to invest in renewable energy through 2015. This investment reinforces the long-term commitment to sustainability and confidence in photovoltaic (PV) technology that IKEA has. Consistent with the company's goal of being energy independent by 2020, IKEA has installed more than 250,000 solar panels on buildings across the world and owns/operates approximately 110 wind turbines in Europe.
"We are thrilled at the opportunity to double the amount of solar energy generated and used by this store," said John Ellis, IKEA Centennial store manager. "This is another example of the IKEA commitment to create a more sustainable life for communities where we operate."