EnergySage released the results of its second annual Solar Installer Survey, which captures key observations of local, regional and national solar installers in both residential and commercial markets. More than 360 experienced solar installers across the United States responded to the survey.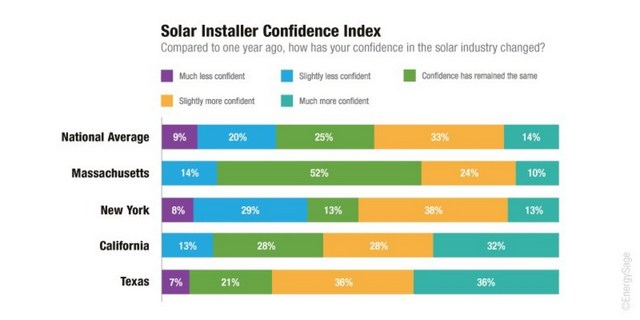 Challenges
Among the central findings, over half of solar companies surveyed (53%) report that their largest obstacle in closing sales is the confusion created by their competitors and its impact on consumer confidence overall. Similarly, the survey reflects an increasing trend noted in last year's report: customer acquisition has become more challenging due to increased competition and consumers reviewing more quotes before buying.
Positives
However, the study also reveals that installer confidence levels have increased nationwide in the last year.
"Looking back, 2016 was a year of ups and downs for solar," said Vikram Aggarwal, CEO and founder of EnergySage. "Despite the welcomed extension of the Investment Tax Credit and the reaching of one million residential U.S. solar installations, some of the industry's largest companies struggled to stay afloat and our political climate became more uncertain. Looking into 2017, we encourage all solar installers to collaborate more and seek out new ways to improve consumer confidence. As the expression goes, 'a rising tide lifts all boats'."
More insights from the EnergySage Solar Installer Survey include:
Batteries charge ahead – Energy storage is the number one new offering planned for next year. While three out of five solar installers report offering battery installs today, another 16 percent plan to offer this in 2017. No other new product or service was nearly as popular.
Ownership reigns – 74 percent of installers surveyed said that they do not use leases or power purchase agreements (PPAs), which is up significantly from 50 percentin last year's report. Though ownership dominates, no available financing options scored well in installer satisfaction ratings.
"This is an important study for the industry and we are excited that EnergySage is asking the right questions" said Raghu Belur, Co-Founder and Vice President of Products and Strategic Initiatives at Enphase Energy. "Often, little information is available about these local, privately-held companies that are driving so much of the growth of residential solar. This report reveals what it's like to be a solar installer in the U.S. and what their needs are, which helps us to figure out the best ways to support them through our own unique products and services."