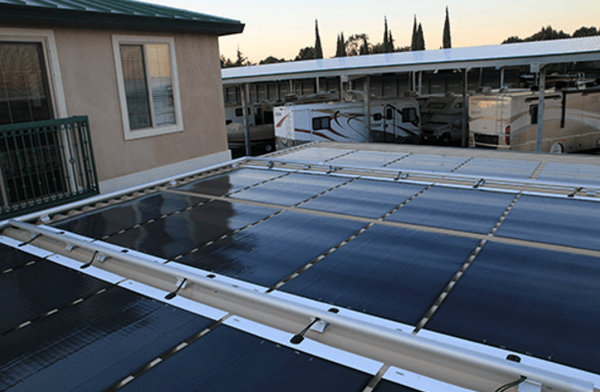 MiaSolé recently installed its FLEX-02 solar modules over an existing carport, built by Baja Construction, at the Oakley Executive RV and Boat Storage facility. This project was designed to highlight the efficacy of MiaSolé FLEX solar modules for retrofitting existing carports built with industry standard 7.2 trapezoid corrugated metal panels without adding additional racking or reinforcing the carport steel structure to support the new solar array.
MiaSolé is a producer of thin-film Copper Indium Gallium Selenide (CIGS) solar cells and panels that have demonstrated 16% module efficiency in production and 18% cell efficiency in the lab.
The installation of solar carports on both private- and public-owned parking lots provides a cost-effective opportunity to generate renewable energy without consuming additional land resources. Parking lots have more solar potential and less shading issues than rooftop solar and it can be easier and less disruptive to install solar on carports vs. rooftops. Solar PV parking canopies offer the parking lot owner and users considerable value:
Highly desirable shade for parked cars
Rain, hail and snow protection
Protection from hail damage
Reduced UV exposure
Reduced parking lot temperatures and heat island effect
Low-cost renewable power generation
RELATED: Solar carports will spread across the country as costs decline 
MiaSolé FLEX-02 thin film modules allow owners of existing low live-load capacity carports the ability to add solar power generation without the need to reinforce the structure or, in extreme cases, tear down the original carport and rebuild. MiaSolé FLEX-02 modules offer the same high-efficiency power output as standard crystalline modules while weighing less than 9-oz/sf compared to 3-5 lbs. /sf for crystalline modules. MiaSolé FLEX-02 flexible and lightweight thin-film solar modules can be installed over new and existing carports designed with 7.2 corrugated and standard architectural standing seam metal panels. The FLEX-02 simple self-adhesive peel-n-stick application provides the lowest labor cost of any solar carport system.
"The MiaSolé FLEX module installation was incredibly fast. The peel-and-stick application was ideal for our standard light-gauge 7.2 corrugated roll-formed steel carport roof, and the completed design is not visible from the ground level," said Baja Construction CEO Robert Hayworth. "MiaSolé allowed me to add solar energy generation to the carport without any changes to the structure."
Baja Construction, Inc. specializes in designing and engineering solar steel structures. Baja has been building carport and steel structures for over 25 years. Considered a leader in solar support structures, Baja operates nationally and has installations in 34 states.