Ameren Technology Application Center
Champaign, Ill. | 1.4 MW (250 kW solar)
The Ameren TAC microgrid integrated a range of DER assets and distributed intelligence to show the widespread capabilities of a utility-integrated microgrid. This deployment goes beyond resiliency, as it is capable of 15 use cases — an innovative approach representative of the future of the electric utility industry. To build the Ameren TAC microgrid, a vast array of DER equipment was installed and commissioned, including two 500 kW natural gas generators, a 125 kW PV array, a 50 kW wind turbine and a 250 kW batter energy storage system. The total available generation is approximately 1.4 MW. The loads associated with the microgrid include the Ameren TAC, an electric vehicle charging station, apartment buildings, small businesses, an elementary school and a warehouse. The loads connected to the microgrid average around 600-650 kW with a peak demand of about 1 MW. While many sources of generation are included in this project, the solar components provide incredible generation to help carry the system when in islanded mode, as seen earlier in the month of August. The test surpassed expectations, and the system was able to operate in island mode for 24 hours while carrying the load powered only by wind, solar and battery energy storage generation.
Developer: S&C Electric Company
Contractors: S&C Electric Company, IPERC, Caterpillar, CAT-ISO, Schneider Electric, Premier Power, KCS, Sabre, ATFS, KMB, Kinney, Lindblad, RBI Solar, MC Industrial
Modules: Yingli
Inverters: ABB
Storage: S&C Electric Company
Mounting: RBI Solar
---
Big Bend Solar
Apollo Beach, Fla.  |  23 MW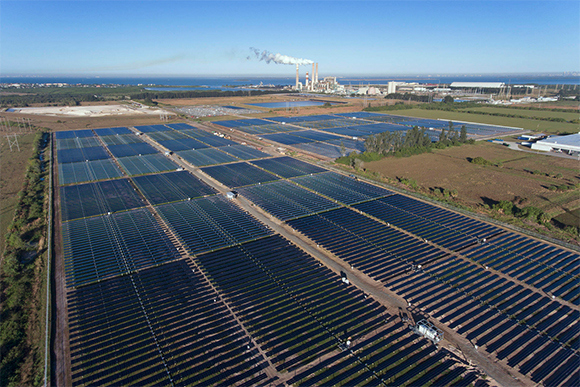 The Big Bend Solar project was built on the coast of the Gulf of Mexico in Florida. The coastal location presented challenges on many fronts. First, the particular location was located in a flood plain, which created the need to elevate the tracker system — not by a few inches, but to a height of 10 ft in the air. In addition, piles required coating with an uber-corrosive resistant coating — an epoxy coating over hot dipped galvanization. The project is also located in a hurricane wind zone, which regularly experiences 120 mph-plus wind gusts. The design wind speed is 135 mph. Beyond this, the project was designed with First Solar modules, which introduced an additional complexity to the mounting system.
Developer: TECO
Contractor: Burns and McDonnell
Modules: First Solar
Inverters: SMA
Mounting: SunLink TechTrack
---
Elizabeth Mine Solar Project
Orange County, Vt. | 7 MW DC

The Elizabeth Mine is a famous copper and iron sulfate mine that was listed as a Superfund site due to acid mine drainage discharging from discarded waste rock that hurt water quality downstream. Superfund sites pose unique challenges in terms of financing, organization and paperwork, but planning and designing the PV system for the Elizabeth Mine Solar Project was another huge hurdle. It needed to be constructed on top of the environmental cap without damaging the impervious liner that prevented rainwater from washing through the tailings pile. Multiple iterations of module selection, inverters, ballast sizing and racking were made to maximize the project output while meeting the pressure limits on the cap system, as well as meeting storm water regulatory requirements. A large solar plant located in a remote rural area also created challenges for both communication and interconnection, which included an upgrade of approximately 4 miles of utility lines, 10 miles of dedicated fiber optic communications line and an upgrade to the regional substation. Green Mountain Power also upgraded three phase lines up through the town of Strafford as part of its reliability improvement program. The changes, in total, benefited the community with an improved electrical system that upgraded the reliability of the entire system.
Developer: Brightfields Development, Wolfe Energy & Greenwood Energy
Contractor: Conti Group
Modules: Hyundai
Inverter: Power Electronics
Mounting: Solar FlexRack
---
Kayenta Solar Project
Kayenta Monument Valley, Ariz. | 37.6 MWdc
The Kayenta Solar Project represents the first and the largest solar power plant in the Navajo Nation.
The project's parameters were strict, requiring that most of the construction team be members of the Navajo Nation and that the natural landscape be preserved during installation. So, yes, during the harsh desert winter, Soltec recruited and trained 188 members of the local community (98 percent of the workforce) on both tracker and foundation installations and the mechanical assembly of the plant's modules. This workforce was able to finish the project in only 3.5 months, and a large number of Navajos joined the Soltec team for subsequent projects. To maintain the natural environment during installation, Soltec supplied its SF Utility tracker with unique land-use features that limited grading on land.
Developer: Navajo Tribal Utility Authority (NTUA)
Contractor: Isolux Corsan Group
Modules: Jinko Solar
Inverter: GPTech
Mounting: Soltec
---
Kokomo Solar 1
Kokomo, Ind. | 7.15 MWdc
Kokomo Solar 1 was built on a former EPA Superfund brownfield site that was once the home of a large Continental Steel production facility, which was shut down in the 1980s. After the abandoned structures were demolished in the 1990s, the contaminated site lay barren and unused until the EPA and Indiana Department of Environmental Management teamed up on a $40 million remediation effort. Part of the deal calls for the city to not only receive lease income for the site, but to enjoy reduced maintenance costs as well. Since the location was once home to a large factory, the grid infrastructure was already in place; there's a big substation with a 13.5 kV distribution line adjacent to the site. This was no "cookie-cutter" installation. The mixed soil conditions presented certain challenges during the racking installation process. Buried debris meant the installers could not drive a number of the piles into the earth. Wherever this happened, they cut the pile to height and then poured a concrete ballast at the base. Schletter racking was chosen for the array because the product allows installation on either a ballast or a driven pile. Once Kokomo Solar 1 was commissioned and interconnected, it became not only one of the largest solar farms in Indiana but the biggest power generation plant in the area.
Developer: Inovateus Solar
Contractor: Inovateus and Heartland Solutions
Modules: Suniva
Inverter: Ingeteam
Mounting: Schletter
---
Lamesa Solar Facility
Lamesa, Texas | 131 MWdc
The Lamesa Solar Facility belongs to one of the largest utility-scale solar portfolios in Texas, consisting of 410,000 solar panels that provide clean power to 15,000 local homes. The installation process was one of efficiency. Almost immediately after groundbreaking, unexpected inclement weather threatened the delivery schedule and installation, but the tracker components were delivered on schedule with uninterrupted project logistics. Utilizing Array Technologies' DuraTrack HZ v3, RES's teams were able to install roughly 81 tracker rows per working day, completing the project with 25 percent fewer onsite workers in comparison to other solar tracking projects of similar size and scope. Originally expecting a 15-day commissioning period, RES completed the project commissioning in just 10 days.
Developer: BNB Renewables Energy Holdings, Renewable Energy Systems (RES)
Contractor: Renewable Energy Systems (RES)
Modules: Trina Solar
Inverter: KACO New Energy
Mounting: Array Technologies
---
The Lapeer Project
Lapeer, Mich. | 58 MWdc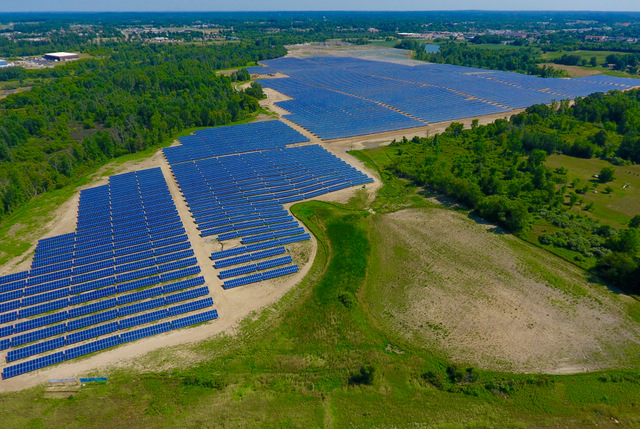 The 58-MWdc solar power plant situated on approximately 360 acres southwest of Lapeer, Michigan is one of the largest solar plants in the entire Midwest. Previously used for crop production, the site presented some unique technical challenges for the design team. With mild rolling hills, select areas of the site had grades in excess of 10 degrees and opposing slopes. Like so many projects, there was also an aggressive build schedule and definitive milestones that needed to be met. The J. Ranck crew concentrated their attention on the design and layout through the pre-construction phases to ensure they effectively addressed the terrain variances and optimized land use. The completion of the Lapeer Solar Project is a major renewable energy accomplishment for Michigan. The utility-scale solar plant generates enough electricity to power almost 11,000 households per year and offsets over 16,000 tons of carbon emissions annually.
EPC: Inovateus Solar
Designer: Clark Dietz;
Contractor: Barton Malow, J Ranck Electric
Modules: Canadian Solar
Inverter: Schneider Electric, SMA
Mounting: Solar FlexRack
---
Three Peaks Solar
Cedar City, Utah | 107.7 MWdc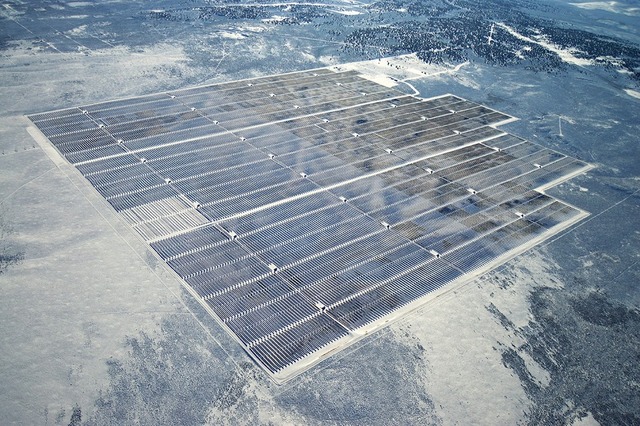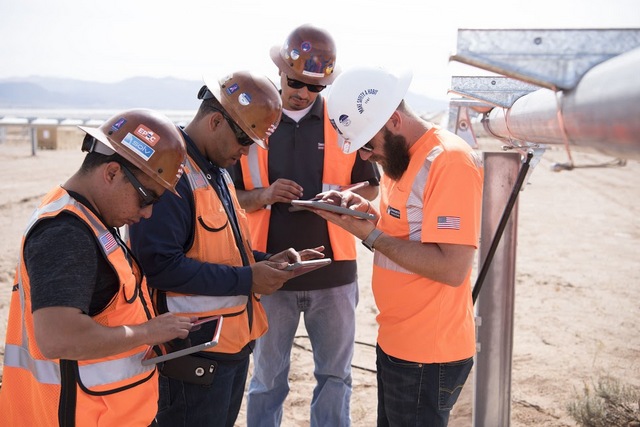 Three Peaks Solar is an 80 MW solar facility and 138 kV substation that sits on 739 acres in Cedar City, Utah. The facility was Swinerton Renewable Energy's (SRE) first 1,500-volt system and one of the first projects in the United States to feature SMA's 2500 EV inverters. Swinerton worked closely with NEXTracker to develop and customize a unique module rail, which significantly reduced the installation time and allowed for an aesthetically pleasing finished product. In order to install the racking system per design, over 400,000 cubic yards of soil were excavated and distributed across the project for a balanced site. The project had several different flood plan depths requiring the use of over 10 different types of foundation piles, for a total of 48,573 piles. Three Peaks was also the first project to utilize SRE's new production and quality tracking app, Sunscreen. The software allows for real-time tracking of construction progress and gives all stakeholders 24/7 access to vital construction metrics (daily install quantities, total install quantities, overall project completion percentage, open QAQC items, fixed QAQC items and QAQC reports). Over 98 percent of the labor came from local hires.
Developer: Clēnera
Contractor: Swinerton Renewable Energy
Modules: Q Cells
Inverters: SMA
Mounting: NEXTracker
Listen to more in-depth conversations on Solar Builder's YouTube channel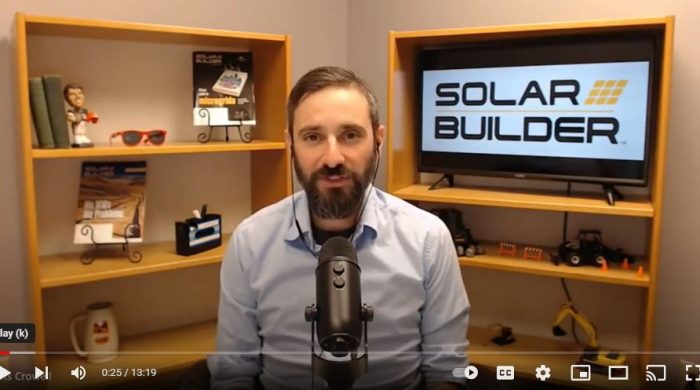 Our most popular series include:

Power Forward! | A collaboration with BayWa r.e. to discuss higher level industry topics.

The Pitch | Discussions with solar manufacturers about their new technology and ideas.
Tags:
Project of the Year Awards 2017