Wire and cable management decisions can seem small, but they have both short- and long-term ramifications, from boosting installation efficiencies and cutting site-prep costs to reducing O&M burdens and improving a project's levelized cost of energy (LCOE). We reached out to providers of wire and cable management systems for residential to utility-scale solar to see what's new in their lineup, what it's made of, how it installs and what sets it apart.
Residential or C&I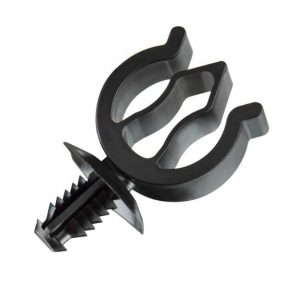 Heyco Helios UVX Clip
Material: Constructed from our UVX nylon material, the Heyco Helios UVX Clip is ideal for extreme conditions. The temperature range for Heyco Helios UVX Clip is from -4°F (-20°C) to 185°F (85°C). Heyco Helios UVX Clips are part of Heyco's 20 Year Solar Warranty.
Install: The Heyco Helios UVX Clip accommodates up to two cables between .23" (5,8mm) and .32" (8,0mm) in diameter and mounts into a .260" (6,6mm) mounting hole. The configuration of the fins for the mounting platform allow for easy insertion but high extraction forces while the design of where installers load the cables allows for easy loading of cables but promising holding power. The Heyco Helios UVX Clip is a perfect solution for hard to reach areas. *Spoiler alert* Heyco will also soon have an adhesive backed option utilizing VHB tape for applications where mounting holes aren't available, making them even easier to install.
Key feature: Despite not being constructed from a stainless-steel material, the Heyco Helios UVX Clip still boasts a 20 year warranty at a favorable price-point.
Where to order? Distributors include: Titan Wire & Cable, Anixter, WESCO Renewables, CED Greentech, Rexel, Heilind Electronics, Border States, H.W. Eckhardt, Irwin Industrial, and many others.
---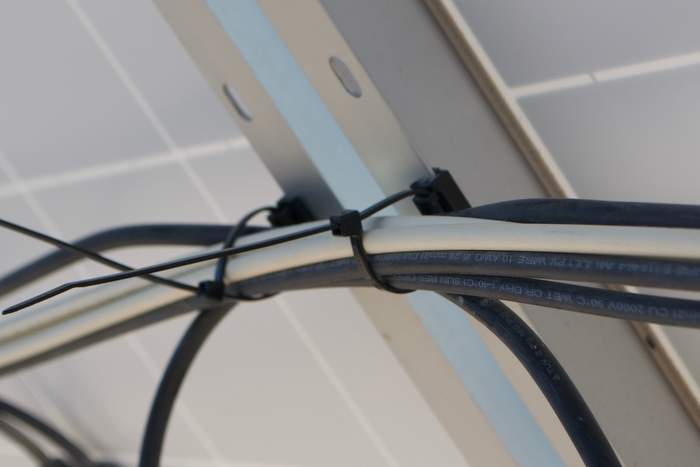 HellermannTyton Reinforced Solar E-Clips
Material: Our proprietary Solar E-Clips have been reengineered to be 30 percent stronger than our prior version. Solar E-Clips have been used on tens of megawatts the world over. The exclusive material blend is rated to 230 degrees Fahrenheit and provides supreme performance in the highest and lowest temperatures.
Install: With a 1-3 mm panel thickness range, the part fits on virtually any solar module on the market as well as a variety of racking. Like all HellermannTyton E-Clips, metal or plastic, the insertion force is lower than the extraction. Believe it or not, this is not the standard with other wire management parts on the market.
Key feature: The reinforced Solar E-Clip is revered by installers because of its adaptability. The part fits a wide variety of edges and easily holds up to six wires.
Where to order: Nationwide distribution
hellermanntyton.us/industries/energy-solar
---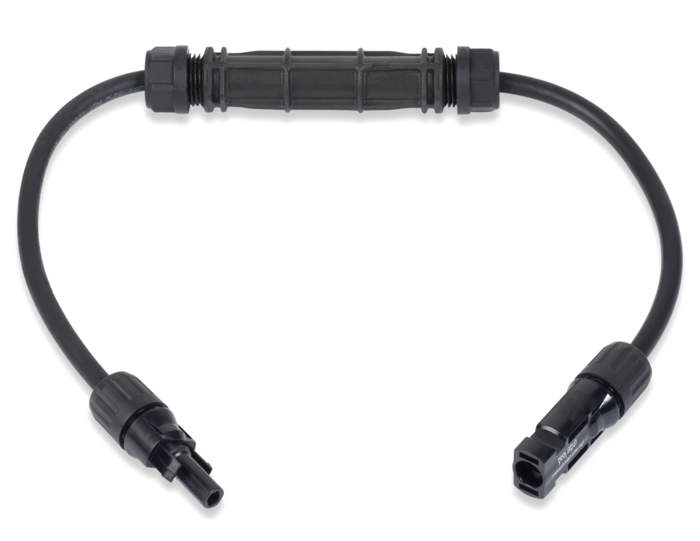 Stäubli 1000V and 1500V In-line-Fuse
Material: The in-line fuse PV-K/ILF with a crimping connection guarantees a long-lasting, stable connection in comparison to conventional clip-in clamps, featuring minimal energy loss and low heat generation, a robust housing and safety class IP68. The cable cross section is 10 AWG/6 mm² and is cTÜVus certified. PV-K/ILF is for application up to 30A. Custom amperage and cable length are available upon request.
Install: The installation is quick and easy; it takes just few seconds to click in the MC4 connectors on both ends of the in-line-fuse PV-K/ILF and it is ready to go. When installing more than two strings in paralleled, install one per-string to protect modules and inverters from costly over current damage.
Key feature: Staubli's in-line-fuse PV-K/ILF is UL listed and 100 percent made in United States. MC4 connector comes standard with the in-line-fuse PV-K/ILF, and installers can readily find matching MC4 connectors to avoid mating connectors from different brand together. O&M teams can have a handful of Staubli's in-line fuse on site for quick and easy replacement.
ecs-ecart.com/mc4inlinefuses.html
---
Utility-scale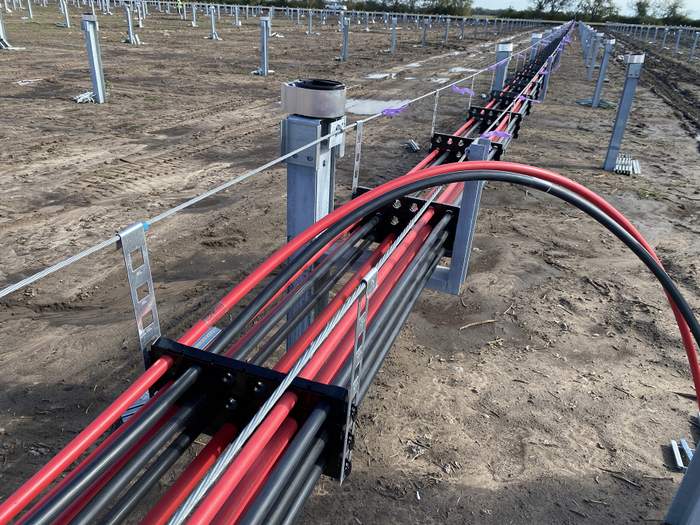 Snake Tray Solar Snake Max XL
Material: Fabricated from Lexan 940, The Life of the product is 40+ years of continuous use, it is designed to withstand hurricane wind forces and extreme heat and cold weather temperatures and conditions. Solar Snake Max XL supports up to a quantity of 36, 750kcmil cables. Made in the USA.
Install: Allows for installations to proceed faster without the need for trenching, overcoming any obstacles or any condition that the existing ground area holds. Solar Snake Max XL accomplishes this task with one conveyance that manages cables from 300 to 750kcmil with an easy to assemble click support system supported by messenger wires or aluminum rails that attach to any style or size pilings or poles. No special tools or field fabrication required.
Key feature: Designed to utilize the advantages of the NEC 310.15 free air table by not bundling the conductors so there is no need to derate cables allowing for maximum harvesting of the energy produced. With Solar Snake Max XL installed you are able to negotiate better O&M Contracts since all the cables are above ground where issues or problems can be located, identified with better access and are easily repaired.
Where to Order: 800-308-6788
---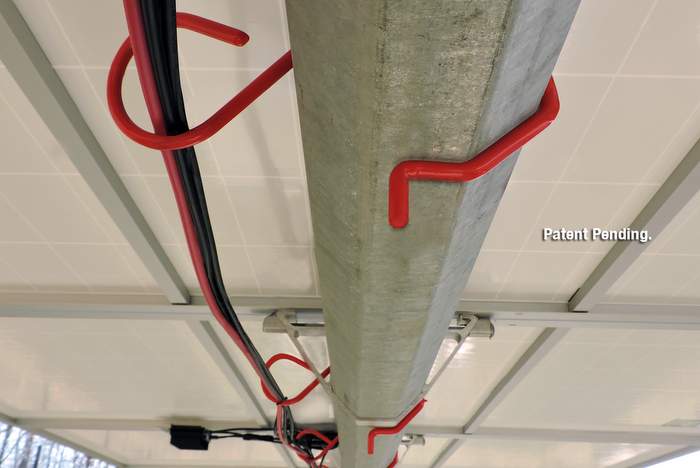 CAB Solar Torque Tube Hangers
Material: CAB Torque Tube Hangers are manufactured from class 3 galvanized, high tensile strength spring steel for maximum strength and corrosion resistance. CAB's 80 mil (2 mm) thick PVC coating is applied to 100 percent of the surface for flame retardance, chemical resistance and UV stabilization. They are also high dielectric grade with a dielectric breakdown strength of 400 volts per mil (.025mm). The working load limit of CAB's Torque Tube Hangers varies by hanger, but most have a limit of 20-25 lbs (9-11.3 kg).
Install: CAB Hangers install quickly and easily with no tools required. They feature a tight snap on fit over most torque tube or fixed tilt structures. Hangers can be installed, and cables loaded in just seconds. This greatly reduces labor time compared to cable ties, clips or clamps. Typical single cable spacing interval is determined by the specific project needs but is generally 2 ft. to 3 ft. The spiral design secures large bundles of cable safely and effectively, and simplifies upgrades, maintenance, and troubleshooting.
Key feature: CAB Torque Tube Hangers are especially effective in projects with bifacial panels because cables are bundled together and neatly organized along the torque tube. This reduces shadowing, a common problem with typical cabling and fastener systems. In addition, CAB Torque Tube Hangers are not only offered in single carrier styles, but also in double and multi-carrier. Custom configurations available for any torque tube or fixed tilt structure.
Where to order: (814) 472-5077 or cabproducts.com
---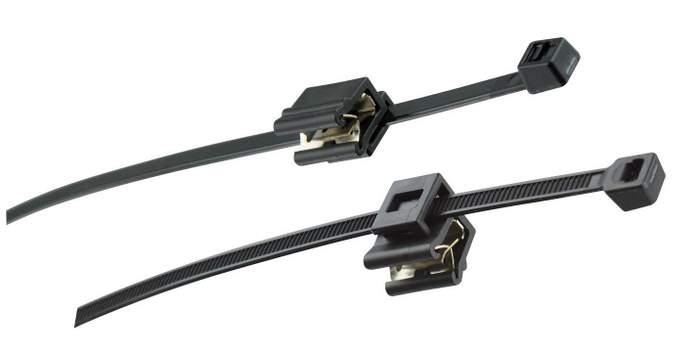 Heyco Edge Clips
Material: The mounting device for Heyco Edge Clips is constructed out of a post nickel-plated steel – this steel clip provides high retention forces while requiring low insertion force. This post nickel-plated steel mounting device is then inserted into an ergonomic housing constructed out of Nylon 6/6 UV resistant and heat stabilized material. The cable ties are constructed from a Nylon 6/6 UV resistant material, with plans to offer a Nylon 12 cable tie in the near future. The temperature ratings for Heyco's current offering are -40°F to 185°F for the cable ties and -.04°F to 221°F for the edge clip.
Install: Heyco Edge Clips are ideal for installations where pre-drilled mounting holes aren't available or temperatures are too extreme for adhesive solutions. Heyco Edge Clips come pre-assembled with the cable tie already inserted, so all the installer needs to do is push the edge clip onto an exposed edge, route the cables, and then zip the cable tie shut.
Key feature: Heyco Edge Clips are versatile – with two different sizes to choose from (1-3 mm panel thicknesses or 3-6 mm panel thicknesses), installers can use these on the back of PV modules or use them on thicker materials like on purlins or module supports. Heyco Edge Clips are a great solution for managing bare cables or routing conduit, tubing, or sleeving as well.
Where to order? Distributors include: Titan Wire & Cable, Anixter, WESCO Renewables, CED Greentech, Rexel, Heilind Electronics, Border States, H.W. Eckhardt, Irwin Industrial, and many others.
---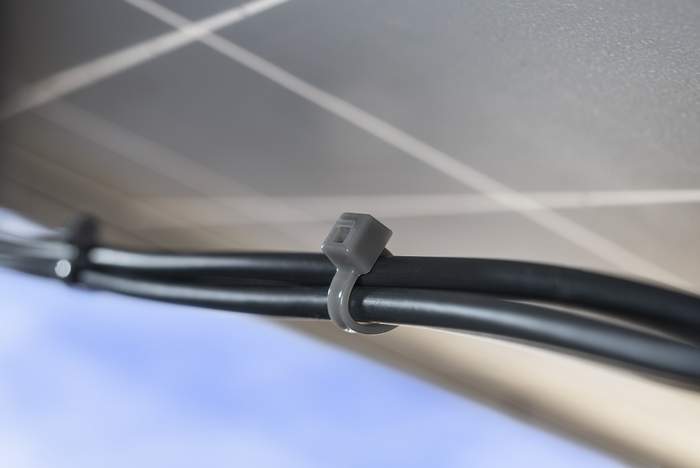 HellermannTyton PVDF Solar Tie
Material: Manufactured from polyvinylidene chloride, or PVDF, this outdoor tie exhibits high UV, chemical and thermal resistance for a polymer, with a maximum operating temperature of 284°F. This product is offered with a 25-year warranty.
Install: It was designed to replace metal ties, known to sometimes slice through electrified solar cables and lead to catastrophic faults. Some metal ties require a hand tool to crimp them closed, a time-consuming inconvenience.
Key feature: The key feature of PVDF is the ease of use. When you typically think of metal cable ties, or coated metal products, they are rigid and often times sharp. Plus, you need a tool mechanically close it. With our PVDF Solar Tie, it operates just like a regular cable tie, but will perform for a very long time.
Where to order: Nationwide distribution
---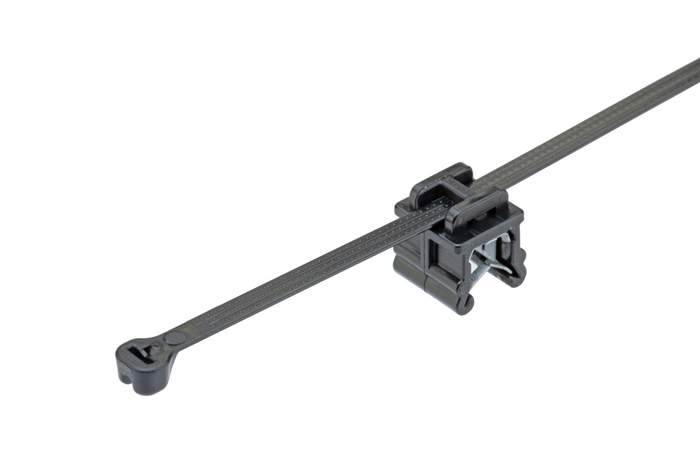 Panduit Edge Clip Cable Tie Mounts
Material: These edge clips are made of a plastic housing that hosts a steel clip and include a pre-installed cable tie. The plastic housing and the cable tie are made of a high-grade nylon that is UV resistant for long-term outdoor exposure and can handle 239° F continuous use operating temperature.
Install: Think of a solar frame edge – these clips install right onto the edge where PV or other wire is being routed along, which allows the convenience of location, ease of installation (no drilling, no adhesives) and then securing the wire with the cable tie. Simply push the edge clip onto the frame edge for a reliable hold. There are two basic sizes for the edge clip, one size designated for panel thickness ranging from 0.7 mm to 3 mm, and the other for a larger 3 mm – 6 mm frame thickness. Different configurations are available in accordance with how the wire run will be positioned relative to the frame edge.
Key feature: Panduit Edge Clips provide versatile mounting direct to panel and frame edges. Where a panel edge is available, paired with a need to route wire or cable alongside or perpendicular to that edge, look to edge clips as the solution. Simply push the mount right onto the edge for a secure hold.
Listen to more in-depth conversations on Solar Builder's YouTube channel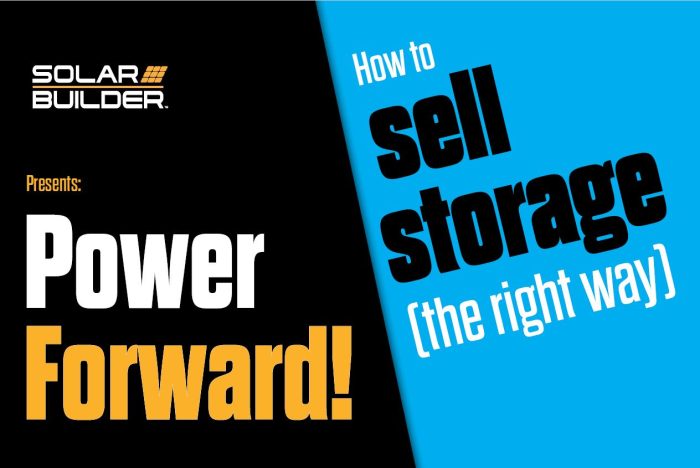 Our most popular series include:

Power Forward! | A collaboration with BayWa r.e. to discuss higher level industry topics.
The Buzz | Where we give our 2 cents per kWh on the residential solar market.
The Pitch | Discussions with solar manufacturers about their new technology and ideas.
Tags:
CAB Solar
,
HellermannTyton
,
Heyco
,
Panduit
,
Snake Tray
,
Solar Builder Buyer's Guide
,
Staubli Electrical Connectors