Solar-covered patios are a niche product worth exploring as part of your solar business. The first step in pursuing these projects is knowing they aren't for everyone. Many solar customers are interested in cost per watt, so pitching an addition that comes in around $7 per watt will stop conversations. This doesn't mean it's a dead end, just that they require a different sales and marketing approach and locating the right, easy-to-install solution.
What's the market?
Andrew Read at Voltage River had high hopes for pursuing solar patios out in southern California, considering the high-income customer base and year-round outdoor living in the area, but he found that traditional advertising didn't get the return he needed.
"Finding customers for this is not easy," Read says. "I wanted it to be bigger than it is, and I did push it for a bit but have backed off trying to market it."
Instead, he lets most of the business come to him via referrals from a cadre of high-end architects and builders. Approaching the market this way has been a success.
"We sell them for a high price because of what they are: a statement piece. Anyone looking to get out from under an electric bill, it's not the system for them," he says.
Region matters here more than in the standard residential PV business. John Hunter at Florida-based Premium Solar Patios, for example, is a bit more bullish on the current market for the solar patio, calling it "astounding."
"We have seen a major influx of interest from your average homeowner to track homebuilders," he says. "Today we are fulfilling orders from dealers around the country as well as installing sales from our inside sales teams."
[button link="https://staging1.solarbuildermag.com/subscribe/"]Don't miss our Solar Installer Issue in March — subscribe to Solar Builder magazine (print or digital) for FREE today[/button]
One angle that has worked for Hunter is in HOA developments that make it difficult for homeowners to go solar. The solar patios they install are often a way around HOA rooftop aesthetic issues. They also can be placed anywhere on a property to get the best direct sunlight if the home is shaded.
But a word of warning: You think regular solar permitting is annoying, try coordinating between one person for the patio itself and then another person for the solar portion.
"It can land on a desk of someone used to seeing one thing, they don't know what to do with it and then you get stuck in the washing machine of bureaucracy," Read says, noting it took him six months to get one project through in Laguna Beach.
Construction
Once you are ready to pursue solar patios, the question is whether you want to also get into the patio construction business and offer a turnkey solution or just handle the solar piece and contract out the rest.
"The people good at doing this are the same that build regular patio covers because it's an extension of what they do," Read says. "From my experience, solar guys get hung up on patio covers. The patio cover structure guys can build that pretty easily, and then I can bring in a contractor just to wire up the panels and get it plugged into the main circuit."
Premiums Solar says a solar patio installation, in most cases with an experienced crew, will take three days, due to the concrete drying time and footer/house attachment inspections where required. Vince McClellan with Solar Energy Design calculates a typical job takes about a third longer than mounting the array on the roof.
"After the structure is up, our Solar Rainframe system installs in about the same time as a typical solar array mounted on a roof," McClellan says. He notes the market for solar patios is just starting. His company's Solar Rainframe racking system (originally designed for parking structures) creates a water shedding roof using standard framed solar electric modules — a design built with 10 years of experience designing and building BIPV canopies. It uses no seals or gaskets and creates a weatherized roof out of standard solar modules, meaning there is no need for a separate roof under the solar array because the solar array is the roof.
That's the other thing: Each solar installer we talked to had developed and settled on their own structural and design approach for the solar + patio.
"I've been toiling along with different solutions and finally found something that works. Hasn't come from a simple stroll down the aisle at Wal-Mart," Read says. "This solution literally took years of futzing around and figuring out because these are elegant systems and not designed to be cheap."
"With our awnings, the wire is hidden behind wireways that are a part of the system," McClellan says. "The extruded aluminum rails of the Solar Rainframe product can span about 20 ft with only two points of contact. This creates an uncluttered look underneath the awning because there is no need for additional beams supporting the solar array.
Premium Solar uses its standard reinforced aluminum 3 in. x 8 in. support beam, which makes it an easy fit and retains the style of their other solar patios. Wire management is also key here. Be sure to select conduit or other solutions that will keep the wiring out of view.
"We have a more commercial system in appearance that is a lower cost option to our Premium Solar Patio. Each option can be customized for the application the customer desires," Hunter says. "Due to it being a more complex project, it does come with an added cost versus a rooftop, but we have come to find markets that sell rooftop for what the patios retail for in the majority of markets."
Key to each of these unique designs was the Skylift, a new mounting product specifically designed for attaching to an existing roof and grounding one end of the patio while elevating the ceiling and the array. This makes it easy to retrofit a patio cover onto an existing building and attaching the solar while saving money on installing the footers and posts on that side. It also solves issues with eaves in some cases being too low to allow for the attachment of a solar patio along with the need to slope for water runoff. The Skylift allows for the needed height.
"We would have many patios that could not be installed in many cases due to a pool," Hunter notes as an example. "Depending on where you are in the country, the requirements to offset from a pool wall would be damning to a project. The Skylift provided the solution that allowed us to back further away from the pool and get these special cases permitted."
"Another great option for building integrated solar roofs using our Solar Rainframe system is using clear backed or bifacial solar modules that let the light shine through between the solar cells," McClellan says. "It creates a stunning architectural detail for porches, patios, covered walkways, entryways, etc. Coupled with the Skyjack system it's a great way to add beauty to a home or business while making clean renewable power.
Pairing the right system design with the right sales and marketing plan (and sales expectations), solar patios could develop into a nice side business.
[button link="https://staging1.solarbuildermag.com/subscribe/"]Don't miss our Solar Installer Issue in March — subscribe to Solar Builder magazine (print or digital) for FREE today[/button]
Listen to more in-depth conversations on Solar Builder's YouTube channel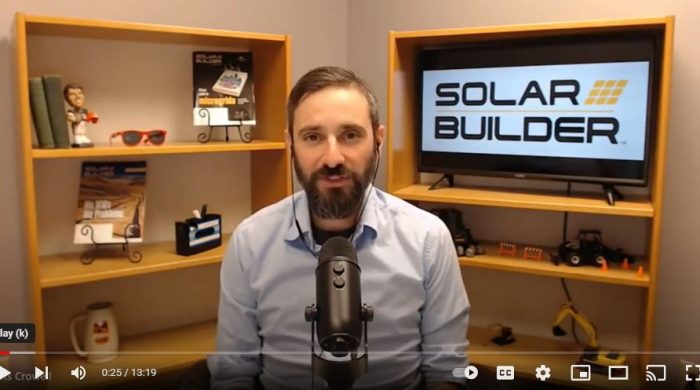 Our most popular series include:

Power Forward! | A collaboration with BayWa r.e. to discuss higher level industry topics.

The Pitch | Discussions with solar manufacturers about their new technology and ideas.
Tags:
CertainTeed
,
November December 2018 Print Issue
,
Premium Solar Patios
,
Skylift
,
Solar Energy Design
,
Voltage River