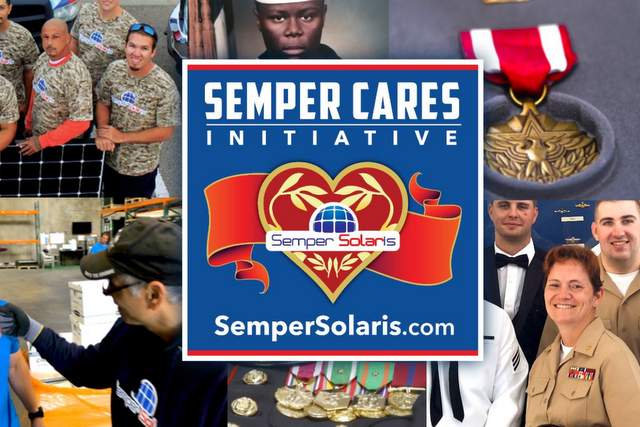 Semper Solaris announced the Semper Cares Initiative "Project Charlie" installation, where the company and program partners including Panasonic Eco Solutions of North America donated and installed a complete solar system to San Diego military veteran Paul Dugas.
"Community contribution is a core pillar of the Panasonic business philosophy, and our team is grateful to be of service to Mr. Dugas in recognition of everything he's given to our country"
In collaboration with Fox 5 San Diego, Semper Solaris put out a call to the local community to nominate deserving military heroes to be the beneficiary of Project Charlie. Like many veterans, Paul Dugas has faced a series of challenges over the past few years, including several health issues that have affected his personal and professional life. Paul was nominated by his neighbor, who introduced Semper Solaris to Paul's story and his faithful military service. Paul was selected as the Project Charlie beneficiary on October 8, 2018.
Project Charlie is Semper Solaris' third installment of the Semper Cares Initiative, following the successful completion of Projects Alpha and Bravo. Semper Solaris is deeply connected to its military roots, and as a veteran and former Marine Captain, company co-founder Kelly Shawhan is passionate about giving back to the veteran community.
Click here to see the 2018 Solar Builder Projects of the Year
"Semper Solaris is proud to launch Project Charlie as the third installment of the Semper Cares Initiative, which truly represents the heart of our organization: supporting deserving U.S. veterans and heroes in need," said Kelly Shawhan, co-owner, Semper Solaris. "We are more than honored to be a part of Paul's story, and every team member on this project is living the spirit of what Semper Cares is all about. Today, it's not about earning a paycheck, but about helping fellow Americans and disabled vets, and the community supporting each other. The love surrounding this project is palpable."
To complete Project Charlie, Semper Solaris provided logistics support, analysis and permitting, as well as installation personnel, labor, and hardware, securing support from industry partners to obtain the remaining parts needed for the project. Semper Cares Initiative has received tremendous support from local and national charitable groups, as well as from the company's suppliers and contractors.
Companies including Panasonic Eco Solutions of North America have donated tens of thousands of dollars in material to Semper Cares Initiative projects to date and have committed to supporting future Semper Cares' projects. After hearing Paul's story, Panasonic agreed to donate a 5Kw solar power system to support the Project Charlie installation.
"Community contribution is a core pillar of the Panasonic business philosophy, and our team is grateful to be of service to Mr. Dugas in recognition of everything he's given to our country," said David Lopez, Solar Division West Coast Group Manager, Panasonic Eco Solutions North America. "We sincerely hope the new solar system provides much deserved relief now, and for many years to come. The Semper Cares Initiative is honorable work and we look forward to continuing to support the Semper Solaris team in their passionate dedication to the veteran community."