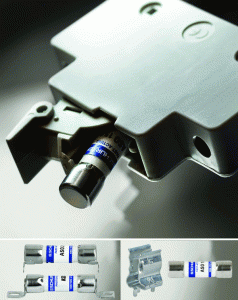 Schurter is pleased to announce an expanded range of mounting options for its ASO solar fuse. Equipped with PCB terminals or bolt-mount tabs, the ASO can be mounted directly to the PCB to save board space and overall cost of assembly for combiner boxes. The new mounting solutions are offered in addition to Schurter's DIN-Rail touch-safe fuseholder and conventional PCB fuse clips, providing a wide range of mounting options for string and other PV system protection.
The ASO fuse is rated from 1-30A at 1,000 VDC with a breaking capacity of 20kA. It is UL listed and VDE approved according to the latest gPV requirements for the protection of photovoltaic systems, according to IEC 60269-6 and UL 2579.
The ASO pricing starts at about $12 each for 100 pieces. Clips and fuseholders sold separately. See detailed specifications at www.schurterinc.com/new_fuses.