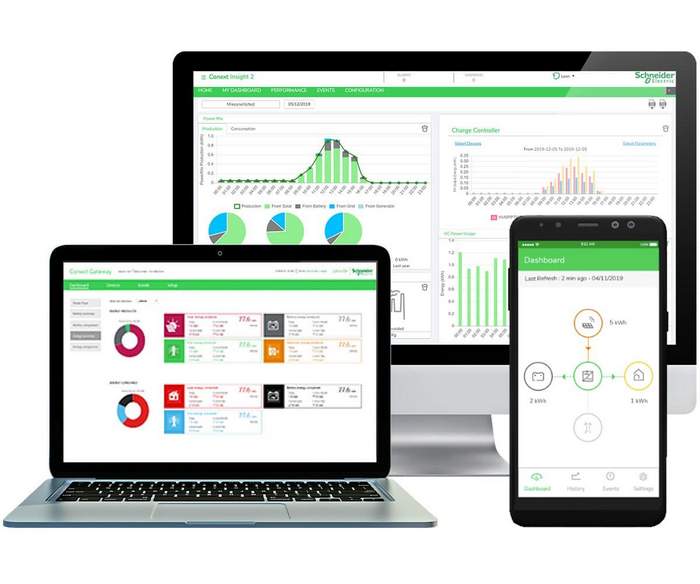 Digital technologies have been transforming energy management with in-depth analysis to help better decision-making, and automate or control operations intelligently at a site level. Schneider Electric Solar's latest innovation in this arena, Insight, launched last week — a powerful yet simple energy management platform for residential and commercial users. It is available through their local, cloud, and mobile interfaces.
Insight is a part of Schneider Electric's residential and commercial solar & storage ecosystem, providing intuitive mobile and web-browser based interfaces for consumers and installers alike. The different insight components are designed in compliance with international cybersecurity standards. Encrypted communication and storage of user information ensure user's site access and information are always protected, and the data is stored securely.
For installers, powerful features like remote settings management and firmware updates make it easy to maintain the sites while keeping truck rolls minimum. Insight also offers installers a suite of portfolio monitoring and management tools, allowing them to keep track of a large number of install sites with ease.
Homeowners and property managers can leverage Insight as a single platform for energy management. Insight will provide homeowners and property managers with more accurate and complete data on their solar system performance, including the money-saving and environmental impact they've made. In addition to the system performance data, Insight will offer scalable load management features in the future.
Insight mobile app is available on Apple Store and Google Play in selected countries. All current Insight 2 and Solar mobile app users are transferred to the Insight platform, and Conext Gateway and ComBox will be supported by Insight.
Tags:
energy management
,
Schneider Electric
,
software