Industry leaders will take on the uncertain future of the renewable energy industry when they gather for the 2013 Renewable Energy Technology Conference & Exhibition (RETECH). The conference will feature key leaders and decision makers who will share insights on renewable energy and what the foreseeable future holds for an industry that faces major hurdles over financing, cost and public perception.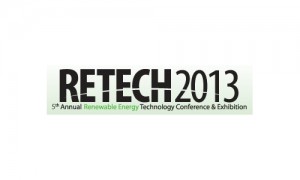 "RETECH has become a key meeting place for the renewable energy industry with government, utility, technology and finance professionals from 35 countries discussing the ways they're driving the growth of renewable energy in the US and around the world," said Jenn Heinold, Vice President, RETECH. "I am very excited for this diverse group of industry voices who play a central role as we look toward the future of renewables."
Speakers and panel discussions at RETECH 2013 will address major issues facing the industry including project financing, how our markets are trending, and what role our government will play in the industry future.  Industry experts will join Congressman Paul Tonko (D-NY) in the opening panel (Through the looking glass: The future of renewable energy technology) as they discuss the latest trends and predictions.
The conference also will focus on smart grids and their significance as we work to integrate renewables into the grid and enable distributed generation. Smart grids will play a key role as we work to improve the efficiency, reliability, economics, and sustainability of the production and distribution of electricity.  In a key session on the future of grid technology, (SmartGrid: Beyond Measuring and Monitoring to Security) key experts will look at opportunities with smart grids for greater penetration of renewable energy into our nation's power markets, as well as the challenges with keeping smart grids secure.
As RETECH 2013 works to examine the future of the industry, it has strategically partnered with the organization, Young Professionals in Energy (YPE) to highlight the importance of supporting early careers in renewables. YPE will host a career focused networking event that will bring together young industry professionals to discuss issues that will impact the renewable job market in the near future.
"Young professionals are concerned generally about the uncertain future in the global energy industry and how it may impact the overall job landscape," said Alla Lipsky, Director of the Washington, DC Chapter. "RETECH 2013 is a great opportunity for YPE members to connect with other industry leaders to discuss what this challenging climate means for career development in an evolving industry."
RETECH 2013 will be held at the Marriot Wardman Park in Washington, DC from Monday, September 9 – Wednesday, September 11.