According to the latest "Energy Infrastructure Update" report from the Federal Energy Regulatory Commission's Office of Energy Projects, renewable energy sources (i.e., biomass, geothermal, solar, water, wind) accounted for 82 percent of all new domestic electrical generating capacity installed in the first three months of 2013 for a total of 1,546 MW.  The balance (340 MW) came from natural gas.  Coal, nuclear power, and oil have provided no new generating capacity thus far this year.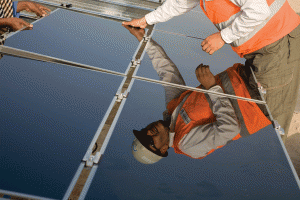 Wind led the way for the first quarter of 2013 with 6 new "units" totaling 958 MW followed by solar with 38units totaling 537 MW. Biomass added 28 new units totaling 46 MW while water  had 4 new units with an installed capacity of 5.4 MW. No new capacity was reported for geothermal steam.
For the month of March 2013 alone, 100 percent of the new electrical generation in service came from solar (7 new units with a combined capacity of 44 MW). The installed capacity of new solar units during the first quarter of 2013 (537 MW)  is more than double that installed during the same period in 2012 (264 MW).
Renewable sources now account for nearly 16 percent of total installed U.S. operating generating capacity:  water – 8.53 percent, wind – 5.18 percent, biomass – 1.30 percent, solar – 0.44 percent, and geothermal – 0.32 percent.  This is more than nuclear (9.15 percent) and oil (3.54 percent) combined.
"Month after month, renewable energy sources continue to dominate the new electrical generating capacity being brought on-line in the United States," said Ken Bossong, Executive Director of the SUN DAY Campaign. "The path towards a zero-coal, zero-nuclear future becomes clearer with each new report."