Real Goods Solar Inc., a nationwide leader of turnkey solar energy solutions, installed more than 25 MW of solar power in 2012 for residential, commercial, and utility customers. Furthermore,  the company achieved a major milestone having surpassed cumulative installations of more than 100 MW and more than 14,500 in total number of solar installations.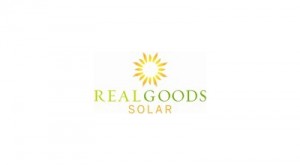 The Solar Energy Industries Association (SEIA) indicates that 100 MW of solar capacity will power approximately 16,900 homes. The U.S. Environmental Protection Agency estimates that 100 MW of solar power offsets more than 270 million pounds of carbon dioxide emissions per year, which is equivalent to removing more than 25,000 cars from the nation's highways annually.
"Bringing this incredible emission-free and 100 percent renewable energy source to residential and commercial customers has been in our DNA for many years – beginning with Real Goods selling some of the very first solar energy kits in the late 1970s," said Kam Mofid, Real Goods Solar CEO. "We are proud to have been a pioneer in this field and to have empowered so many thousands of customers to realize the benefits of going solar. There has been a dramatic rise in the adoption of solar energy in recent years. In many ways, we are still in the infancy of what is possible and indeed achievable, both economically and environmentally, and ultimately for the country in terms of increased energy security and independence."
The U.S. photovoltaic market of installed capacity is expected to reach approximately 4 GW in 2013, then double to nearly 8 GW by 2016, according to SEIA and GTM Research's latest U.S. Solar Market Insight report. This makes solar one of the fastest growing industries in the country.