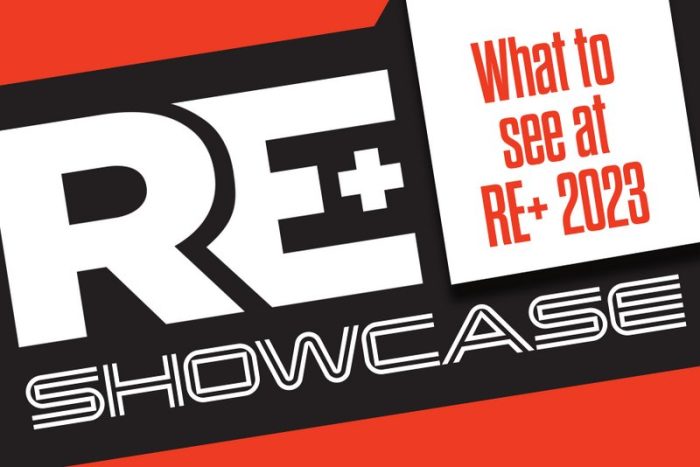 Vegas, here we come. RE+ 2023 promises to be the biggest one yet (at least if my inbox of announcements and invites is any indication). Unsure where to start your trek around the Las Vegas Convention Center come Sept. 11-14? You're in luck. We asked exhibitors to preview what they are showcasing for this handy-dandy guide. Here they are, listed in order by booth number. Grab a swag koozy, and let 'em know Solar Builder sent ya.
Meet with Enphase Energy at RE+
Join Enphase Energy at this year's RE+ conference in Las Vegas! Enphase's products will be featured at Enphase distributor booths located on the show floor, including Greentech Renewables (#2116), Krannich Solar (#21064), and Rexel (#23118). Enphase's newest line of products, including the IQ8 Microinverter, EV Charger, IQ Battery 5P, will also be on display at Enphase's meeting rooms, located in Marco Polo rooms No. 804 and 805 in the Venetian conference center. Enphase sales representatives, field engineers, and leadership will be available for drop-in meetings on Sept. 12-13 between 8:00 am and 5:00 pm, and on Sept. 14 between 8:00 am and 12:00 pm. To schedule a meeting ahead of time, please contact your Enphase sales representative. enphase.com
---
Roof Tech | Booth #326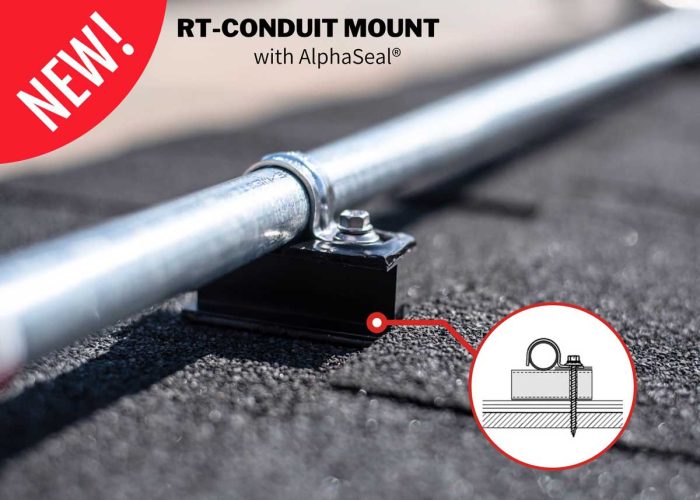 Coming in hot with a new product | Roof Tech is coming back this year to showcase its renowned AlphaSeal and to introduce a new product, the RT-CONDUIT MOUNT. The conduit mount is designed for a variety of usage options. Made for ½" to 1" conduit, it can be used with a single hole strap or conduit hanger and can be used for rafter or deck (plywood or OSB) installation. The RT-CONDUIT MOUNT along with all of Roof Tech's products comes with North America's trusted flexible flashing, AlphaSeal®. Since the dawn of the solar industry, PV installers have struggled with mounting systems that put the roof at risk by drilling holes into rafters that can damage shingles and cause leaks. In 2013, Roof Tech introduced its innovative flexible flashing technology with RT-Butyl, and those risks quickly faded into the past. AlphaSeal is an impenetrable sealant that eliminates the need for caulking once and for all. Explore their products up close, take some samples, and learn from their knowledgeable team. roof-tech.us
---
QuickBOLT | Booth #343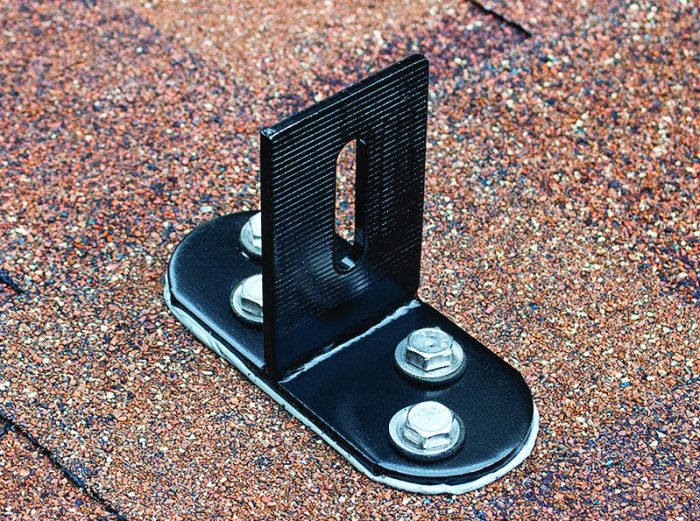 Fewer penetrations, even stronger uplift | Install is a breeze with QuickBOLT's Butyl Bottom Deck Mount. This mount utilizes a Peel-and-Place installation method. Just peel the paper and firmly press into position. Only 4 screws are needed to mount direct to deck or to the rafter, minimizing your impact on the roof. Self-tapping screws are included and come preassembled with EPDM backed Sealing Washers for superior holding and water protection. The incredible pullout ratings will keep your array secure when deck mounting (843 lbs) or rafter mounting (3228 lbs). You'll benefit from the flexibility to choose how to install this mount, with no additional SKUs required. QuickBOLT mounts are backed by testing, a 25-year manufacturer's warranty, and 11 years of over-the-shingle mounts on the roof. quickbolt.com
For more on new QuickBOLT products, check out this recent episode of The Pitch:
---
Snake Tray | Booth #452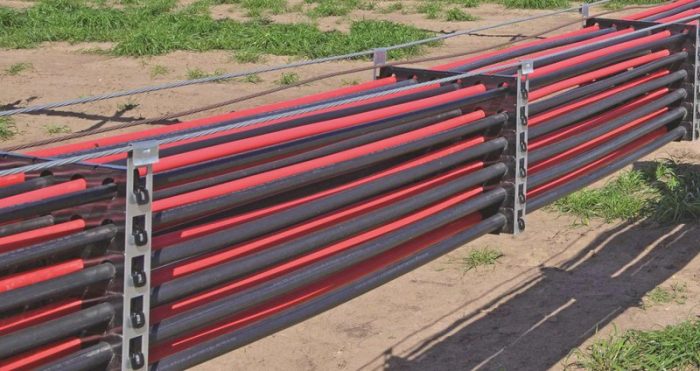 Innovative solar cable management | Snake Tray's Solar Cable Management solutions for commercial and utility grade solar, battery and EV installations include Solar Snake Max XL, a trenchless cable management system for cables from 350-1250 Kcmil. The NEC 310.15 cable separation allows the cables to operate more efficiently to yield up to 30-Watt hours per meter, far surpassing that of bundled cables. Easy snap together components offer a quick installation. Solar Snake Tray's hand-bendable cable tray for roof tops, car parks and ground mounts provide a "lobster trap" design to quickly secure cables. Solar Mega Snake is the ideal solution for high-capacity solar cable runs on rooftops. Snake Tray's selection of patented Snake-Loc cable hangers securely latch onto messenger wire to manage cables quickly and cost effectively. All Snake Tray products are made in the USA. snaketray.com
---
K2 Systems | Booth #526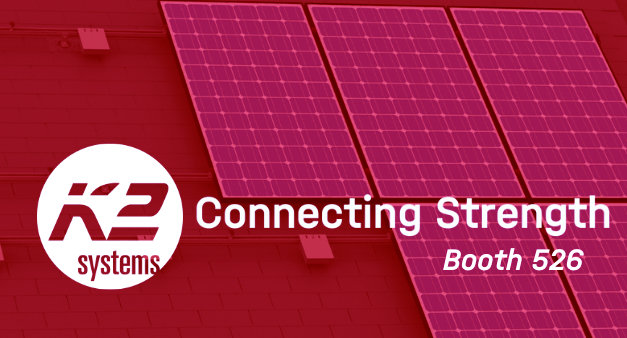 Get ready to discover groundbreaking mounting solutions at the K2 Systems booth at RE+ Las Vegas. K2 Systems will have multiple roof displays at its booth to showcase all of its mounting solutions. From residential to commercial projects, explore innovative products for various roof types. The K2 team is excited to give you a closer look at all our products and to answer your questions. k2-systems.com/en-us
---
SolarReviews | Booth #1648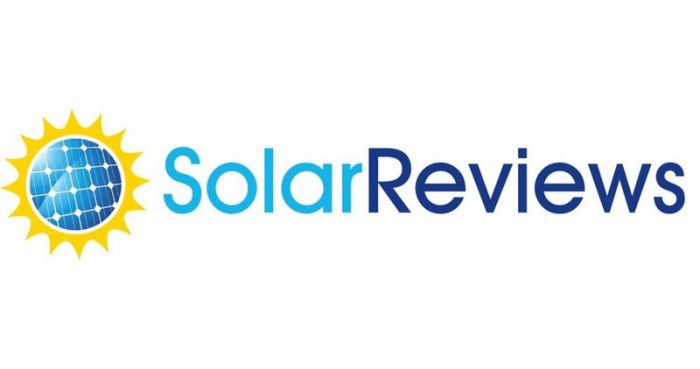 SolarReviews is one of the largest providers of verified solar leads within the U.S. Focused on connecting installers with interested customers throughout the U.S., SolarReviews has a dedicated team of Account Managers that can help installers forecast profitability and manage lead opportunities, to help build a consistent, thriving solar installation business. solarreviews.com
---
Terrasmart | Booth #2107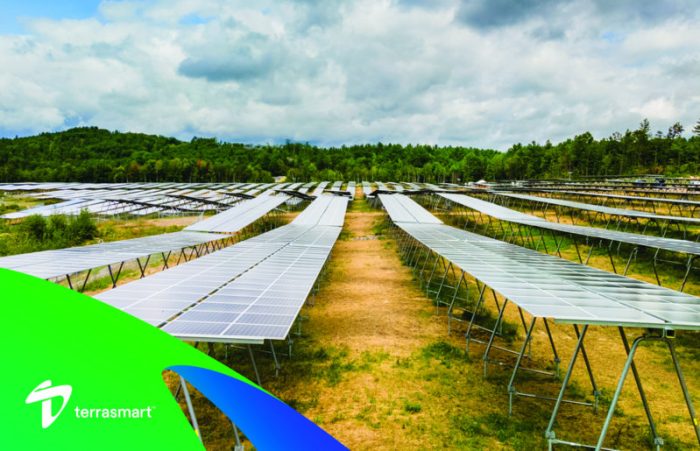 Turn any site into a success, no matter how tough | Terrasmart believes all sites have potential. In today's land-constrained market, this means turning unusable land into a solar reality. Known to deliver reliable results in unreliable conditions, Terrasmart boosts your site's potential. Its product portfolio spans across multiple foundation types, ground mount racking, canopy systems, project optimization software, and eBOS solutions. Combined with turnkey design, engineering and installation services, our value is uniquely integrated. Visit Terrasmart at RE+ to view all its product offerings, including the new TerraTrak 1P single-axis tracker. Advantages include:
Versatility above and below grade. Paired with legs that have 36 inches of vertical adjustability.
Outperforms weather. Sustains wind speeds up to 150 mph, snow loads of 100 psf, and more than 60 inches of frost depths.
Easier to install. A 73% reduction in bushing assembly parts and up to 50% fewer foundations per MW.
Eliminates refusals.
With 14 years' experience, TerraTrak is the go-to solution for solar developers, EPCs and asset owners looking to produce reliable results in unreliable conditions. explore.terrasmart.com/wind-white-paper-2023
---
Trina Solar | Booth #2138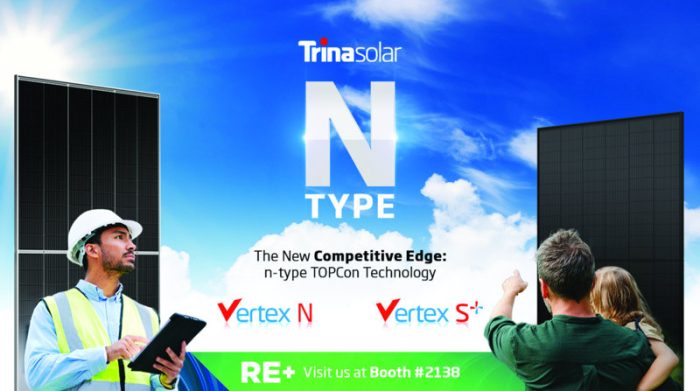 Be the first to see the new n-type TOPCon Vertex modules | Using innovative n-type TOPCon PV technology, Trina Solar's Vertex N and Vertex S+ modules are pushing the boundaries of efficiency and power to provide more value than ever before. The Vertex N series for utility-scale and C&I applications leads the way with a maximum power output of up to 600W. But it's not just about raw power; Vertex N delivers up to 22.2% efficiency, ensuring optimal energy conversion and maximum electricity generation. These panels promise to revolutionize large-scale solar projects.
For residential applications, all-black Vertex S+ is the ultimate rooftop PV solution, with up to 435W power output and up to 22% efficiency. Covered by the 25/25 TrinaProtect warranty, installers and homeowners in the U.S. can expect the guaranteed long-lasting performance of these compact but high-powered solar panels. Don't miss the chance to learn about Trina's smart solar solutions.
TrinaPro, the advanced solar solution for optimizing utility-scale and C&I PV systems, seamlessly integrates Trina's Vertex N, inverters, and TrinaTracker's smart solar tracking systems for maximum energy production and lower LCOE. The Trina Solar US Advantage residential solution also can offer tailored support from Trina's extensive local teams all across the country. Visitors will also see firsthand commercial and residential storage options from TrinaStorage. trinasolar.com/us
---
BayWa r.e. Solar Distribution | Booth #2148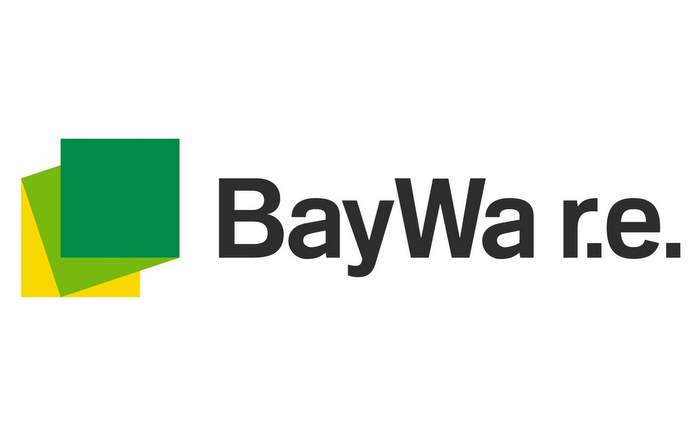 Stop by BayWa r.e.'s Happy Hour on Tuesday, Sept. 12, from 4-6 p.m. | BayWa r.e. Solar Distribution is a leading U.S. distributor of top-tier solar and energy storage components and systems. They support residential and commercial solar companies to grow their businesses with tailored solutions for solar product procurement, forecasting and business planning, financial management, sales and marketing approaches, and technical product knowledge. BayWa r.e.'s team of solar experts are positioned across the United States, making them experts in every solar market. And, their network of various warehouse locations conveniently serve solar installers, contractors, distributors, electricians, and more. solar-distribution.com
ICYMI, check out our latest Power Forward! episode with BayWa r.e. right here:
---
Wattmonk | Booth #2371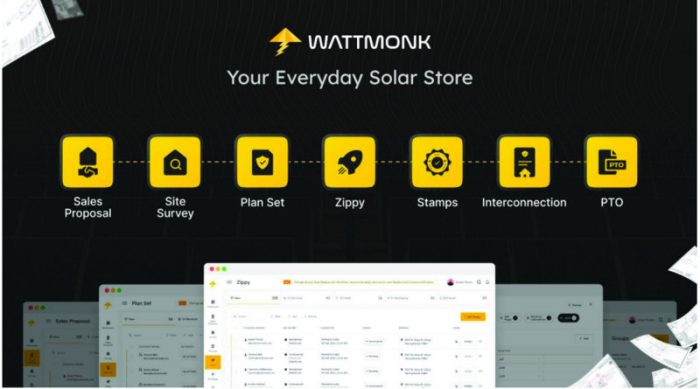 Empowering solar installers with end-to-end solar engineering | Life is more fun with games in Vegas, so visit Wattmonk at Booth #2371 and win exciting prizes. With more than 200 in-house designers and monthly design delivery of 60 MW across residential & commercial solar power plants, Wattmonk provides all your solar services in hours and not days. Its solar engineering platform is the secret weapon:
Permit designs/Plansets in 2 hours,
Sales proposal in 45 minutes,
Survey app to help anyone with an easy site survey in minutes,
Electrical and structural reviews in 24 hours,
Super-fast interconnection and PTO applications.
A self-learning solar planset builder.
Wattmonk calls its platform an "Everyday Solar Store" where installers can enhance their business processes and productivity with shorter turnaround time, reduced errors, and all services at one place. All these products are integrated into its SaaS platform with an app for iOS and Android. ultra.wattmonk.com/sign-up
---
Bodhi | Booth #2374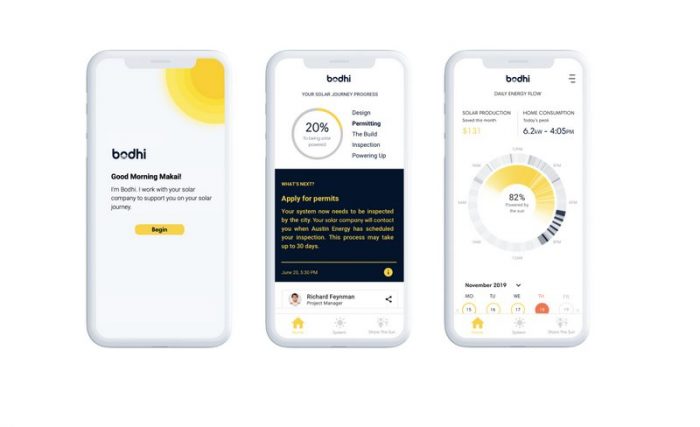 Bodhi is a software that helps residential installers deliver amazing customer experiences, lowering cancellation rates while driving more 5-star reviews and more referrals. Bodhi automates communication and personalizes the homeowners' experience, so that installers can focus on what they do best — execute on projects, make more sales, and transform communities around energy. To learn more, visit bodhi.solar.
---
Thornova | Booth #2938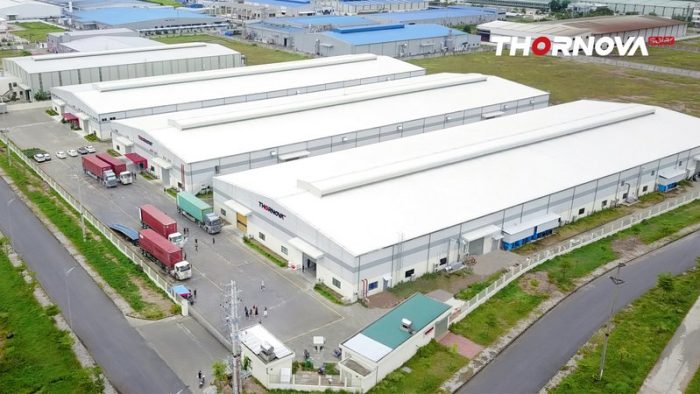 Thornova Solar, the U.S-based provider of bifacial TOPCon and PERC solar modules, is now manufacturing at volume in its state-of-the-art manufacturing facility in Vietnam. The company has the capacity to produce 1.5GW of modules for immediate deployment on utility-scale, commercial and residential projects in the United States. Thornova offers high-performance TOPCon modules and PERC modules, with power outputs ranging from 415Wp to 615Wp. The products come with 15- to 25-year product warranties and 30-year performance guarantees. thornovasolar.com
---
Aurora Solar | Booth #2955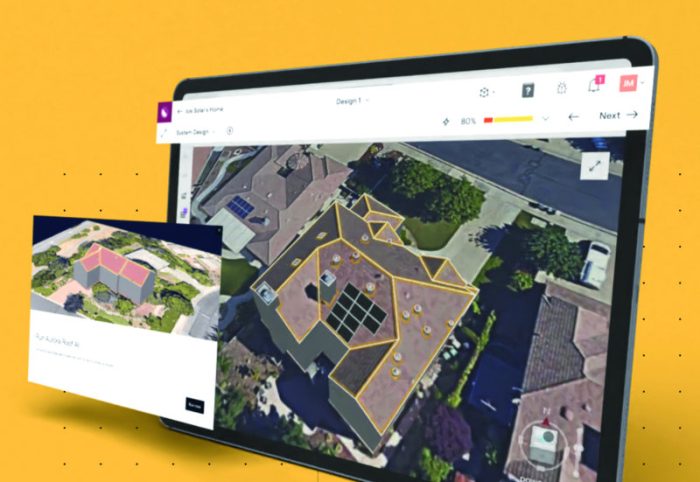 Power up with limitless possibilities | AI isn't just a buzzword—but don't take our word for it. Visit Aurora Solar's booth at RE+ to learn how Aurora Solar's smart tech can help you design and close deals in record time. aurorasolar.com Also, check out the latest episode of The Buzz, for our chat about C&I solar design with Paul Grana, GM of Helioscope at Aurora Solar:
Electriq Power | Booth: #3373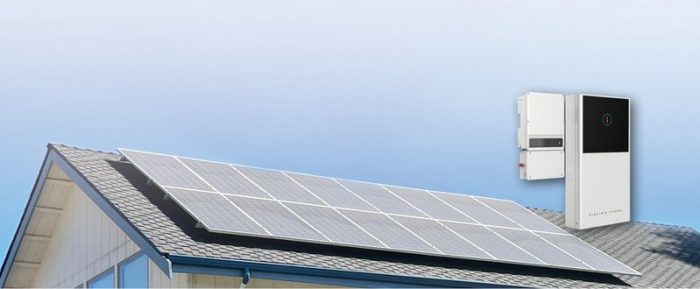 Electriq Power provides intelligent energy storage and management solutions for homes and small businesses. By connecting organizations, companies, cities and municipalities, and their local homeowners into Sustainable Community Networks, Electriq Power is enabling a shared vision of making the planet a better place. Electriq's Sustainable Community Networks offer turnkey energy solutions that include everything needed for home energy independence – solar panels, batteries, software, project development, financing, installation, and grid services – all with zero upfront costs. These systems are available to homeowners in select geographic locations, regardless of income or credit history, including low- and moderate-income households. electriqpower.com
---
OMCO Solar | Booth #3453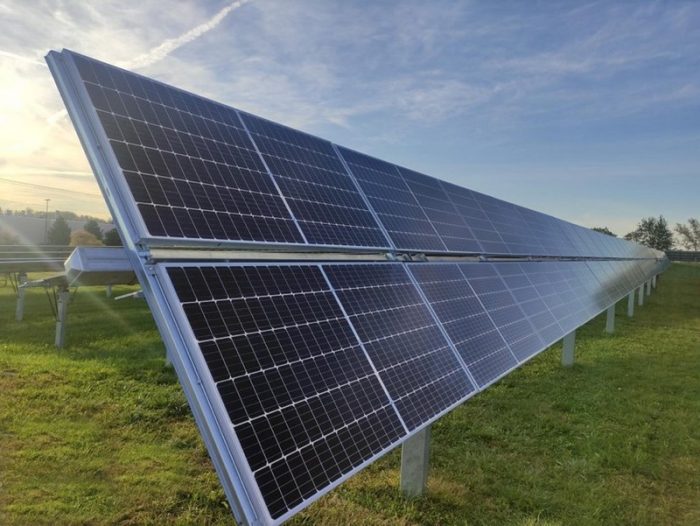 U.S. manufacturer of solar trackers and fixed tilt solutions | OMCO Solar's OMCO Origin One-In-Portrait and Two-In-Landscape Bifacial Trackers are primarily constructed of galvanized steel and cast aluminum. A balanced design allows for more accurate targeting and reduced energy consumption. Bearing includes a wear surface composed of a unique long-life, low-friction, self-lubricating acetal blend. The unique bearing adjusts to accommodate post misalignment.
Both Origin Trackers and OMCO Choice Factory-Direct mounting solutions are domestically manufactured, and all roll-formed parts are 100% U.S. steel. Most subassemblies are factory preassembled and shipped as single units for labor, time and cost savings. OMCO Solar provides short lead times with six strategically located U.S. manufacturing plants. Their experienced engineering team provides customers with stamped construction drawings and calculation packages. The OMCO Solar integrated team includes product development, sales, engineering, manufacturing, logistics and field services. omcosolar.com
---
Baja Carports | Booth #3716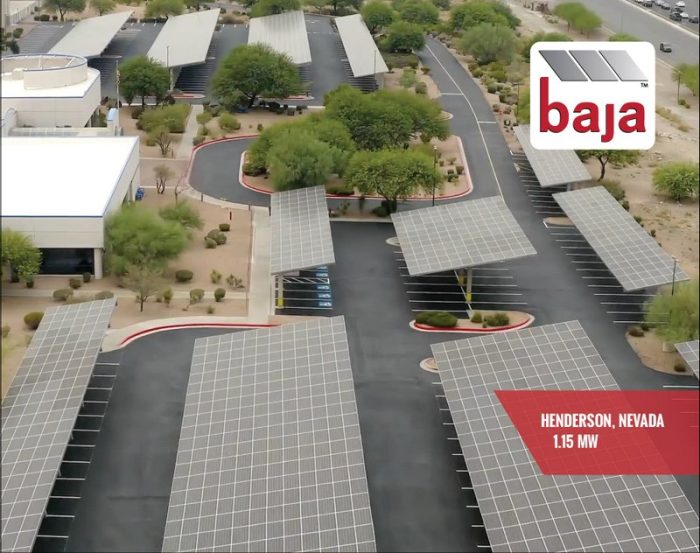 Excellence In Design, Engineering, Supply, And Installation Nationwide | Baȷa designs, engineers, supplies, and installs steel solar carports and solar ready structures nation-wide. Projects are engineer to specific design criteria up to 175 mph wind load and 90 lbs. snow load to meet customers unique project requirements. Baȷa provides a variety of steel products and structures to fit any project requirements – cold formed light gauge G90 steel, 3-plate steel, hot rolled wide flange, etc. Our dedicated and experienced in-house team of engineers, project managers, and certified installation crews will provide for a successful construction build out from initial design to project completion. bajacarports.com
---
PXiSE | Booth #3873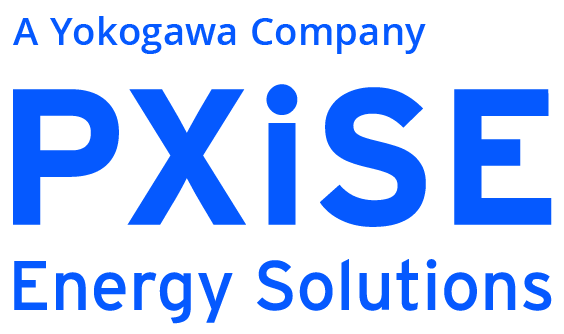 Visitors to the booth for PXiSE Energy Solutions, a member of the Yokogawa Group, will learn about the company's next-generation grid control technology that enables utilities, campuses, and communities to reach their clean energy goals by giving grid operators the control they need to manage growing renewables and distributed energy resources – while providing safe and reliable power. Also learn more about the pilot for PXiSE's newest product, the DER Management and Communication Platform, as well as interact with a live demo of the platform. The team will be on hand to discuss their established grid control solutions, the Microgrid Controller, DERMS, and Renewable Power Plant Controller, as well as real-world applications of all of their products, such as the recently announced news to bring Microgrid Controllers to Rove's EV charging centers. pxise.com/contact-us
---
Full Tilt by BCI | Booth # 3972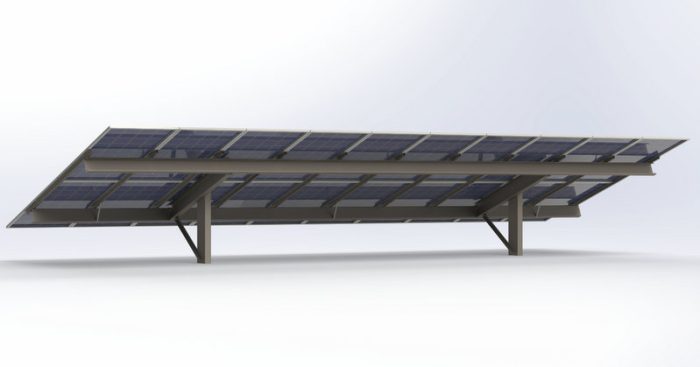 Full Tilt, developed by BCI with the installer in mind, is the latest advancement in fixed tilt solar racking technology. With over 25+GW of solar racking delivered as a contract manufacturer and backed by decades of engineering and global supply chain experience, Full Tilt provides an optimal fixed tilt racking solution. The components are produced to high quality standards and can be delivered anywhere around the world. The Full Tilt system boasts an innovative yet straightforward design with fewer parts and rapid installation. ft.solar
---
Hoymiles | Booth #4121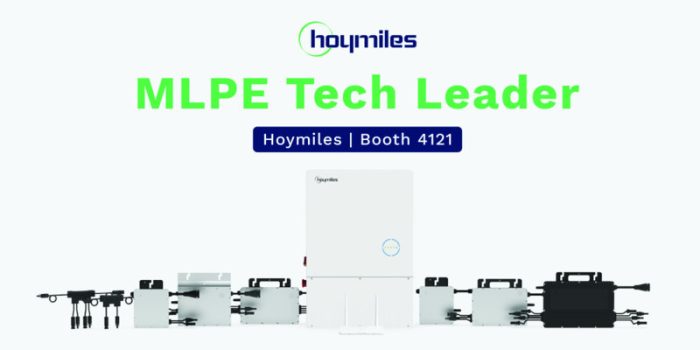 With its full range of smart solar solutions, including module-level microinverters, storage systems and rapid shutdown systems, Hoymiles is empowering homeowners and professionals in more than 120 countries and regions to join the journey to true open energy. They will showcase the brand-new single-phase hybrid inverter HYS-LV-USG1. Covering power class from 3.8 kW to 11.5 kW and supporting both DC- and AC-coupled systems, the hybrid inverters are highly adaptable to a wide range of scenarios. The high-performance hybrid inverter series also features a DC/AC ratio of 1.5, resulting in significantly lower costs when compared with systems of the same capacity using other inverters. The up-to-32A MPPT current provides seamless compatibility with all mainstream PV modules available on the market today, and the 97.6% maximum efficiency represents a standard unmatched in the industry. Additionally, Hoymiles has designed the inverters to be compact and simple to install, meaning they can be easily integrated into any hybrid system. hoymiles.com
---
Solis Inverters | Booth #4130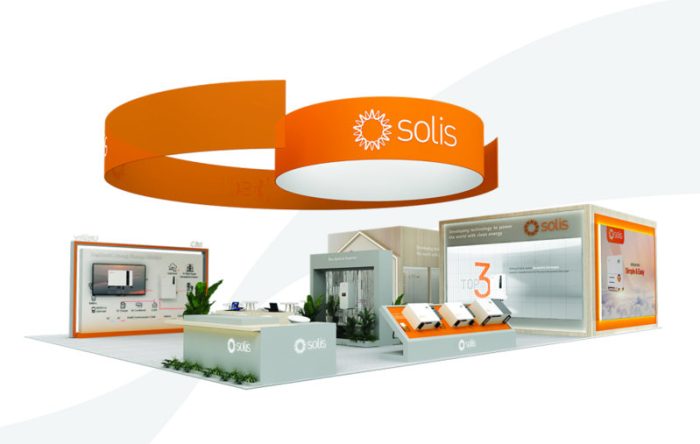 Solis is leading the way in innovation with world-class R&D and manufacturing capabilities and is consistently ranked one of the top global manufacturers of PV string inverters. Its team is excited to introduce several brand new additions to its line of inverter and energy storage products. Flexible and economical whole-home backup has never been easier with the new Solis Hub and S6 Hybrid PV and energy storage inverter solution, which offers a wide range of applications, customizable sizing, EV and generator integration, easy installation and comprehensive monitoring with the SolisCloud app. Other new products include C&I energy storage solutions and a 1500 V utility-scale inverter. solisinverters.com
---
SMA America | Booth #4138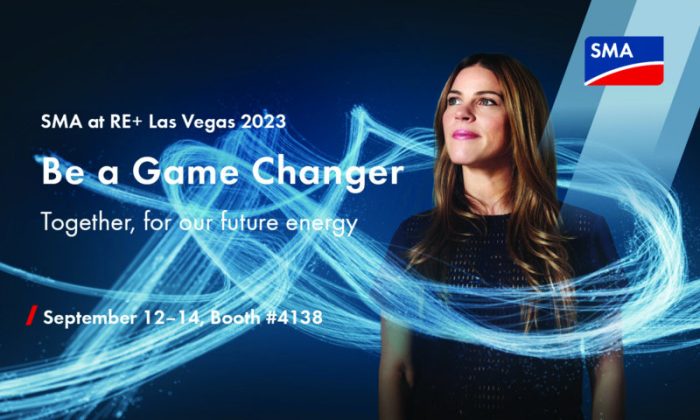 Be a game changer | Discover the innovative new options available with SMA's complete energy solutions for residential, commercial and large-scale applications. Seek out the SMA team of experts and enjoy a variety of in-booth event engagements, educational series and experiences. Find out more about the new, ground-breaking Sunny Boy Smart Energy hybrid inverter and learn about the newest centerpiece of the proven SMA Commercial Energy Solutions, the Sunny Tripower X. Be one of the first to see the future of SMA Home Energy Solutions as well as the commercial storage solution that will redefine the market. The SMA Large Scale Energy Solutions on display stand for longevity, maximum performance and top quality with highly integrated solutions for PV power plants. sma-america.com
---
GoodWe | Booth #4143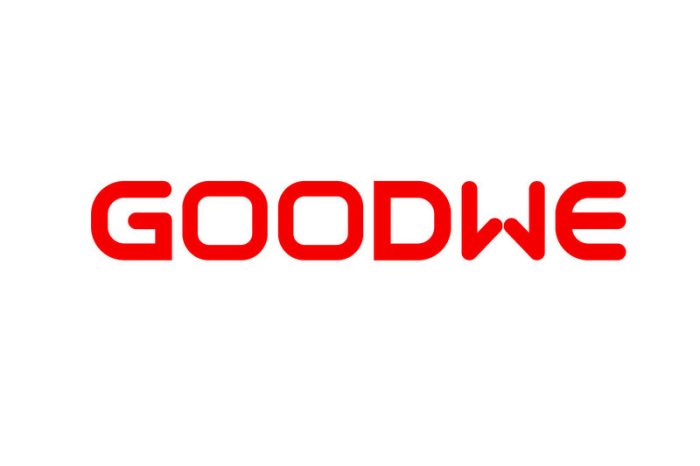 Experience superior residential and commercial energy solutions | With more than 3 million units and 38 GW of capacity installed worldwide, GoodWe is no stranger to PV. GoodWe's more than 5,000 employees worldwide have been hard at work to showcase the latest in solar and storage technology at RE+ 2023 in Las Vegas. GoodWe solutions are consistently top ranked. Among the groundbreaking products featured will be the MS-US series from GoodWe, which offers installers and homeowners a better solution for residential PV and storage. Its intelligent design optimizes energy production while eliminating the need for complex and costly module-level power electronics. This next-generation single-phase inverter also features 5 kW to 11.4 kW sizes, up to 3 MPPTs and integrated AFCI & Rapid Shutdown. en.goodwe.com
---
APsystems | Booth #4155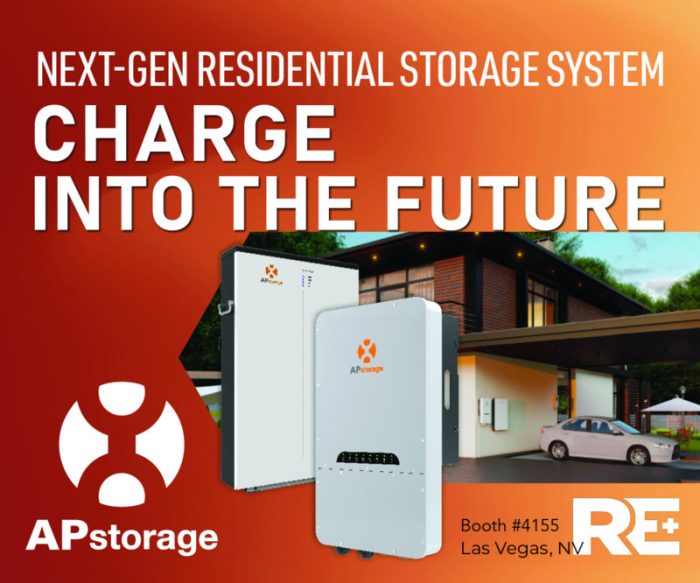 Charge into the future with APsystems as they unveil their next-gen residential storage solution, APstorage | Discover the groundbreaking ELS, an intelligent Power Conversion System (PCS) equipped with automatic energy management features and integrated monitoring, providing homeowners with a reliable and efficient energy storage solution. This cutting-edge system seamlessly combines innovative technology and unparalleled performance, offering choices between backup, self-consumption, and time of use modes to secure critical loads during power outages and maximize energy savings for residential PV applications. usa.apsystems.com/apstorage
---
Pylon Technologies | Booth #4921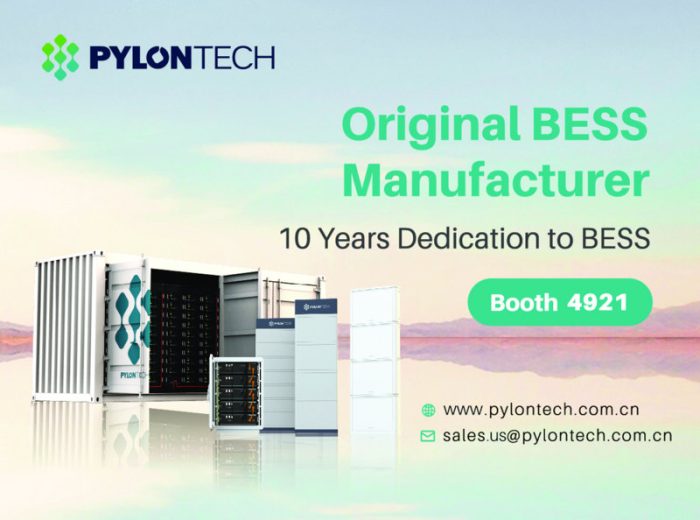 Unveil the future of energy solutions with Pylontech | At the Pylon Technologies booth, get a firsthand look at their newest and most innovative energy solutions. Witness their energy solutions in action through on-demand demos, where Pylontech experts will showcase the remarkable capabilities and features of their newest products. Engage in informative presentations by their experts, where you'll gain valuable insights into the future of clean energy technologies. And get lucky and win awesome prizes! Participate in their exciting lucky draw for a chance to win fantastic prizes and take home some exclusive Pylontech merchandise. Also join hit their happy hour, where you can relax, network with like-minded individuals, and exchange ideas on advancing sustainable energy solutions. pylontech.com.cn
---
Great Power Battery | Booth #5153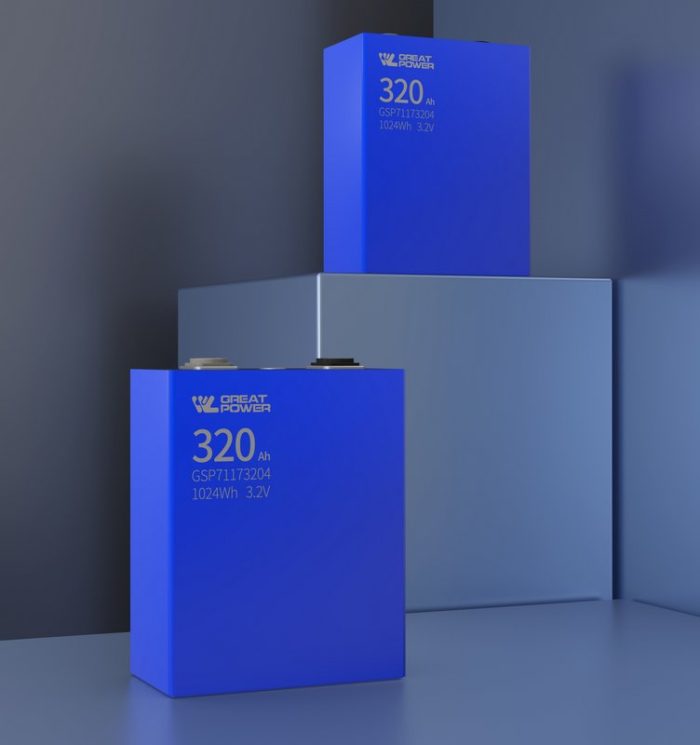 The new 320Ah Ultra lithium-ion battery from Great Power delivers almost 15% more energy in the same footprint as the industry standard 280Ah. Designed for 20+ years of safe, high-performance operation, the 320 Ultra lowers the levelized cost of energy (LCOE) by cutting down on associated electrical, thermal, mechanical, and civil components, thereby also reducing related maintenance. The company behind the battery, Great Power, is a technology innovator specializing in manufacturing, researching, and developing high-performance, cost-effective lithium-ion batteries for over two decades. As a leading OEM battery manufacturer in China, Great Power is focused on pioneering cutting-edge batteries for energy storage systems that adhere to rigorous standards, demonstrating a commitment to safety, performance and value. greatpower.net
---
Heyco Products | Booth #5273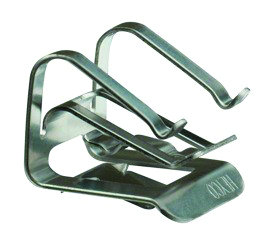 New: HEYClip SunRunner 2 x 2 Cable Clips for 4 cables | Heyco Products Corp. is pleased to announce the release of the HEYClip SunRunner 2×2 Cable Clip. The new 2×2 clip allows for tidier wire management within the PV module frame. The new 2×2 clip also works on newer solar panel frames with smaller flange widths (down to 10mm). It holds up to 4 cables of the same diameter ranging from .26" (6.6mm) to .33" (8.4mm) in diameter. Come check out this new clip as well as many other great solutions at Heyco Products Corp. heyco.com
---
Rolls Battery | Booth #5334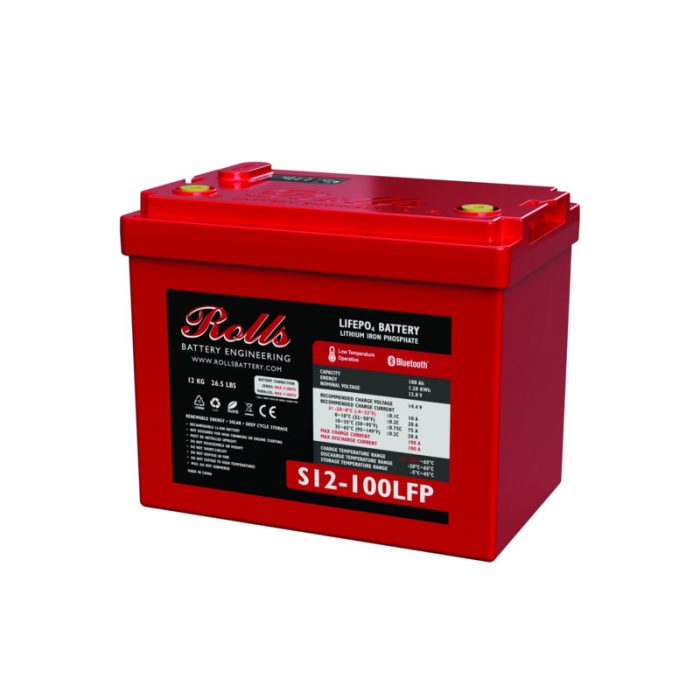 Enhanced energy storage with Rolls S-Series (LiFePO4) lithium batteries | Rolls Battery has been manufacturing premium deep cycle batteries in Canada since 1959. Adding to their wide range of lead-acid products, the new S-Series 12V & 24V lithium iron phosphate (LiFePO4) batteries from Rolls are available in 50Ah to 300Ah nominal capacity, offering a lightweight and maintenance-free alternative to traditional flooded and sealed lead-acid models. With fast charge and discharge capability, and a full suite of operating protections, the new S-Series 12-volt and 24-volt LFP models add to the quality and reliability of the R-Series LFP lineup, offering a range of enhanced features and upgrades including:
Built-in display for battery voltage, state-of-charge, connectivity & operating conditions
Heating for cold weather operation [-20~0°C (-4~32°F)]
External fuse access
Screw-on cover for BMS access & servicing by an authorized technician
Bluetooth connectivity & dedicated app
Now available, S-Series LFP models are sold via authorized Rolls Battery distributors and dealers and are backed by a 5-year full replacement manufacturer warranty. rollsbattery.com
---
IMO | Booth #5559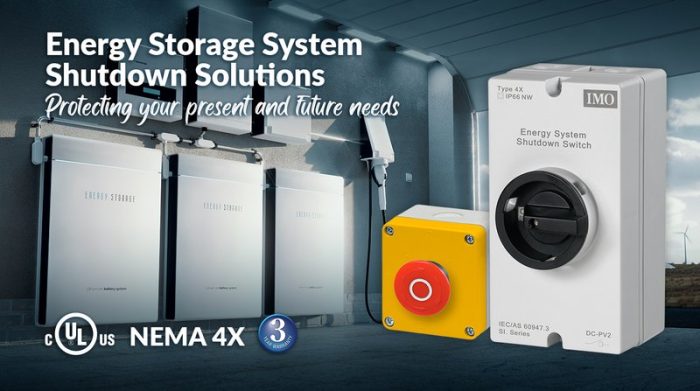 Protect your present and future with ESS Shutdown compliance | Are you concerned about meeting the new Disconnection Code Requirements of Energy Storage Systems? NEC 2023 706.15 states that means shall be provided to disconnect the Energy Storage System from all wiring systems, including other power systems, and when not in clear sight, a separate means of disconnecting must be provided. The great news is that IMO has the solution to meet the needs of NEC 2023 and the Energy Storage Systems disconnection requirements. Whether you are looking for a simple push button disconnect, or a fully NEMA 4X, lockable and taggable disconnect, IMO has the ideal offering. IMO's simple push button disconnect offers 1NO and 1NC contacts, IP66 protection rating, is cULus approved and comes with a 3-year warranty. The 2 pole, fully NEMA 4X, lockable and taggable disconnect provides low voltage control up to 2 Amps and 48VDC, is also cULus approved, and also comes with a 5-year warranty. imopc.com
---
Redflow | Booth #6064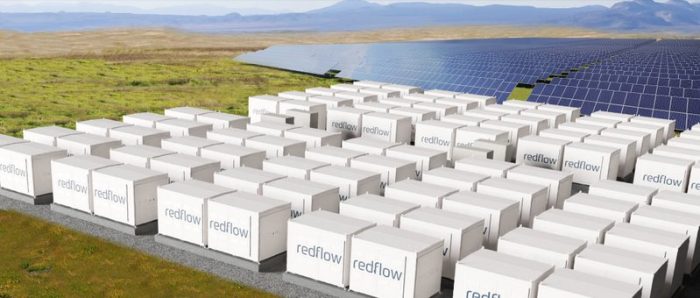 Redflow designs and manufactures one of the world's most compact and scalable zinc-bromine flow batteries – a long-duration energy storage solution that's environmentally friendly, fully recyclable, and manufactured from widely available, low-toxicity materials. Scalable from tens of kilowatt-hours to hundreds of megawatt-hours, Redflow solutions are deployed worldwide, enabling a sustainable, carbon-free future. At RE+, Redflow's flagship ZBM3 battery – the core building block of Redflow's storage solutions – will be featured. Our scalable EnergyPod holds 20 10 kWh ZBM3 flow batteries, encased in a custom enclosure providing electrical protection and power conditioning. The EnergyPod enables safe, reliable energy delivery across various applications. Redflow's technology is proudly developed in Australia, with proven delivery to over 250 commercial deployments worldwide. For more information, visit redflow.com
---
CAB Solar | Booth #7018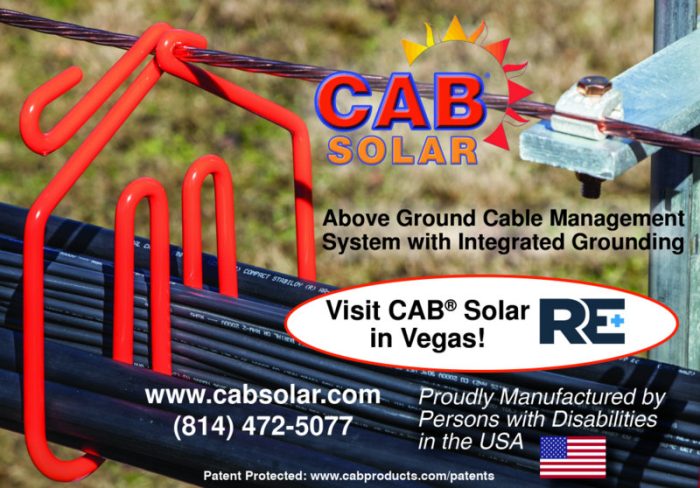 Discover why the CAB Solar Cable Management System is the above-ground cable management approach for utility scale projects and how each order supports a truly unique and dedicated mission. CAB's patented Solar Cable Management System utilizes the messenger wire as the EGC and GEC for Integrated Grounding. The CAB multi-carrier hangers are available in a wide range of styles to efficiently separate large bundles of cables and designed to be easily installed on tracker, ballasted, or fixed tilt projects. The CAB Solar Multi-Carrier Torque Tube Hangers offer a sturdy, long-term solution for under panel cable management and are ideal for bifacial panels. CAB Solar Cable Management Systems and all CAB Products are manufactured in the U.S. by persons with disabilities at the Cambria County Association for the Blind and Handicapped (CCABH). cabsolar.com/expo-solar
---
Savant Systems | Booth # 7713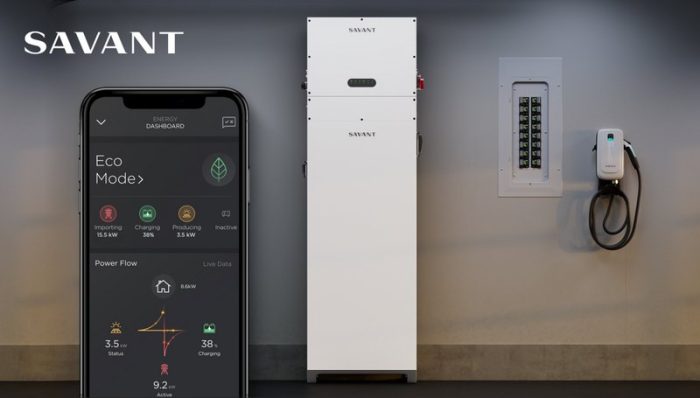 Premium, smart home systems personalized for the way you live | Savant Systems Inc. is a recognized leader in both smart home and smart power solutions, as well as the leading provider of energy efficient smart LED fixtures and bulbs for every room of the house. Savant Systems' brands include Savant, Savant Power and GE Lighting, a Savant company. Today, Savant builds on that innovative spirit and strives to deliver not only the best experience in smart home and smart working environments but also the latest in smart power technology. Savant Homes are more than just smart, they have a backup plan when the power goes out. Automate everything from lighting to music to video in every room, while not needing to rely on the grid. Savant offers the unparalleled convenience of controlling your lighting, climate, entertainment, and security from a single, intuitive app. Become a dealer with a referral code: savant.com/become-a-dealer, use referral code SOLARMAG.
---
LS Energy Solutions and ACE Engineering | Booths #5362 & #17114

At RE+, and in conjunction with ACE Engineering, visitors can view LS Energy Solutions' full-scale AiON-ESS container unit at booth 17114 and learn more about the flexible, modular AC energy storage solution for 1-hour and 2- to 6-hour applications. Attendees can also speak with members of the engineering and executive teams of both companies, and learn more about the AiON's features including modular architecture, thermal management, safety by design, fleet control, augmentation, and more. Along with seeing an AiON-ESS unit, visitors can also visit the LS Energy Solutions booth at 5362 to chat with the LS-ES team and interact with scaled-down models of each type of AiON-ESS. Attendees will also learn more about the AiON-SIS, LS Energy Solutions' third generation bidirectional string inverter for energy storage and the fundamental building block of the company's integrated storage systems. www.ls-es.com
SoftPaw PV | Booth #18019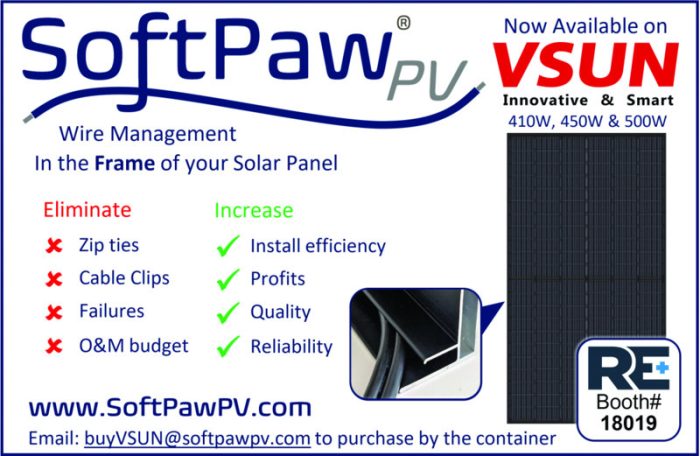 Wire management for the solar module frame | Installers are thrilled with SoftPaw on their VSUN modules. Gone are the days of bruised fingers, failed inspections, ground faults, and callbacks associated with current wire management. SoftPaw makes wire management fast, fun, and reliable — all at a fraction of the cost of cable clips. SoftPaw is sized to accommodate all wires within the array including those from the module, SolarEdge, Tigo, and Enphase trunk cables. And since it is all the way around the module, it is everywhere it's needed. Since SoftPaw replaces clips and ties, it is applicable to all industry segments. softpawpv.com
---
Solvari | Booth #18019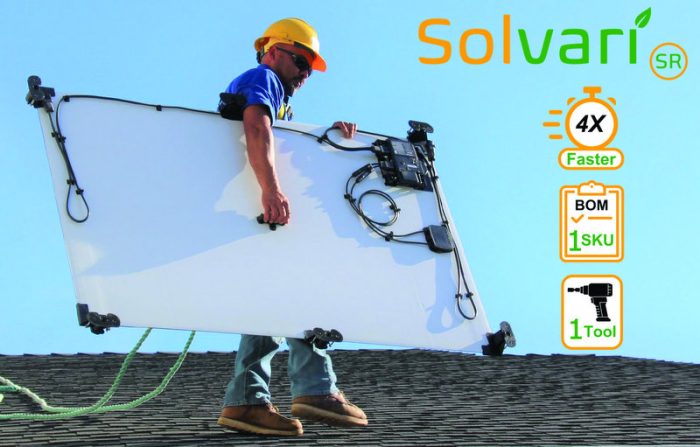 Everything you need | Solvari SR is an all-in-one solar panel that ships with everything needed to install on asphalt shingle roofs. Racking, flashing, deck screws, inverter, cabling, and cable management are all included. Installation time is 2 minutes per module, including lift-to-the-roof. And best of all, it is so simple it can be installed by unskilled labor. Installation is easy. Just pull the release sheets from the flashing tape on the mounts, lift the panel to the roof, screw it down, and then electrically connect it to the next module. Fasteners come preloaded so there are no components to lose. And there is extra cable length for: skipping modules, jumping between rows, passing around skylights, and transition across roof faces. solvarisolar.com.
---
BLUETTI | Booth #20074
BLUETTI, a pioneering provider of energy storage products, will display its latest energy storage solutions, of which the highlight is its upcoming EP800 energy storage system, ahead of its official release on September 15. The EP800 off-grid battery system provides 7,600W of power for both 120V and 240V home appliances. Its modular design allows users to choose from two to four B500 battery packs for up to 19,840Wh of capacity. Households of all types could have customizable backup power for blackouts and optimize energy consumption with its peak load shifting feature. Some with solar systems could benefit even more. Featuring a 9,000W solar input, it helps to store free solar energy for overnight use or other times when the grid fails. In addition, BLUETTI will also display its portable solar generators like the camping companions EB3A, EB55, EB70S, and the midsize AC200P have been widely recognized. BLUETTI will spotlight two new offerings – the water-resistant AC60 and the powerful AC180. Both generators have garnered rave reviews since their debut, and their offline versions will be available this September. Visit here for more info.
---
Aggreko | Booth #20113

Visitors to the Aggreko booth can learn about all aspects of the renewable energy project commissioning process, such as meeting commitment dates, achieving key milestones and ensuring eligibility for financial incentives, as well as the company's grid emulation solutions and energy storage. Aggreko supplies temporary power, electrical distribution, and dehumidification and temperature control solutions for many industries, including renewables. With temporary battery storage and low-emission diesel and gas generators, Aggreko serves as a partner to reduce outages, keep customer interruptions at a minimum, and maintain a safe working environment. aggreko.com/en-us/contact-us
Listen to more in-depth conversations on Solar Builder's YouTube channel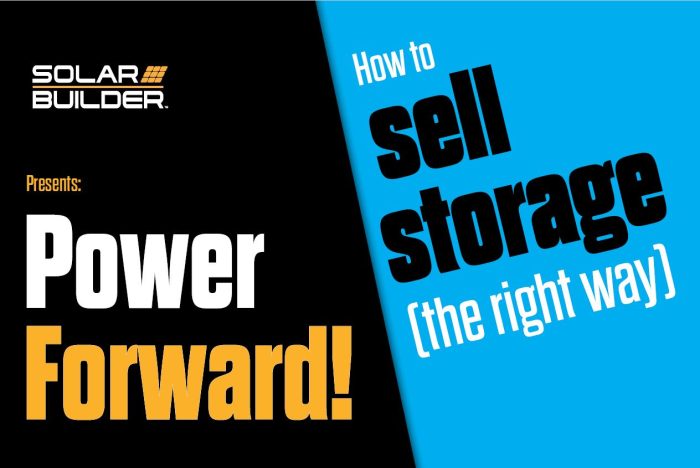 Our most popular series include:

Power Forward! | A collaboration with BayWa r.e. to discuss higher level industry topics.
The Buzz | Where we give our 2 cents per kWh on the residential solar market.
The Pitch | Discussions with solar manufacturers about their new technology and ideas.