PSEG Solar Source, The Salt River Project (SRP) and juwi solar Inc. (JSI), today dedicated the PSEG Queen Creek Solar Farm in Queen Creek, Ariz. Joining representatives from the companies were Queen Creek Mayor Gail Barney as well as other local officials and business leaders.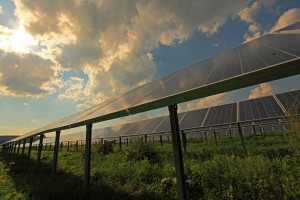 The PSEG Queen Creek Solar farm is a 25-MW DC (19-MW AC) plant, containing approximately 90,000 crystalline solar panels and 48 400-kW solar inverters. The panels are mounted on single axis tracking systems that allow the panels to follow the sun across the sky and maximize the amount of electricity generated by each panel. Each of the 48 inverters has six 67-kW extractable modules with a customized configuration enabling maximum energy harvesting. The solar power generated by the project offsets approximately 21,000 metric tons of CO2 emissions each year, the equivalent of taking approximately 4,100 cars off the road.  The PSEG Queen Creek Solar Farm is located on 148 acres of land approximately 30 miles southeast of Phoenix and will produce an amount of energy equal to that needed to serve about 3,300 SRP residential customers.
The project is owned by Newark, NJ-based PSEG Solar Source. juwi solar developed the project, served as EPC contractor and manages the day-to-day operation of the plant. SRP has entered into a 20-year agreement to buy the power from the plant.  Phoenix-based Power-One supplied and tested the inverters, which convert electricity from direct current or DC (which is produced by solar panels), to alternating current or AC (as it is used in homes and businesses).
Speaking at the event, Diana Drysdale, president of PSEG Solar Source, said the company was pleased with the support the project had received in Arizona and was hopeful that this would not be the last dedication of a solar facility in Arizona for her company.
Speakers at the dedication included Ralph Izzo, chairman, president and CEO of PSEG (parent company of PSEG Solar Source); Diana Drysdale, president, PSEG Solar Source; Mayor Barney; David Rousseau, president of SRP; Steve Ihnot, CFO of JSI; and Dave Wojociechowski, vice president of renewable energy sales for North America at Power-One.
Izzo thanked all involved with the project, and noted, "PSEG has been pushing the frontiers of solar in New Jersey, through our regulated utility, PSE&G, and outside NJ through PSEG Solar Source.  Our utility has 22 solar projects as well as the largest pole-attached solar program in the world.  PSEG Solar Source owns the largest solar farm in Ohio, the second largest solar farm in Florida and is building what will be the largest solar farm in Delaware. The Queen Creek Farm is a wonderful addition to our fleet."
"Queen Creek Solar not only allows SRP to provide our customers with clean, green energy, but it can be done efficiently, close to our load and with virtually no water," said SRP President David Rousseau.
The SRP Board has set a goal to meet 20 percent of SRP's retail electricity requirements through sustainable resources by the year 2020.  Currently, SRP meets about 10 percent of its retail energy needs with sustainable resources including wind, solar and geothermal energy, hydro power and conservation and energy-efficiency measures.
"As a global leader in solar and wind inverters, we support our global customers and local markets; we welcome the opportunity to team with industry leaders like juwi, PSEG Solar Source and SRP to support the community, the environment and the renewable energy initiative," said Dave Wojociechowski, vice president of renewable energy sales for North America at Power-One. "Our products, manufactured in Phoenix, are designed to save energy by providing more usable energy output power and by generating less wasted heat.  This contributes to an efficient and powerful renewable energy system."