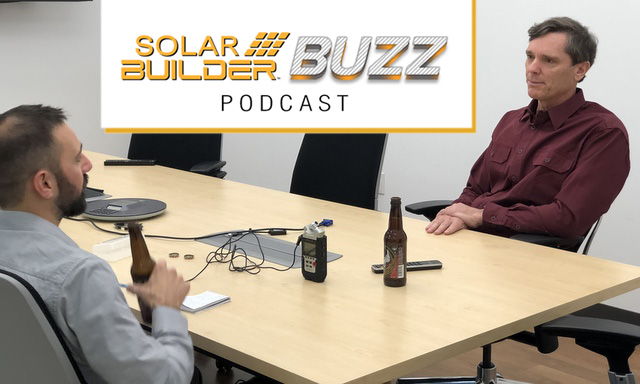 Dan Fortson, applications engineer for Fronius USA, is a lifer in solar energy – starting back in the wild west days of the '80s, learning from the early off-grid PV pioneers to now working for one of the top inverter brands in the industry. He has seen a lot over the years, and he's not opposed to giving a few hot takes about solar and its place in the world. So, he made for a fascinating podcast guest. Our chat ranges from the technology most exciting him today to what he would do if he could change the energy industry right now. Click to listen, download and/or SUBSCRIBE below.
1 min. We start by discussing Dan's start in solar — which dates back to his interest learning about energy in junior high science classes: "There's something dreadfully wrong here." I say "kind of" too many times.
2:30: What his first PV installation looked like and who is early mentors in the solar industry were.
4:20: Hilarious coincidence about what Dan alludes at this minute-mark.
6:00: What's been most surprising to him about what's possible today compared to the systems he was building in the early days – from racking fabrication to inverter technology to batteries — and how batteries can be like animals.
9:00: The effect the SunSpec Alliance standards are going to have on PV technology and system architecture going forward. Hot take #1: Why we might be a little too concerned with safety.
13:30: I struggle to come up with the words to explain the new testing for arc faults, which I wrote about in this article here.
15:30: Hot take #2: How utilities are overstating the issue of grid power quality.
18:10: How Dan would change the energy industry for the better. "Every form of energy is subsidized … We don't fight wars over sunshine; we fight wars over oil."
21:30: We get into some of the inverter tech support headaches that Dan sees in the field, and then he offers some advice for avoiding some of the most common installation errors he sees.
24:30: We end discussing some of the new initiatives and products that you can expect to see from Fronius heading into 2018. Be sure to take a look at their brand new website and check out this vision they have for the solar industry by 2020.