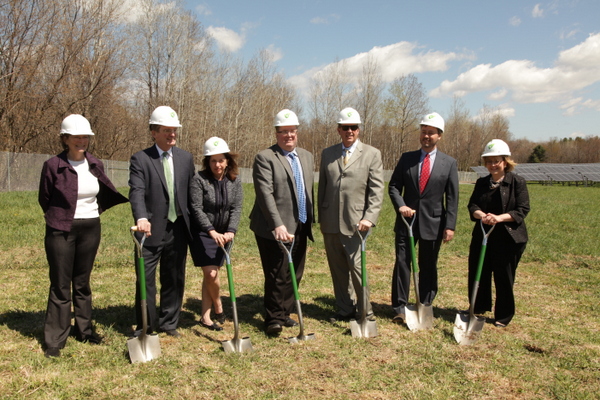 New York's solar rise continues as the New York State Energy Research and Development Authority (NYSERDA), New York State Department of Public Service (DPS), EnterSolar and Clean Energy Collective (CEC) started construction on the first Shared Renewables community solar project in New York State.
This project advances the goals of Governor Andrew M. Cuomo's Reforming the Energy Vision (REV) strategy to build a clean, resilient and affordable energy system by helping to make clean energy a possible choice for more residents. The success of REV depends on communities taking charge of their own energy as New York increases the growth of electricity generation at customer sites to supplement power generated at central power plants.
The announcement was made at the groundbreaking for the project today in Halfmoon. The Halfmoon Community Solar Project will feed solar energy to the grid operated by New York State Electric & Gas Corporation (NYSEG) and will allow more than 100 residential customers in NYSEG's Capital Region territory (parts of Columbia, Essex, Rensselaer, Saratoga and Washington counties), including low-income residents, to participate in local clean power generation and save money on their electricity bills.
RELATED: SEPA report: How to improve community solar models 
Under the State's Shared Renewables Program, residents can purchase individual solar panels in the Halfmoon array and receive credit for the power production directly on their monthly electric bills, as if the panels were located on their own roof.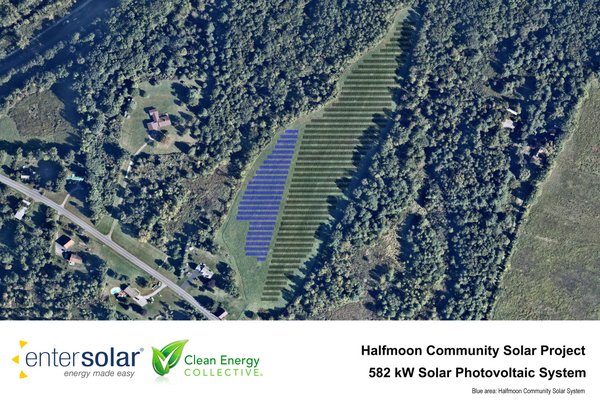 Proposed in Governor Cuomo's 2015 State of Opportunity Agenda, the Shared Renewables Program provides opportunities for renters, homeowners, low-income residents, schools and businesses to join together to set up shared renewable energy projects resulting in healthier and stronger communities. The Halfmoon project is specifically for renters, homeowners and low-income residents.
The Halfmoon project, which is expected to be completed by late summer, will feature a solar array of more than 1,700 panels on Cary Road in the Town of Halfmoon. EnterSolar is the project developer, and CEC is providing the community solar solution, called RooflessSolar, allowing residents to purchase panels in the array and receive credit for the power produced directly on their electric bills.
The solar installation will generate an estimated 741,230 kWh of electricity annually, the equivalent of powering 103 average-sized homes in New York.
CEC is extending the value of the project to the local community by partnering with Affordable housing Partnership and earmarking 10 kilowatts of capacity to be assigned to five low-income families in NYSEG's Capital Region each year for 20 years.

Paul Ahern, President of EnterSolar, said, "EnterSolar could not be more proud to be part of this notable project for New York State. This partnership is a model not only for solar in New York, but nationwide."
The project received funding through Governor Cuomo's $1 billion NY- Sun initiative, which is designed to build a self-sustaining solar industry in New York and help achieve strategic energy goals under REV and the Clean Energy Standard, which requires that 50 percent of electricity generated in New York come from renewable sources by 2030. The New York Public Service Commission announced the state's Shared Renewables program last July, with the goal of giving all New Yorkers the ability to directly participate in and benefit from local clean energy projects.
Further Reading: New York utilities, SolarCity propose landmark partnership