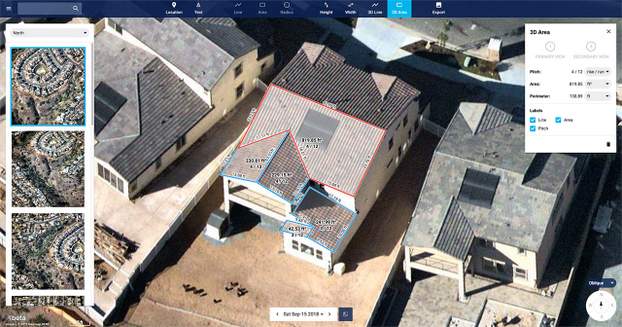 Nearmap, a premium provider of high-resolution aerial maps, is introducing a complete measurement toolset in MapBrowser for the solar, roofing and other rooftop industries. Referenced in our top storylines from SPI, the new tools allow users to measure roof-pitch, height, width and area, enabling roofers and solar installers to confidently measure rooftops and structures from high-resolution oblique aerial images.
Nearmap is hosting a webinar with us next week (Wed, Dec 5, 2018 2:00 PM EST) to walk through all of the details:
This webinar will highlight the use of how aerial imagery integrates with leading PV design platforms, and how having the most recent property location content aids in both the strategy and tactical side of your business. Project managers, designers, and contractors rely on high-res 2D orthomosaics, oblique aerial imagery, and 3D location content to unlock insights, streamline worksite operations, and communicate with confidence.
"Gone are the days of climbing on roofs to take measurements," said Tony Agresta, Executive Vice President of Product, Nearmap. "Delivered to the cloud within days of capture, our aerial imagery allows roofers, solar companies and other small businesses to carry out assessments from the comfort of their office. Once the domain of large companies, the new features provide businesses of all shapes and sizes with the tools they need to save time, plan and estimate more accurately at a fraction of the price."
Using Nearmap's new tools, roofers and solar companies could do the following:
Prospect more efficiently by viewing and expanding opportunities through aerial maps instead of other, more traditional ways.
Process leads more quickly by qualifying prospects prior to visiting a potential job.
Reduce costs associated with the qualification and proposal stages.
Create better proposals using up-to-date, high-resolution photos, giving companies a better chance at winning a client's business.
Close more sales with the most accurate and competitive quotes.
Increase revenue without adding systems or headcount.
Businesses in construction, home building, painting, insurance and other industries can also benefit from these new tools to accurately measure areas on properties in three dimensions. Nearmap's aerial imagery can help users to show context for work being done, and the imagery can be annotated with notes, drawings and measurements that provide details of the plan.