North Carolina State University demonstrated its commitment to clean energy by unveiling a student-funded, architectural solar structure by Spotlight Solar on its Centennial campus. The 1.5-kW tree-like structure will become part of NC State's wide array of energy efficiency initiatives, including 11 other on-campus solar installations, the first dating back to 1981. Part of the reason for installing the striking 16-ft solar structure in such a highly visible part of the campus is to help build engagement and education around sustainability, with the ultimate goal of becoming a catalyst for the adoption of clean energy.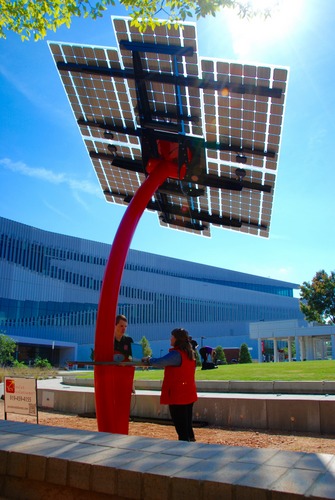 The installation, located next to the new LEED Silver rated library, was led by students in NC State's Park Scholarships, the University's renowned program reflecting outstanding accomplishments and potential in leadership, service and character. The students raised money among their members, and received contributions from the student-funded NC State Sustainability Fund.
RELATED: North Carolina hits 1 GW of solar capacity (we start slow clap)
While Spotlight Solar provides aesthetic solar structures across the United States, this is the first installation on a university campus. Though sculptural in form, the solar structure is an engineered, purposeful system designed to supplement existing solar energy systems, and to create public engagement.
"Most roof-top solar installations are hidden from view. Our goal is to put solar at the forefront, where everyone can see it and experience the benefits of clean energy first-hand," stated Craig Merrigan, Spotlight Solar's co-founder and CEO. "Adding a solar structure in a high-visibility location helps promote public engagement and consideration of energy stewardship. We are privileged to be part of this effort, and have enormous respect for what the Park Scholars have done. NC State has invested in energy stewardship all around campus, and are now bringing clean energy right into the quad where people can interact with it and consider their own choices."
The project brought in expertise from the local area, with Pedder and fellow scholars Xavier Primus and Tori Huffman working with the university's architect, and local companies Yes! Solar Solutions and Spotlight Solar to complete the aesthetic solar installation.
"Yes! Solar Solutions originated this project, in collaboration with the university students, and saw it through to a spectacular conclusion. They understood the long term impact the students were trying to create, and brought a highly distinctive solar installation to the heart of campus," Merrigan said.
Spotlight Solar is on track to install 37 solar structures across the U.S. in 2015, all geared towards driving the awareness and adoption of clean energy. Prior to Friday's unveiling, the company's most recent solar structure project was featured at Austin City Limits Music Festival, delivering and promoting clean energy to 450,000 event attendees across two consecutive weekends.