UNFI (United Natural Foods Inc.) partnered with Meridian Solar to build a 655-kW roof-top solar electric system on its 590,000 square foot distribution center in Lancaster, Texas. Using energy harnessed from the sun, UNFI can now store and deliver its more than 65,000 products while adhering to their corporate responsibility commitment. Meridian Solar, the leading Texas-based EPC, was responsible for the design, engineering, procurement, and implementation of the system.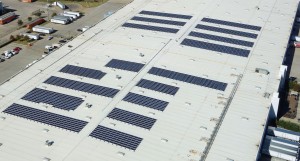 "Meridian demonstrated a clear understanding of the market, the permitting and approval process, and return calculations necessary to undertake a project of this scale.  They've been a pleasure to work with and a great partner for us on this solar project," says Tom Dziki, Chief Human Resources and Sustainability Officer at UNFI.
UNFI is no stranger to investments in sustainability. Through their green building, fleet efficiency, water conservation, and solar energy initiatives, UNFI demonstrates that large, publically traded companies can make a difference. UNFI's new solar investment in Lancaster, which is the fifth solar energy system that UNFI has procured, will generate an additional 1,021,035 kWh of clean energy annually, bringing UNFI's total renewable energy production to over 5 million kWh per year
In addition to reducing their electrical usage from the grid, UNFI will also be accumulating environmental savings with each kilowatt-hour generated. For example, during the first year of operations, UNFI's Lancaster plant is projected to generate 1,021,035 kWh. This clean energy is the equivalent replacement of 704 tons of CO₂, the annual greenhouse gas emissions from 148 passenger vehicles, or annual energy use of 64 homes. The 655 kW solar electric system also produces enough electricity per year to match the carbon sequestered by 577 acres of US forests in one year.
"UNFI is an ideal partner for Meridian Solar. It is inspiring to understand all of the efforts put forth by UNFI to be a socially responsible corporation and leaders in sustainability," says Andrew McCalla, Meridian Solar's President and Founder. "We look forward to furthering our   partnership with UNFI to expand their renewable portfolio and help them meet their sustainability goals."