Konica Minolta Sensing Americas Inc. (KMSA) announces the launch of its new AK-300 PV Reference Cell, the world's first dye-sensitized solar cell.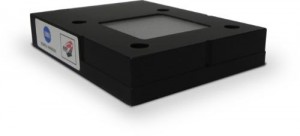 Now available, the AK-300 is the latest addition to the AK Series of reference cells. KMSA first introduced its AK Series in 2010 at the SPIE Optics and Photonics conference to much industry excitement. Reference cells are used as a standard point of calibration to ensure consistent measurements of newly developed photovoltaic cells.
The AK-300 was developed in conjunction with the National Institute of Advanced Industrial Science and Technology (AIST) and utilized Konica Minolta Sensing's advanced optical filter technology. The reference cell has been uniquely designed using an optical filter mounted on a stable crystalline silicon solar cell rather than using traditional dye materials.
AK-300 Main Features:
1. Spectral Mismatch Error Less than 1 Percent
By employing Konica Minolta Sensing's high-accuracy optical filter technology originally cultivated for color measuring instruments, spectral mismatch is greatly reduced. Spectral mismatch, which had been a major problem with conventional cells, can be suppressed to 1 percent or less even when evaluating solar cell performance using JIS C-8942 Class C solar simulators.
2. Ready for Immediate Use
The AK-300 is a completely integrated cell with connectors for I-V measurement as well as temperature measurement. The built-in temperature sensor can be connected to a commercially available temperature controlled stage to easily achieve and maintain the standard test condition of 25 degrees C. Also included are the short-circuit current (Isc) values used for solar simulator adjustment.
3. Improved Durability Against Solar Simulator Light
In general, reference standard cells using optical filters have low durability against exposure to light, resulting in changes in characteristics due to continuous exposure to solar simulator light. AK Series Reference Cells have a high durability against exposure to light, greatly reducing solarization (changes in characteristics due to the effects of light exposure) and ensuring stability even when used over a long period of time.
4. Zero Errors Caused By Multiple Reflections
Errors in short-circuit current (Isc) due to multiple reflection is greatly reduced. Improvements in the optical structure suppress multiple reflections and reduce the 1.3 percent error of conventional products to 0.0 percent.
Demand for green energy production and new higher efficiency materials continue to grow. As a global leader in measurement technology and instrumentation, Konica Minolta Sensing is further expanding its reach into this quickly growing market by using its expertise to quantify the results of these new materials and technologies.