Forward-thinking companies aren't adding solar to their rooftops just for the financial payback — they are doing it to make a statement. (Do you know which retailer came out on top for solar capacity this year?).  IKEA, the world's leading home furnishings retailer, is one such company and announced plans this week to install solar panels atop its future Columbus store opening Summer 2017. Panel installation will begin in early 2017, with completion expected in the Spring for what will be the second IKEA solar array in the State of Ohio. IKEA installed a 1.026-MW rooftop array at the Cincinnati-area IKEA West Chester store in 2012.
Inside the project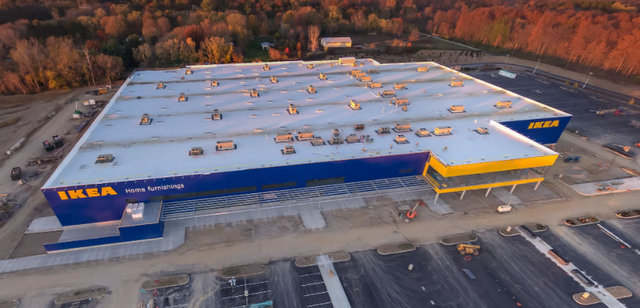 The Columbus store's 213,000-square-foot solar array will consist of a 1.21 MW system, built with 3,546 panels, and will produce approximately 1,447,700 kWh of electricity annually for the store.
For the development, design and installation of the new store's solar power system, IKEA selected REC Solar, a national leader in solar electric design and installation with more than 550 systems built across the U.S. Pepper Construction is building the store that will reflect the same unique architectural design for which IKEA stores are known worldwide.
"We are excited about furthering our sustainability commitment with solar panels on the future Columbus store," said Lars Petersson, IKEA U.S. president. "At IKEA, we have a mission to create a better everyday life for the many, and IKEA Columbus can add to this goal while also making us the largest non-utility solar owner in Ohio."
This installation will be the 46th solar project for IKEA in the U.S.
You read that right. IKEA has a solar presence atop nearly 90 percent of its U.S. locations, with a total generation of more than 40 MW. IKEA owns and operates each of its solar PV energy systems atop its buildings – as opposed to a solar lease or PPA (power purchase agreement) – and globally has allocated $2.5 billion to invest in renewable energy through 2020, reinforcing its confidence and investment in solar photovoltaic technology. Consistent with the goal of being energy independent by 2020, IKEA has installed more than 700,000 solar panels on buildings across the world and owns approximately 300 wind turbines, including 104 in the U.S.
Looking to do some solar retail installations yourself? Here are some tips.