Honeywell announced it has introduced its third-generation laminate film designed to protect solar power panels from harsh environments while helping them maintain power output over their 25-year lifespans.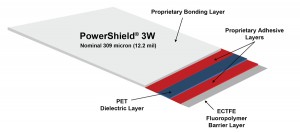 The product, PowerShield 3W, is a cost-effective backsheet for photovoltaic panels that helps protect the electrical circuits in solar panel modules, preventing moisture from entering the module and keeping electrical charges within the module. These features help the module retain maximum power output while maintaining electrical safety.
PowerShield 3W is a laminate that is bound by a proprietary adhesive specifically designed for photovoltaic applications. The adhesive helps make the laminate the most durable backsheet available from Honeywell to date.
PowerShield 3W is available now, and leading module manufacturers are already including it in module designs.
Independent photovoltaic-industry laboratory tests show that PowerShield 3W can withstand more than 3,000 hours of accelerating aging exposure at 85°C (185°F) and 85 percent relative humidity without losing structural integrity.
The backsheet's superior adhesive offers excellent resistance to discoloration due to aging, which helps solar modules retain their appearance and reflectivity. Like all PowerShield backsheets, PowerShield 3W offers high resistance to environmental degradation from sunlight, heat, cold and humidity; strong resistance to acids, bases, solvents, salts and other chemicals; and resistance to excessive moisture infiltration within a module.
The technology behind PowerShield 3W is based on Honeywell's more than 30 years of experience as the world's leading manufacturer of high-barrier films for food packaging, industrial and healthcare applications, including packaging that protects drugs sold by the world's leading pharmaceutical companies.
Honeywell has an active and global research and development program for photovoltaic backsheets, with laboratories in Morris Township, New Jersey, and Shanghai, China.
The Honeywell PowerShield supply chain provides module makers with a single point of contact for every component of their backsheet, helping ensure a reliable supply and quality.
Honeywell also offers printable dopants and chemicals for the manufacture of solar cells, the SOLARC anti-reflective coating for solar panels, and solar panel installation sales and services.