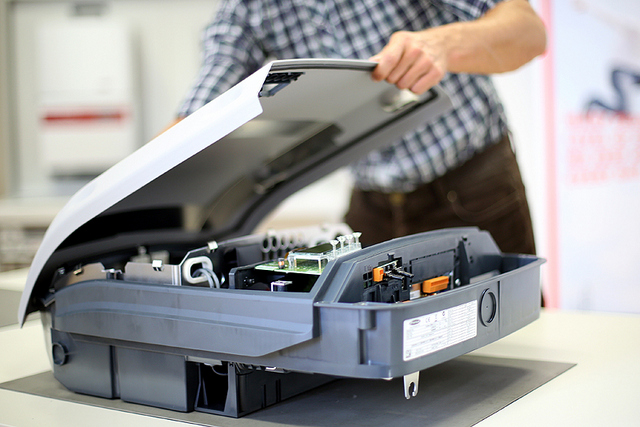 String inverter manufacturer Fronius updated its hands-on installer qualification trainings, which now include system design, product applications and communications, while still covering service and onsite warranty repairs. After completing the trainings, installers are certified Fronius Service Providers (FSPs), offering high quality solar installations and field-service.
Fronius Service Providers offer high-quality installations and trusted service, with an image of quality by being Fronius certified and branded. Solar shoppers or system owners can find certified installers easily on the Fronius Solar.web Online Installer Search. As a further incentive for installers, Fronius provides FSP exclusive events and webinars throughout the year.
RELATED: Keys to inverter service: Data granularity, remote updates, customer relations
Fronius believes that field-serviceability of inverters is critical to making solar more reliable and more sustainable. The FSP program eliminates the need for inverter exchanges. Fronius Service Providers are able to service inverters on site. Troubleshooting and repair can be done in one site visit, cutting the number of truck-rolls in half and guaranteeing maximum system uptime as well as satisfied system owners.
The new FSP qualification trainings take place in June at the Fronius USA headquarters in Portage, IN. The trainings include an opportunity to meet with Fronius' entire staff from Marketing to Technical Support. These are the dates and covered topics:
June 6: Fronius Residential Solutions Training
June 7: Fronius Installation & Best Practices Training
June 8: Fronius Commercial Solutions Training
Register via email at pv-training-usa@fronius.com or at the Fronius website.
Solar installers are welcome to register for either all days of training or for a specific day. Course registrants are to arrange their own travel. The cost of the course includes the training, literature, swag, meals, and a portion of this can be used as a credit towards an FSP kit. The kit is a collection of the most common inverter spare parts. This kit is highly recommended, as it allows the installer to fully utilize the benefits of the FSP program.