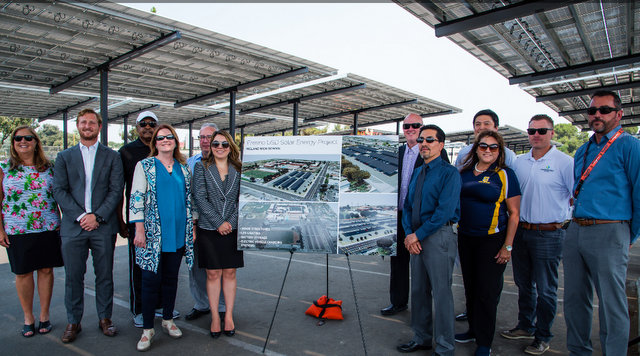 ForeFront Power and Fresno Unified School District broke ground on 8.2-MW of solar parking canopy systems across eight District facilities. This project dates back to Fall 2017, when the School Project for Utility Rate Reduction (SPURR) and Fresno USD conducted a statewide request for proposal process to select the best solar and energy storage provider. The comprehensive procurement process through SPURR enabled the District to save considerable time, money and resources in their procurement process.
In the end, Fresno USD partnered with ForeFront Power after a rigorously competitive solicitation. The portfolio of projects, which includes intelligent energy storage solutions provided by Stem Inc., is expected to save Fresno USD $27 million over 20 years.
"By partnering with ForeFront Power, we were able to procure solar and storage for each of our comprehensive high schools and the District's Service Center at no cost to taxpayers," said Karin Temple, Chief Operations Officer for Fresno USD. "ForeFront Power understood the District's desire for summer construction and accelerated the development of our projects to help minimize the impact to school activities."
The SPURR Program pays off
Since 2015, the SPURR REAP program has been used by 20 school districts and municipalities to procure more than 50 MW of clean solar power across more than 100 sites.
"SPURR helped Fresno USD foster a more competitive environment than we could have done locally in Fresno," said Jason Duke, Executive Director of Maintenance and Operations for Fresno USD. "Now other public agencies can piggy-back the process to save time and energy."
The SPURR REAP Program solves traditional sourcing issues through aggregated, competitive procurements, taking advantage of SPURR's large market presence, and resulting in pre-negotiated contracts, industry-leading pricing, and standardized terms for public agencies in California like Fresno USD. This program allows schools, colleges, and other agencies to benefit from clean energy sooner with less sourcing expense and effort, while leveraging a highly competitive procurement process.
"Our team is excited to construct even more projects in the greater Fresno area by partnering with Fresno USD," said Co-CEO, Paul Walker. "These projects are especially innovative because of the combination of solar and energy storage to provide even more savings."
The storage technology
ForeFront Power is using Stem's artificial intelligence-driven energy storage solutions to provide energy storage across the District. Stem's energy storage services provide real-time energy optimization to reduce costly demand charges, which can account for almost half of the District's utility bills. The intelligent use of energy from the storage units combined with on-site solar energy generation helps each high school maximize its clean energy generation and enhance on-site sustainability.
Fresno USD will also bring solar learning into the classroom with science and technology education from Schools Power, a leading national education organization that provides school districts with standards-based renewable energy curriculum packages. ForeFront Power and Schools Power announced their partnership in July of last year.
Construction of the solar canopy systems is underway at Bullard, Fresno, Roosevelt, and McLane High Schools with the remaining four sites (Edison, Hoover, and Sunnyside High Schools and Service Center) breaking ground in the coming weeks. These 8 solar projects are expected to offset the equivalent of 10,633 tons of carbon dioxide avoidance annually or 2,000 cars taken off the road for the first year of production.