Florida Power & Light Company is the largest energy company in the United States as measured by retail electricity produced and sold, serving more than five million customer accounts or an estimated 10 million+ people across the state of Florida. The investor-owned utility announced plans to install 30 million solar panels in Florida by 2030 and has secured solar sites throughout the state to do so.
FPL and its sister company, NextEra Energy Resources, say they are already the world's largest producer of renewable energy from the wind and sun and, when this plan is completed, they expect to be the largest utility owner and operator of solar in America. But an analysis by the Southern Alliance for Clean Energy using the metric of solar watts per customer frames the utility's position differently. From the most recent Solar_Southeast_Report_2017:
The future of solar is bright across most of the Southeast. Solar will more than double on average, driven by utilities like Duke Energy Florida and Tampa Electric. Each of these Florida utilities announced solar expansion plans in 2017 that will propel them toward the top of the list in the coming years.

However, the Tennessee Valley Authority (TVA), Santee Cooper, and Seminole Electric Cooperative are not forecast to add solar at a significant pace. Florida Power & Light (owned by NextEra) plans additional solar, but at a slower pace than rival Florida utilities. These utilities operate in a public policy vacuum and the slow pace of solar reflects outdated thinking within the utilities' management.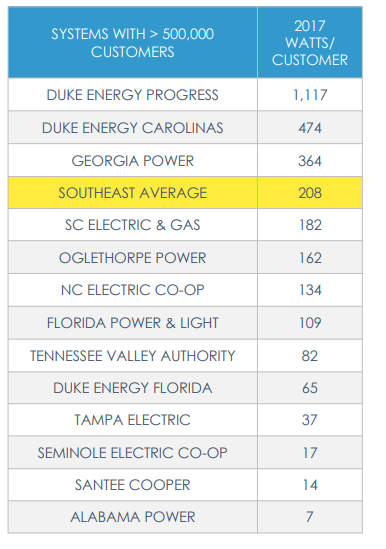 Does this "30-by-30" plan to install "more than 30 million solar panels by 2030," change that assessment? It certainly sounds like a big bump, but using the number of panels is an unclear way to quantify a solar energy production goal. Stephen A. Smith, executive director of the Southern Alliance for Clean Energy, put it into context:
Don't miss our Installer Issue in January — subscribe to Solar Builder magazine (print or digital) for FREE today
"As with any announcement, the devil is in the details. A commitment to 30 million solar panels does not clearly indicate the amount of power that will be delivered to Florida customers, but we project it will likely double their current stated goal of approximately 4,000 MW. While this is a positive jump in solar development, it's important to note this will not make FPL a leader in solar watts per customer based on their size in the Southeast or the country. Solar growth is exploding across our region, and we continue to support good policies and actions that maximize Florida's tremendous solar resource potential."