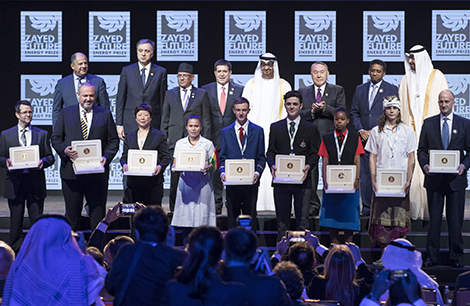 The Zayed Future Energy Prize, a global prize for innovation in renewable energy, will accept applications for its 10th anniversary awards until July 6, 2017. Categories for consideration include: small and medium enterprises, non-profit organizations, and global high schools. Companies and non-profits are eligible for a $1.5 million prize; high schools can be awarded grants of up to $100,000.
Nominations can also be made for recognition for the large corporation and lifetime achievement categories. Past winners in these categories include former Vice President Al Gore, General Electric, Panasonic and Siemens.
You should probably also submit to our Project of the Year awards.
"In January 2018, we celebrate the 10th anniversary of the Zayed Future Energy Prize," said Dr Nawal Al-Hosany, director of the Zayed Future Energy Prize. "Since its inception, the Prize has continuously recognized and empowered those striving to deliver a sustainable future for all – hence the extraordinary impact we have seen over the previous nine years."
"We call on all those who want to join our international community of pioneers positively changing the lives of millions of people to enter the Zayed Future Energy Prize today," Dr. Al-Hosany continued. "From providing access to energy in Africa to innovative storage solutions in Europe, our winners have been pushing the boundaries of what is achievable in terms of clean energy solutions and sustainable practices across the world."
The Zayed Future Energy Prize has received over 10,000 nominations and submissions across more than 100 countries since its founding in 2008. In 2016 alone, the prize received a record 1,676 entries from 103 different nations, a 22 percent increase on the previous record set the year before.
At the 2017 awards ceremony, Li Junfeng, Director General of China's National Center of Climate Strategy Research, won the lifetime achievement award for his unwavering commitment to the adoption of renewable energy in China. General Electric (GE) won the large corporation award for leadership in the wind and solar energy markets. Sonnen was awarded the prize in the small and medium enterprise category for leadership in providing battery storage technology solutions. In the non-profit organization category, UK-based Practical Action was recognized for its work in providing deprived communities with clean energy across the globe.