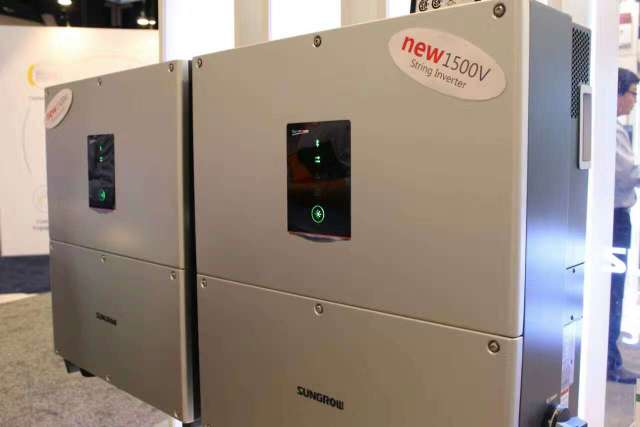 Sungrow showcased two new 1500 VDC inverters at Solar Power International last week.
The Sungrow's SG125HV puts 125kW of capacity in a suitcase-sized cabinet weighing just 130 pounds. At a higher rated voltage, the SG125HV will significantly reduce installation and balance of system costs, and is an example of why 1,500 VDC systems are the next step for the entire industry. Projected to be released for global customers in early 2017, the 125HV will be an industry-shifting product that will influence utility scale PV system designs in coming years.
The SG2500HV-MV is a central inverter system, also rated at 1,500 VDC. The inverter features a 20-foot containerized design, intended for easy transport and installation. Within the shippable container are the integrated auxiliary power systems and power boards, along with the SCADA, monitoring and control panel. Unlike other containerized systems that are considered e-house designs, the Sungrow container is actually an outdoor cabinet for all internally mounted equipment; this means that all serviceable components are accessible without going inside the container cabinet. The sides of the container at the MV transformer end are also removable at the time of installation, making it possible for the outdoor rated transformer to be open to air cooling and full access. The entire system is also UL listed, thus making permitting hassle-free.
A fully-integrated pre-tested system that is as close to "plug-and-play" as is possible for a central inverter system and the SG2500HV-MV is designed to help reduce installation costs and provide easy O&M.
RELATED: Live at SPI: Check out these five inverters on the show floor