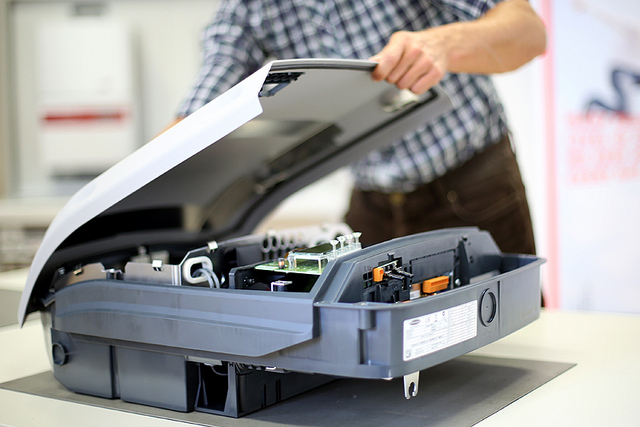 Fronius is expanding its Fronius Solutions Provider (FSP) program, a network of solar installers that are certified and trained directly from the manufacturer. At the upcoming certification training in November, solar installers receive exclusive training to install and field-repair Fronius products, receive NABCEP continuing education credits and have the opportunity to join the recently revamped FSP program. Register now to become part of the leading solar installer program on the market.
Formerly known as Fronius Service Providers, the renamed loyalty and training program offers solar installers the ability to provide the best service to their customers in both installation and service. The Fronius Solutions Provider trainings now also include design and installation aspects of Fronius solutions in the residential and commercial segment. With this qualification, FSPs are able to provide their customers with high-quality solar solutions and can support them seamlessly over the lifetime of a system.
The unique O&M solution of the FSP program eliminates the need for inverter exchanges, which typically causes wait times for the new unit and potential re-wiring and re-inspection. Qualified installers can service inverters directly on site, with only one truck-roll, guaranteeing maximum system uptime as well as satisfied system owners.
In addition to providing better solutions to their customers, FSP certified installers receive a multitude of benefits, including higher reimbursements for warranty work, a direct phone line to Fronius technicians, regular visits from the Fronius team, continuing education and opportunities for beta testing of upcoming products. Fronius also supports FSPs with joint Marketing activities and sales trainings. "We want to grow together with our Solutions Providers and support them and their businesses in the best way possible – making a world of 24 hours of sun a reality together", says Wolfgang Niedrist, CEO at Fronius USA, "we want solar installers to know that we at Fronius are with them for the long haul".
Upcoming training at Fronius headquarters in Portage, Ind.
November 13 / Fronius Solutions Provider Legacy product, IG & IG Plus
November 14 / Fronius Solutions Provider Residential Solutions
November 15 / Fronius Solutions Provider Best Practices and Installation
November 16 / Fronius Solutions Provider Commercial Solutions
Solar installers are welcome to register for either all days of training or for specific products only. Course registrants are to arrange their own travel. The cost of the course includes the training, literature, meals, and a portion can be used as a credit towards an FSP spare part kit. The kit is a collection of the most common inverter spare parts and is highly recommended, as it allows the installer to fully utilize the benefits of the FSP program. To register, email pv-training-usa@fronius.com your name, contact information and what days, if not all, you would like to attend.
Tags:
Fronius