Delta Group launched its Outdoor Energy Storage System (ESS) Cabinet at Intersolar North America, expanding its extensive line of energy storage solutions.
Delta ESS Cabinet explained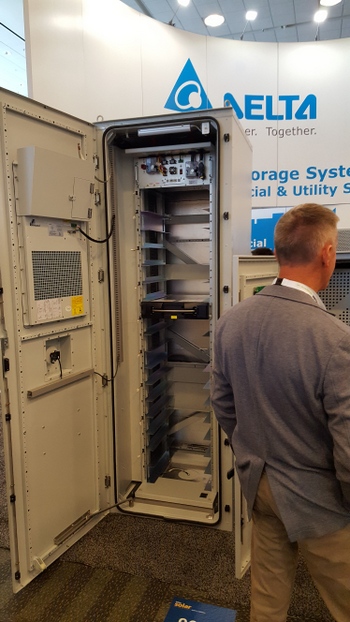 The Delta ESS Cabinet incorporates lithium-ion battery modules, a Battery Management System (BMS), and a built-in HVAC system for thermal management. Boasting a scalable system configuration, and IP55 rated for dust and water protection, the ESS Cabinet can easily meet a diverse array of field capacity requirements, making it the perfect solution for any environment.
Through high energy density and a long lifecycle, the ESS Cabinet helps commercial and industrial buildings optimize energy usage and save on operational costs by enabling demand charge management through peak shaving, time-of-use optimization via load shifting, power backup, renewables self-consumption optimization and ancillary power services. The ESS Cabinet has a scalable capacity up to 1.32 MWh, making it ideal for medium to large scale commercial and industrial deployments.
Delta's Full PV and Energy Storage Solution
At booth 9021, Delta will also be showcasing a wide range of solutions that can be paired with the new ESS Cabinet or serve as add-ins for existing installations. Delta's portfolio consists of a wide-range of solar inverter technologies, power conditioning technology and even control solutions.
Delta's Power Conditioning System (PCS) is a bi-directional inverter with industry-leading power performance engineered for grid-tied energy storage systems. This technology pairs perfectly with the new Delta Outdoor ESS Cabinet or other mainstream branded battery systems. Delta's PCS has minimal stand-by power loss, and provides real and reactive power compensation to improve power quality for a building.
Solar power inverters are a vital part of every solar installation. Delta has a wide-range of inverter options ranging from 3kw to 80kw. On display will be Delta's M42U and industry-first M80U grid-tied, three-phase, transformerless inverters. The two inverters boast exceptional peak efficiencies of 98.6 percent and 98.8 percent, respectively. Through best-in-class engineering and quality manufacturing, Delta's rugged inverters offer a combination of longevity and efficiency.