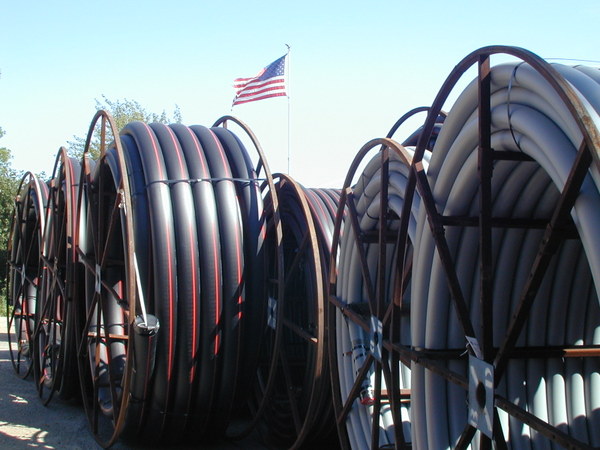 Blue Diamond Industries LLC, a manufacturer of HDPE Conduit and Cable in Conduit, will be relocation and expanding after completing the purchase of a nine acre site, which includes three buildings totaling 75,000 square feet in Middlesboro, Ky. The company plans on relocating its existing high-density polyethylene (HDPE) conduit production equipment, as well as new HDPE conduit production lines in an expansion that had been planned for 2015.
In February 2015, Middlesboro, Ky., was hit by a series of winter storms. The mixture of snow, sleet and freezing rain caused the collapse of many area businesses, including portions of the Blue Diamond plant. The offices, laboratory, maintenance and expansion area were completely totaled. Production resumed in March after inspection by engineers and the addition of temporary facilities to relocate support activities.
RELATED: How to select conduit for your next commercial solar installation 
"It was a long arduous search. We looked at several facilities in three different states, but it was always our desire to stay in Middlesboro where we started," Sherri Simpson, CEO said. "Our employees are experienced and dedicated, we want to keep them and provide new employment opportunities. We're very pleased we are staying in Middlesboro (Bell County), KY."
The new facility will need some improvements and refurbishment before relocation is possible. Jody Cosby, plant manager, estimates it will take eight weeks before new equipment can be installed and existing lines can begin to be moved.
"We're planning on a staged move, so we can maintain our production capabilities during the moving process. I know our employees have gone through a lot over the past year, and they are excited about the move to the new facility," she said.
This purchase and move constitutes a significant investment by Blue Diamond.
"We are confident in the growth of the market and our ability to provide opportunities for advancement and employment in our home state of Kentucky" Simpson said. The new facility located at 804 S. 23rd Street is approximately one mile from the existing plant, both locations are within the rural Promise Zone.