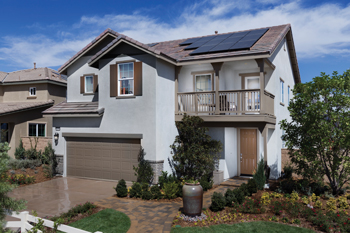 CertainTeed Solar has increased the rated power in its Apollo II and Apollo Tile II solar roofing systems. Apollo II now offers 63 watts of rated power, improving on both the performance and the economics of CertainTeed Solar roofing systems.
"The power increases to our Apollo II line reflect CertainTeed's continuous commitment to the improvement of our products," said Mark Stancroff, director of CertainTeed Solar. "Plus the low-profile appearance of these integrated systems lets installers offer solar solutions to customers who may be deterred by aesthetics of rack-mounted systems."
Apollo II and Apollo Tile II modules are manufactured in the United States using foreign and domestic components and are backed by the strongest warranty in the solar industry which covers the products and the professional installation of the system for up to 25 years.